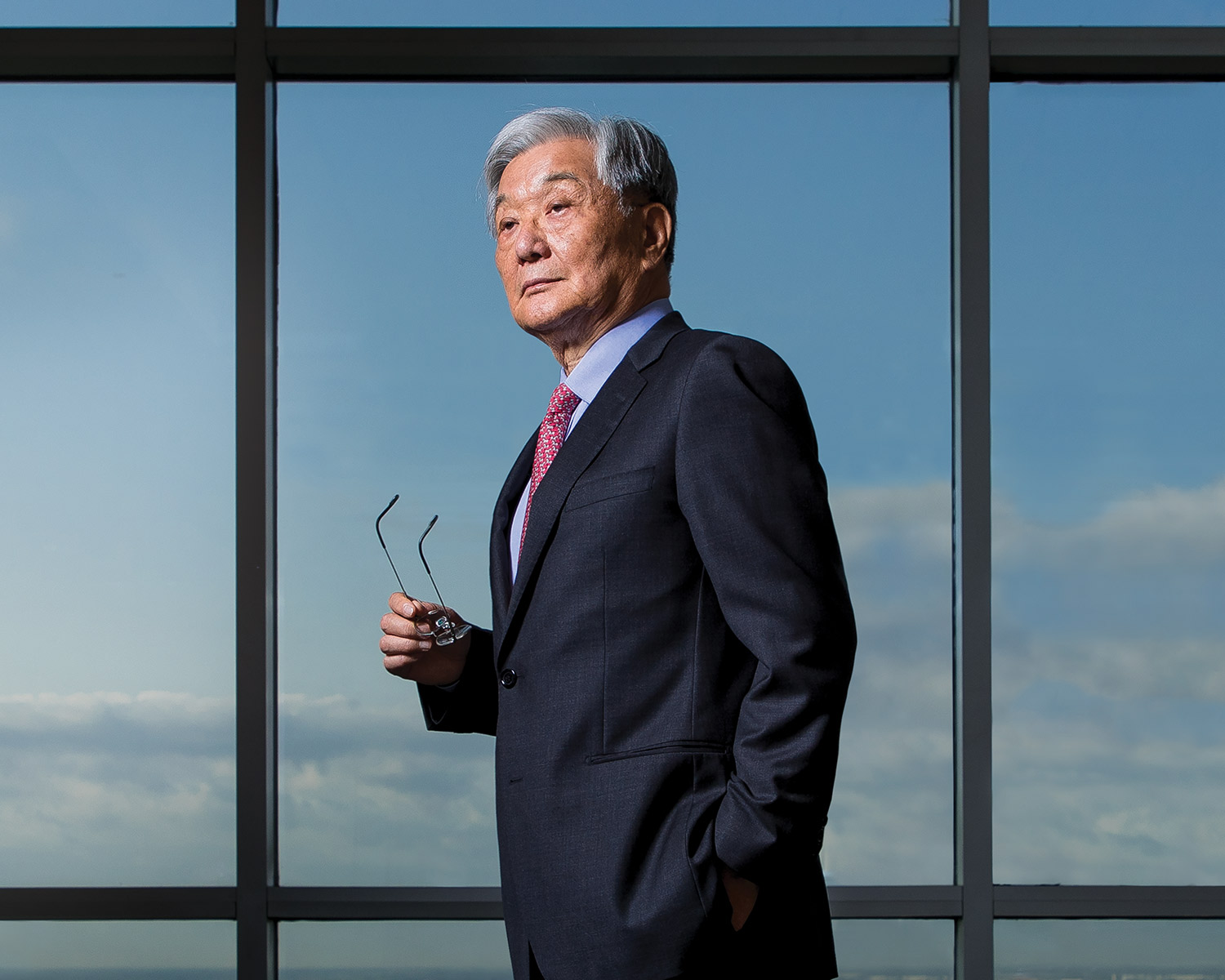 Dr. Waun Ki Hong Reached the Top and Brought Others With Him
Waun Ki Hong, MD, achieved international renown as a medical oncologist and translational cancer researcher in a stunning 36-year career, yet he always found time to help other researchers and oncologists achieve their goals.
Dr. Hong, who served as AACR President from 2001 to 2002, retired in 2014 as a division head and professor at the University of Texas MD Anderson Cancer Center in Houston. His work has transformed the lives of innumerable cancer patients. The approach Dr. Hong developed to treat laryngeal cancer made it possible for patients to keep their larynxes and retain the ability to speak and swallow. It remains the standard of care today.
Dr. Hong's groundbreaking research in head and neck cancer helped establish the concept of chemoprevention: using available treatments to prevent cancer from occurring in high-risk patients. He helped open a new chapter in precision cancer medicine in the BATTLE trial (Biomarker-integrated Approaches of Targeted Therapy for Lung Cancer Elimination), a biopsy-mandated, biomarker-based study of previously treated lung cancer patients. These and other efforts are found in his more than 700 peer-reviewed scientific publications and evidenced by the multiple awards he has received.
But for Dr. Hong, being a successful physician-scientist also included mentoring and supporting young researchers to help them achieve their own successes. He offered guidance to colleagues for decades, formally as head of the Division of Cancer Medicine at MD Anderson and informally to anyone who came into his orbit.
"Dr. Hong is an iconic figure in cancer medicine and cancer prevention," said Margaret Foti, PhD, MD (hc), chief executive officer of the AACR. "His seminal clinical and translational cancer research accomplishments include landmark discoveries in larynx preservation, chemoprevention, and precision cancer medicine.
"His visionary leadership as the President of the AACR and his dedication to mentoring medical oncology and postdoctoral fellows make him a true champion of cancer research," Dr. Foti added. As a tribute to Dr. Hong's extraordinary contributions to cancer research, care, and prevention, in 2016 the AACR established the AACR Waun Ki Hong Award for Outstanding Achievement in Translational and Clinical Cancer Research. The award, which includes a lecture at the AACR Annual Meeting and an honorarium, is given each year to a young investigator who has conducted significant translational or clinical research anywhere in the world. True to his dedication in helping young researchers, Dr. Hong championed efforts to raise more than $1 million in less than a year to establish the award in perpetuity.
"As a clinical investigator, I've been very well recognized," said Dr. Hong, adding that he is honored to have the award named after him. "I like to see young people who are doing exceptional work recognized because, in my own experience, every time I have received an award, I have been tremendously joyful. But at the same time, I have felt a sense of responsibility, and receiving that award inspired me to work even harder."
Making a Difference for Patients

Dr. Hong's oncology career began after he came to the U.S. from South Korea in 1970 for an internship at Bronx–Lebanon Hospital in New York City. He moved to Boston to become the chief medical resident at the Boston VA Medical Center and returned to New York City for a medical oncology fellowship at Memorial Sloan Kettering Cancer Center. After completing the fellowship, he headed back to the Boston VA—and to his favorite baseball team, the Boston Red Sox—as chief of medical oncology. In 1984, MD Anderson lured him away to Houston.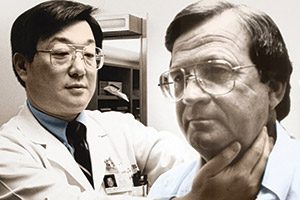 At the beginning of his career, Dr. Hong recalled, "there were not that many medical oncologists, so I had tremendous opportunities to help many cancer patients," both in the clinic and through research. Dr. Hong, who treated patients with laryngeal cancer, believed it was possible to improve their quality of life by preserving their voice box, so he initiated a small clinical trial in 1979 that gave patients a new chemotherapy drug called cisplatinum along with radiation before surgery. "It was a simple idea," he said, "but we had a dramatic response."
To advance the idea of preserving the larynx even further, Dr. Hong launched a large randomized clinical trial in 1985 with Gregory T. Wolf, MD, then at the Ann Arbor Veterans Affairs Medical Center in Michigan, that compared two treatments for advanced laryngeal cancer: One group of patients received chemotherapy followed by radiation, and another group had their larynxes surgically removed followed by radiation. "Both groups had the same survival rates," Dr. Hong noted, but nearly two-thirds of the patients in the chemotherapy-radiation group were able to keep their larynxes. (About one-third required surgical removal of the larynx later.)
The practice-changing results, published in 1991 in the New England Journal of Medicine, reverberated throughout the cancer field and inspired others to identify opportunities for organ preservation. The experience also revealed to Dr. Hong a key lesson he has passed on to those he has mentored. "To survive in academia," he said, "you have to have passion, you have to have resilience and perseverance, and you have to have patience."
A Supportive Mentor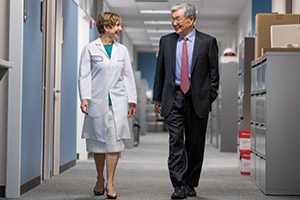 Lauren Byers, MD, met Dr. Hong when she joined MD Anderson Cancer Center in 2006 as a clinical fellow in medical oncology. She is now an associate professor in the Department of Thoracic/Head and Neck Medical Oncology at MD Anderson.
"Dr. Hong is an incredible mentor, and one of the things he is great at is building teams," said Dr. Byers. "For each and every fellow, he builds a team of scientists and mentors in their area of interest and then meets with them regularly to make sure they always have the resources they need." But it's never solely about the research for Dr. Hong. "He always has this incredible focus on patients, and he is always focused on reminding the team that the reason we are here is to improve care for patients," she said.
Dr. Byers said she is in awe of Dr. Hong's extensive network of relationships that spans the globe, his ability to remember unique aspects of all the individuals he works with, and the steps he takes to connect young researchers with scientific mentors. Many of these mentors benefited from Dr. Hong's guidance early in their careers. "To this day," Dr. Byers said, "he will reach out by email to see how I'm doing." And while he has formally retired, his work at MD Anderson continues to include mentoring new fellows—including one in Dr. Byers' lab.
Some of Dr. Hong's best advice used sports analogies, said Dr. Byers. "He would talk about how you needed to have passion and commitment, but that you also had to have the right team and equipment," she said. "Over and over again, he'd say, 'You have to get points on the scoreboard,' those points representing meeting meaningful goals
and landmarks."
Dr. Byers added, "Not only did he help you set those goals and hold you to task for meeting them, he was always the one who was cheering the loudest from the sidelines. He was always one of the first people I'd reach out to when I got a career development award or achieved a research milestone, because I knew he'd be thrilled and proud of those achievements and because of his role in making them possible."
To Dr. Hong, this is precisely what a mentor should be. "The most important thing is to have passion, especially when nurturing young people and allowing them to make errors and mistakes while helping them mature," he said. "You have to enjoy their maturation and share their success. If fathers are competing with sons, it is not going to work. It is the same thing in mentorship in academia. To help them, you have to pass the ball so that they can make the basket, but you have to also constantly teach them you cannot make a basket 100 percent of the time. If you want to make a basket, someone can block you, so you need to learn how to overcome that block and make the best of it."
The First AACR Waun Ki Hong Award Winner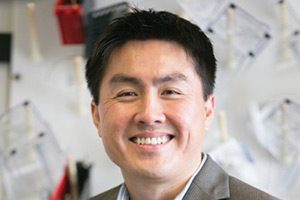 In April 2017, at the AACR Annual Meeting in Washington, D.C., the inaugural AACR Waun Ki Hong Award for Outstanding Achievement in Translational and Clinical Cancer Research was presented to Roger S. Lo, MD, PhD. Dr. Lo is a professor in the Division of Dermatology and an associate professor in the Department of Molecular and Medicinal Pharmacology at the David Geffen School of Medicine at the University of California, Los Angeles. He was recognized for his pioneering research in metastatic melanoma, work that provided the major scientific rationale for clinical trials that investigated the effectiveness of using a BRAF inhibitor along with an MEK inhibitor to treat melanoma. This combination is now the standard of care.
Prior to receiving the award, Dr. Lo knew about Dr. Hong's research, but he had never met him. Since then, he has learned what it's like to be in Dr. Hong's orbit. Dr. Hong reached out to Dr. Lo to congratulate him on receiving the award and introduced him to colleagues he had mentored and to his wife, Mihwa, at the Annual Meeting. Through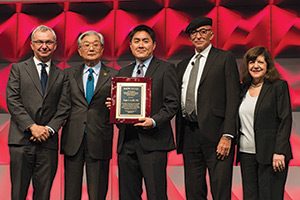 Dr. Hong, said Dr. Lo, "you can see how a career can have a meaningful impact on so many people. Having won this award, I feel the need to live up to his example. I also really will want to periodically update him on my progress. He never asked for that, but I will do it because I know that will give him pleasure."
Dr. Hong, said Dr. Lo, also encourages setting high goals. "He exemplifies the triple threat of what I aspire to: excelling in patient care, research, and mentoring, not necessarily at the same time but over the course of a career."
Perhaps most impressively, Dr. Hong has achieved his professional goals while remaining true to his beliefs and passions and devoting extensive time and attention to his wife, his sons, and their families. He continues to root from afar for his favorite baseball team, the Boston Red Sox, who certainly put points on his scoreboard when they asked him to throw out the first pitch at Fenway Park on May 22, 2015.
"In sports, you have to give credit to your teammates," said Dr. Hong. "It's the same in academia. With the AACR award, I'm leaving a legacy behind. I think people who receive the award will end up wanting to work harder and contribute more and contribute back to research, and the benefit from all of that will go to the cancer patients."