AACR Grants and Awards
AACR Partners with Lobular Breast Cancer Alliance to Fund Research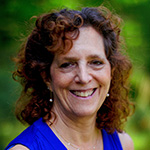 The AACR continues its partnership with the Lobular Breast Cancer Alliance (LBCA) as the two organizations jointly launch the AACR-Lobular Breast Cancer Alliance Invasive Lobular Carcinoma Research Fellowship, a two-year grant of $120,000 that will be awarded in June 2023, with the grant term beginning July 1.
Invasive lobular carcinoma (ILC), also known as lobular breast cancer, is the second most common type of breast cancer, affecting more than 44,000 individuals per year in the U.S. Typically, it forms in threadlike patterns, not lumps, making it difficult to detect. The disease is often diagnosed at a late stage and can recur many years after the primary diagnosis.
"The tumors are there," said Laurie Hutcheson, LBCA executive director, about diagnosing ILC. "It's just they haven't been found."
Hutcheson had never heard of lobular breast cancer until she was diagnosed and treated for the disease in 2018. She joined LBCA as a volunteer shortly thereafter, and in 2020, she was asked to become executive director by LBCA founder Leigh Pate, who died in 2022. Pate and Hutcheson formulated a vision of "a world in which lobular breast cancer is found early, treated effectively, and eradicated permanently."
To help see this vision through, LBCA turned to the AACR in 2021 to kick-start a joint research fellowship. AACR Foundation Relations associate director Sam McGrath helped Hutcheson create an innovative research grant that was the first administered by the AACR with a focus on lobular breast cancer. LBCA patient advocates are included as voting members of the grant application review team.
LBCA is also invested in introducing its ILC research grantees to other lobular breast cancer researchers and raised enough money to send its grantee from the University of Texas Southwestern Medical School in Dallas to share her findings at the 2022 joint ILC Symposium held in Utrecht, Netherlands. LBCA has been kept apprised of the research developments as they evolve and will share these results with its patient advocate constituents.
Anticipation is building for the 2023 recipients' research project, slated to begin in July. For Hutcheson, seeding research interest in lobular breast cancer is game-changing. "One of our key goals is to get the word out about lobular breast cancer and the need for more research," she said. "This joint grant has the double impact of enabling us to raise awareness and fund ILC research."
---
Sontag Foundation, AACR Team Up to Offer Brain Cancer Research Fellowship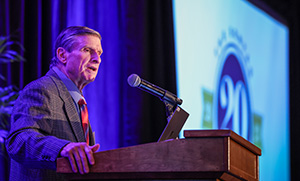 In 1994, Rick and Susan Sontag and their family were doing well, but in that year, Susan was diagnosed with anaplastic astrocytoma, an aggressive form of brain cancer with limited treatment options. After Susan completed a difficult but ultimately successful course of treatment, Rick vowed they would change the landscape of brain cancer research and treatment if given the opportunity.
The sale of his company to General Electric in 2002 provided the means for the couple to realize their dream. That same year, they used part of the sale proceeds to establish the Sontag Foundation with the mission to fund brain cancer research. Since its founding, the foundation has granted $60 million to fund more than 60 researchers in North America through its annual Distinguished Science Award, a $750,000 award paid over five years.
Realizing there was still a need to help brain cancer patients more directly, the Sontag Foundation helped to establish the Brain Tumor Network, a separate nonprofit organization, in 2014. The network offers a host of services that can make a big difference for those facing brain cancer. "The Brain Tumor Network is a unique model of patient navigation staffed with nurse navigators—full-time salaried positions—social workers, and a doctor of pharmacy who runs a clinical trial matching system," said Rick, who is president of both the Sontag Foundation and the Brain Tumor Network. Describing the matching system, he added, "We have a proprietary system that pulls data from clinicaltrials.gov every night, and we then have the ability to match patients by biomarkers, inclusion/exclusion criteria, and geographic restraints to available clinical trials, all provided for free."
This summer kicks off the first AACR-Sontag Foundation Brain Cancer Research Fellowship, providing a two-year $120,000 grant for a postdoctoral or clinical research fellow. Through the grant, the Sontag Foundation will be able to reach those not yet eligible for the Distinguished Scientist Award and create a pipeline for PhDs in other areas of cancer or biomedical research to develop their promising ideas and approaches.
Although Susan Sontag died in 2022, her legacy continues to live on through the Sontag Foundation and the Brain Tumor Network. This February, the Sontag Foundation held its 20th annual scientific summit, which brought together more than 100 thought leaders dedicated to eradicating brain cancer, including many of their past grantees. To commemorate the anniversary of Susan's death, the family committed an additional $100 million to the foundation to advance brain cancer research and support patients and their caregivers.
Related Posts