AACR Volunteers and Ambassadors
Eagles Star Takes on Cancer Health Disparities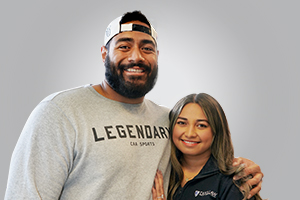 As a child growing up in Australia, Philadelphia Eagles offensive tackle Jordan Mailata was too young to understand what was happening when cancer struck his father's relatives. Like many children, he was left with only fleeting glimpses of the disease's effects. Years later, the veil was lifted when he learned from his fiancée, Niki Ikahihifo-Bender, of her mother's 2016 treatment for colon cancer.
"Reliving the stories that Niki went through when her mom was diagnosed and how she beat cancer opened my eyes to the world of research and why it's so important," he said.
Thanks to advancements in cancer research, not only was Ikahihifo-Bender's mother cured, but she received her treatment, capecitabine, in pill form, which made the process more comfortable. "She actually didn't have the side effects of hair loss and all of the other things that I think can be really devastating to patients," Ikahihifo-Bender said.
In fall 2022, Mailata and Ikahihifo-Bender went public with their support for cancer research by participating in a campaign to raise funds for AACR efforts to address cancer health disparities. Disparities are factors such as race, income level, or place of residence that can restrict people's access to effective cancer prevention, screening, and treatment. More than $150,000 was raised to help fund research and support the AACR's disparities initiatives. Their fundraising effort included a 30-second TV spot, a billboard, and Mailata's inclusion in the NFL's My Cause My Cleats campaign, an initiative in which NFL players wear cleats highlighting a cause they support.
Both Mailata and Ikahihifo-Bender are of Polynesian ethnicity—Mailata's family is Samoan, and Ikahihifo-Bender's is Tongan—so addressing cancer health disparities is a cause close to their hearts. According to Ikahihifo-Bender, each of the Polynesian ethnic subgroups is unique, and Mailata adds that living on remote, small Pacific islands can present treatment challenges for cancer patients.
The capstone of the AACR campaign involving Mailata and Ikahihifo-Bender was a TV ad shown in the Philadelphia area prior to the 2023 Super Bowl, which the Eagles lost to the Kansas City Chiefs. For Mailata, it was another opportunity to promote the AACR's crucial role in cancer research.
"I want to use the avenues that I have … to really just educate people and try and get them to realize the impact that cancer research has on actual people," Mailata said.
---
Brain Cancer Survivor Runs for Research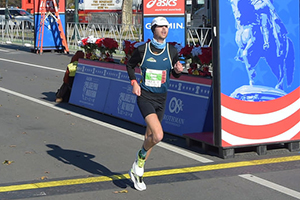 "Be patient for the first two hours, and then lean into the pain." That's what Aaron Roche told himself as he ran the AACR Philadelphia Marathon in November 2022 as a member of the AACR Runners for Research team. Pain is something all runners face. For Roche, who survived brain cancer in 2008, it is something he learned to transcend.
When he finished the race with a personal record of 2 hours, 48 minutes (a pace of 6 minutes, 26 seconds per mile), 15 years of built-up emotion washed over him. Roche feels a strong connection to Philadelphia: He grew up in nearby New Jersey and attended Drexel University, in the city's West Philadelphia neighborhood, while being treated for brain cancer at Thomas Jefferson University Hospital, also in the city. On one occasion after a radiation session, Roche stopped for a moment of reflection in the courtyard of Philadelphia's City Hall, which features a compass set into the pavement at its center. "You just feel like that's the center of the universe," he said.
"I'm very excited and honored to be part of this community that the AACR has established," said Roche, who considers himself an ambassador promoting the benefits of physical activity for people facing health issues. "I want to share my story in a way that can be inspirational and can give people hope if they're in a situation similar to what I was."
Roche now lives in the Seattle area and is determined to use his platform as a board member of the Seattle Running Club to spread the word about AACR Runners for Research and how the AACR promotes groundbreaking advancements in cancer research. As an example, he cited constantly improving radiation therapy with fewer side effects that he received in 2007 and 2008, compared with the radiation his mother received in 1997 to treat her breast cancer.
Roche is living proof of the impact cancer research can have on patients, and he supports the AACR's efforts through AACR Runners for Research. You can follow in his footsteps by signing up for one of the races being held during the next Philadelphia Marathon Weekend November 17-19, 2023, or by joining or supporting AACR Runners for Research.
Related Posts