AACR Donors and Partners
Virtual AACR Annual Meeting 2021 Wellness Challenge
Held in conjunction with the AACR Annual Meeting 2021, the AACR Wellness Challenge took place virtually April 10-13. Activities included yoga sessions, meditation, and daily step goals.
The Wellness Challenge offered a way for Annual Meeting participants to earn points that could be converted into prizes by engaging in wellness activities. Participants were also encouraged to raise funds for the AACR.
"We are thrilled to be able to host the AACR Annual Meeting 2021 Wellness Challenge and provide a fun, engaging, and safe way for participants to focus on their fitness and wellness," said Mitch Stoller, chief philanthropic officer and vice president of development at the AACR. "I especially want to thank AstraZeneca for their support as our presenting sponsor and express my gratitude to the participants who raised money during the Wellness Challenge. We look forward to offering more virtual fitness and wellness events for our members and supporters, until it is safe to meet in person."
The Wellness Challenge raised over $57,900 to support the mission of the AACR. Participants logged more than 2.8 million total steps during the challenge.
AACR Runners for Research Spotlight: Kevin Glover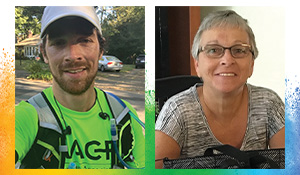 Kevin Glover has been an athlete for most of his life, but he didn't start distance running until 2015. His initial motivation to register for the 2020 AACR Philadelphia Marathon was to conquer a personal challenge—his first full marathon.
When the South Jersey resident learned about the AACR Runners for Research team, though, he thought of his mother, a breast cancer survivor, and decided to join their roster.
Anna Marie Glover was diagnosed with HER2-positive breast cancer in September 2016. She has been cancer-free since her treatment ended in September 2017, and in the time since, she has given back to the cancer community by putting together more than 1,600 "You Got This!" care bags with puzzles, snacks, and lotion for cancer patients.
Kevin was inspired by his mother. Though the Philadelphia Marathon race weekend was canceled in 2020, he continued to raise funds—more than $1,000 to support the AACR—and plans to run in next year's race. Wanting to put his training to good use, he already ran in a socially distanced marathon held in Collingswood, New Jersey, in November 2020.
Glover knows the importance of fundraising and awareness. "Individual efforts can make a big difference and potentially inspire others to do the same," he said. "Even small efforts can go a long way in raising money and awareness."
Connection. Awareness. Levity. Mindfulness: A Day of Wellness With the AACR
C.A.L.M., A Day of Wellness with the American Association for Cancer Research (AACR), took place on Thursday, Feb. 4, 2021, in conjunction with World Cancer Day. This virtual event offered five sessions suitable for all skill levels, including flow yoga, restorative yoga, and mindfulness meditation classes.
"It's no secret that the last several months have been mentally exhausting as the world continues to try and navigate the twists and turns of this pandemic," said Michael Lynn Sills, assistant director of special events at the AACR. "We wanted to create an event that would resonate with how people were feeling, giving them a way to release some of the stress that we're all facing."
The event attracted 268 total participants and raised more than $2,100. "We are hopeful that, with the guidance of the instructors, participants were able to shift their focus inward, even for just a few minutes, and see the value and importance of connection, awareness, levity, and mindfulness," said Sills.
Players vs. Cancer Launches a New Game to Fight Cancer
Coming in summer 2021, Players vs. Cancer (PvC) will launch NeoAntigen, a third-person action/adventure video game where players will battle enemies that take the visual and behavioral characteristics of different cancers. Net proceeds from the sales of NeoAntigen will fund the AACR's mission to prevent and cure all cancers. The PC and mobile versions are both priced at $4.99 each. Visit PlayersvsCancer.org to learn more about the game, view the trailer, and contact our team.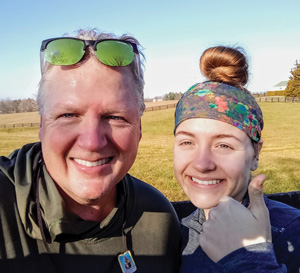 A DIY Fundraiser to Celebrate 10 Years Being Cancer Free
David Andrews was looking to end 2020 on a positive note. An avid hiker and climber living in New Albany, Indiana, Andrews had participated in virtual events with several running groups around the U.S. One of the groups issued a challenge to climb 33,000 vertical feet in 25 days. He decided to take on the challenge to generate awareness of cancer research.
Cancer has been a big part of Andrews' life. In 2010, at the age of 44, complications from an appendectomy led to a CT scan revealing cancer on his left kidney. December 2020 marked the 10th anniversary of surgery that successfully removed the cancer. "It's a happy anniversary for me, and I remain hopeful for friends battling cancer right now," he said.
The challenge was not an easy one—Andrews climbed 33,000 vertical feet and hiked almost 144 miles. He completed the challenge two days early, in just 23 days, and donned a Santa suit on the last day, Dec. 23, to the delight of his neighbors and passersby. "People were waving and honking horns. It was very cool and encouraging," he said.
Andrews was walking six to seven miles a day, doing nothing but going up and down hills. "Many friends walked and ran with me over the 144 miles and the 80-plus hikes I completed."
Andrews is close to reaching his goal of $3,300 raised ($100 per thousand vertical feet climbed). Visit AACR.org/DavidAndrews to donate to Andrews' fundraiser.
Cakes for Cancer
Chase Sloan, a teenager from Cleveland, had to cancel his plans for summer 2020 due to the COVID-19 pandemic. Instead, he used the time to combine his passion for cooking with his desire to help others by creating The Cakes for Cancer Cookbook, a collection of original cake recipes. He split the proceeds from book sales with the AACR and St. Jude Children's Research Hospital in Memphis, Tennessee.
The inspiration to create the cookbook and donate proceeds to foundations focused on cancer research and treatment came after a close family friend died from cancer. Besides being an accomplished baker, Sloan aspires to further help people impacted by cancer by training as a surgical oncologist.
"I feel like the whole purpose of doing this, especially during times like this with COVID, is to do something bigger than myself," Sloan said of the cookbook. "And I hope that by giving money to the AACR and to St. Jude that it's going to go beyond me, beyond my community, and help a lot of people around the world."
Sloan donated more than $2,000 to the AACR through proceeds from book sales. You can purchase The Cakes for Cancer Cookbook in paperback or as a digital download on Amazon.com.
Related Posts