AACR Volunteers and Ambassadors
Liberty Mutual and the AACR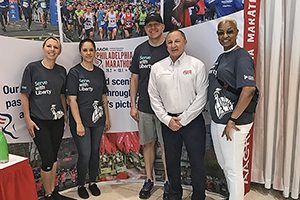 Volunteers from Liberty Mutual Insurance helped out at the Independence Blue Cross Broad Street Run Expo on May 4 in Philadelphia to promote National Cancer Research Month. "Serve with Liberty" is Liberty Mutual's annual community service program.
This Day Matters for Mark Schoneveld
When Mark Schoneveld was diagnosed with terminal brain cancer in March 2013, it was just the latest challenge he and his wife, Erin, had faced from cancer. Four months earlier, in November 2012, their first-born daughter, Elena Sage, had died of acute lymphoblastic leukemia (ALL) just shy of her second birthday. For nearly a year before that, Mark and Erin had virtually lived at Children's Hospital of Philadelphia (CHOP), as specialists there tried to save their baby's life.
"We were so close," Schoneveld said. "She went through many treatments and she was such a young child. I don't have to say much to express how much grief and anxiety that presented."
With Schoneveld's diagnosis, the whirlwind of cancer treatment returned. The couple's son, Soren, was born the day after Mark's second brain surgery in May 2013. After surgery, Schoneveld continued to receive proton therapy to treat his cancer at Penn Medicine in Philadelphia, just across the street from where his beloved Elena Sage had been treated at CHOP.
After the proton therapy was completed, Schoneveld underwent months of chemotherapy, completing the treatments in April 2015. Since then the cancer has not returned, and he is doing well. In the meantime, the couple has also welcomed twins, Mira and River, and Schoneveld continues to focus on living today. He wants his children to know their father and understand that he loves them.
"The piece of the disease that hits me every day is that this day matters," he said, "because I'm alive and I can talk and I can walk and I can run." Schoneveld put that feeling into practice by running in the 2018 AACR Philadelphia Marathon Nov. 18 to raise funds for cancer research.
"I know the promise of research and how it benefits cancer patients today like me," he said. "And I want to support the cancer researchers in any way I can."
Giving Back by Running for Research
Mandi Da Silva was diagnosed with stage 3 Hodgkin lymphoma in 2006 when she was just 25 years old. After eight months of chemotherapy and two months of radiation therapy, the Toronto native's cancer was put into remission.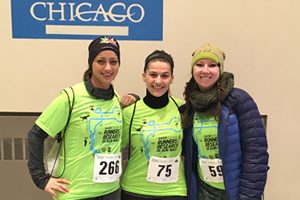 Around this time, Da Silva started a job with VisualSonics, a firm that designs and manufactures ultrasound imaging systems. As part of her job, her new employer sent her to medical and scientific conferences, including the AACR Annual Meeting. As she learned about the mission of the AACR, she decided it was time to give back.
Da Silva joined the AACR Runners for Research team and participated in a 5K fundraiser at the AACR Annual Meeting 2017, in Washington, D.C., and the 2018 gathering in Chicago. She has raised more than $4,500 for cancer research, and her goal each year is to build a bigger team to raise more money to support the lifesaving work of the AACR.
"I feel the emotional impact of what I went through [as a cancer patient] when I am running," she said. "I am pushing through it, I am surviving all over again. I feel inspired to be part of something that gives back to help others going through a cancer diagnosis and treatment."
Related Posts