AACR Donors and Partners
Renee Crews: The First Sustaining Hope Club Member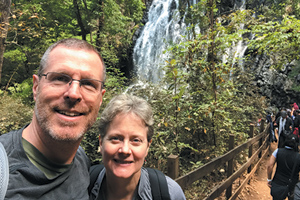 A social worker and lover of the outdoors, Renee Crews lives with her husband in the mountains of Colorado. She is also the first person to support the AACR as a monthly donor. Crews was looking for an easy way to be more philanthropic and to support cancer causes. She reached out to the AACR Foundation, which began a monthly giving program called the Sustaining Hope Club at her request.
"I have had many family members and friends who have battled cancer over the years," Crews said. "It became very personal, however, when my husband, Dan, was diagnosed with testicular cancer back in 2009."
The treatment for her husband's cancer was successful, but it had a major impact on her family.
"We learned that 40 years ago, Dan's treatment outcome might have been very different," Crews said. "We were very lucky that research efforts identified a combination of drugs that turned the survival rates upside down, from 5 percent to 95 percent, for testicular cancer."
The family decided to include funding cancer research as part of their annual giving.
"Dan and I really wanted to focus on research organizations, and after some searching on the internet, we identified the AACR as an organization committed to just that," Crews said. "We really like that the organization supports young scientists in the early stages of their research."
They chose to donate monthly instead of annually because it spreads out the cost and makes the donations more manageable. "It is only through research that better outcomes can be achieved," Crews said. "Because this truly impacts everyone in the world, we believe it is a very worthy cause."
A Company-Wide Movement Against Cancer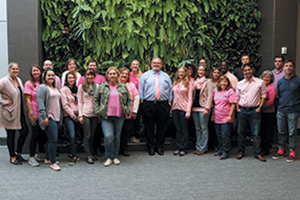 IPS-Integrated Project Services, a technical consulting, architecture, and engineering firm in Blue Bell, Pennsylvania, wants to play a larger role in driving progress against cancer. To that end, they partnered with the American Association for Cancer Research (AACR) to develop a corporate social responsibility (CSR) initiative that engages their employees in raising awareness and funds for cancer research. The collaboration also aligned with an IPS corporate initiative to promote employee wellness.
One of the first activities was a "Pink Out" dress-down day fundraiser in October 2019 during Breast Cancer Awareness Month. Shortly after, Shannon Gallagher-Colombo, PhD, from the AACR, spoke to employees during a company-organized lunch and learn. She shared information about the latest advancements and progress against cancer based on findings recounted in the AACR Cancer Progress Report.
While some planned activities were put on hold due to the pandemic, IPS participated in a Virtual 4K event hosted by Epic Races and held in May to benefit the AACR. Planned prior to the start of the pandemic, the virtual event was well-timed to help ensure that IPS employees could stay connected to the CSR initiative.
"Our corporate mission is to enable our clients to create and manufacture lifesaving products around the world," said Dianne Hart, global vice president and chief human resources officer at IPS. "So the partnership with the AACR is a special one for us. It provides our employees the opportunity to collectively rally around a positive philanthropic initiative to help accelerate the prevention and cure of cancer."
IPS hopes their collaboration with the AACR will help raise awareness of the disease and offer opportunities for the company to unite with other corporations in support of cancer research. They plan to develop more activities and virtual events to promote their involvement with the AACR.
A Decade of Racquetball for Cancer Research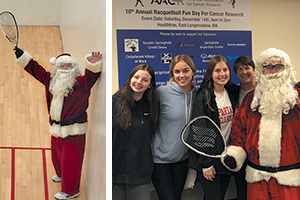 For the past 10 years, a group from East Longmeadow, Massachusetts, has gathered annually to host a holiday racquetball tournament to raise money for the AACR. Paul Stierer, who organizes the event, explained that prior to establishing the annual fundraiser, they played in competitive tournaments "to have a good time with good friends."
The racquetball players decided to establish a tournament that would support a good cause. They chose the AACR because it supports research into all types of cancer. "Our thought is that everyone has friends or family that have been touched by this insidious disease, and this is our opportunity to honor them collectively," Stierer said.
"There are a number of great, great charities out there," Stierer said. "This one just stood out. The AACR seemed to have established relationships with many reputable cancer centers, and we appreciate the research they're doing and the high percentage of all the dollars that come in that are dedicated to the research."
The amount raised by the tournament to support cancer research has grown year over year, and the number of attendees has increased to about 100. "We've grown from raising $1,000 that first year to this past year where we raised more than $18,000, and we've done that through the tremendous support of local communities, businesses, and the racquetball players," Stierer said.
Related Posts