T.E.A.M.: Together, Everyone Achieves Mission
Don't underestimate the power of giving.
The mission of the American Association for Cancer Research (AACR) is to prevent and cure cancer through research, education, communication, collaboration, advocacy, and funding. It is an ambitious goal, yes, but I truly believe we can continue to make spectacular progress on this front in our lifetimes—and beyond.
The key is to do it together.
At the AACR, we also feel a tremendous responsibility to care for our community. During this global pandemic, we want to assure you that the important work of the AACR and our more than 47,000 members continues.
In April, the AACR held its first Virtual Annual Meeting. This best-in-class scientific conference was held in lieu of our in-person Annual Meeting that was rescheduled due to the global coronavirus pandemic. The response to this first meeting was tremendous. It drew nearly 63,000 registrants. The AACR Virtual Annual Meeting II, held in June, was attended by more than 39,000 people. It covered the latest discoveries across the spectrum of cancer research and included special sessions on COVID-19 and cancer as well as cancer care disparities. Then, in late July, we convened COVID-19 and Cancer, a virtual meeting focusing on the presentation of emerging data in basic, clinical, and epidemiologic research related to COVID-19 and cancer.
The AACR also brought its fundraising events online by offering safe and fun opportunities for people to help from the comfort of their own home or neighborhood. Our virtual runs, fitness challenge, and gaming fundraiser proved successful in rallying supporters from all over the globe in raising essential funds for cancer research.
Together, AACR supporters, cancer patients, patient advocates, cancer scientists, and oncologists form a team that makes the biggest impact possible. Our members working on lifesaving cancer prevention and cures, and those members now deployed on a global scale to battle COVID-19 are creating something that is greater than the sum of its parts: better, longer, and healthier lives for us, our loved ones, and all cancer patients.
The AACR values your contribution to this team effort. We need your ongoing support to ensure continued momentum toward cancer cures. However, your contributions are not limited to financial donations. They can also include becoming an advocate for cancer research, participating in AACR events to raise awareness, volunteering your time, or sharing your own cancer story.
As always, the AACR could not undertake the important work of our mission without you on our team. We're all in this together. Please show your support by donating at AACR.org/Donate or getting involved today at AACR.org/Get-Involved.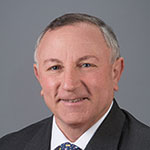 Mitch Stoller
AACR Foundation Chief Philanthropic Officer and Vice President of Development
Related Posts