AACR Volunteers and Ambassadors
Wendi Platt Helps Out Behind the Scenes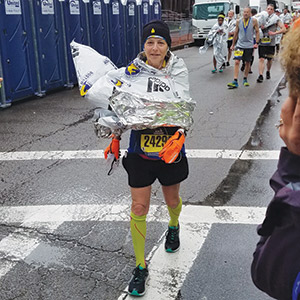 Many advocates for health and wellness have high public profiles due to their visible service, while others prefer to work behind the scenes. Wendi Platt of Philadelphia rarely finds herself in the spotlight for her volunteer work, but her passion for health and wellness drives her to contribute to causes she feels passionately about, among them cancer research, through fundraising and forging connections.
In 2019, Platt ran the Boston Marathon to honor a friend diagnosed with stage IV colon cancer and raised more than $5,200 for the American Association for Cancer Research (AACR). She also spearheaded an effort to convince the race management company, Epic Races, to designate the AACR as a beneficiary of one of its virtual runs, which it did on May 4, 2019. For the past two years, Platt has donated 100% of the proceeds from selling AACR-branded shirts during the AACR Philadelphia Marathon weekend to the AACR. The shirts are produced by Virgo III, her marketing firm.
Beverly W. Aisenbrey: Giving for Tomorrow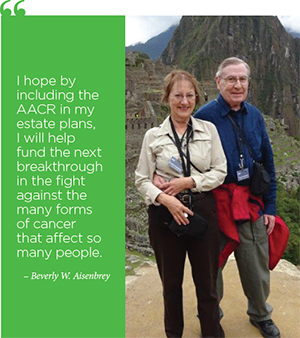 Beverly W. Aisenbrey is a valued AACR Foundation trustee, a breast cancer survivor, and most recently, a Dr. Bayard D. Clarkson Legacy Society Member.
As Aisenbrey approached retirement several years ago, she and her husband, Stuart, began to think about the legacy they wanted to leave behind. They decided that including the AACR in their wills would be an ideal way to make a lasting contribution to cancer research.
"I think the AACR is the most important organization in the cancer world," said Aisenbrey. "It's got great stability, an amazing internal staff, and an amazing group of members. It not only funds a lot of basic research, but it also helps young investigators come into the field and stay in the field."
The AACR's funding for early-career researchers was particularly important to Aisenbrey, who often speaks with young investigators at scientific meetings. She values the AACR's commitment to supporting promising early-career scientists and helping them remain in the field, and she believes these scientists will be responsible for future cures and breakthroughs.
"I hope by including the AACR in my estate plans, I will help fund the next breakthrough in the fight against the many forms of cancer that affect so many people," Aisenbrey said.
Related Posts