AACR Donors and Partners
A Long-time AACR Member Extolls the Benefits of Monthly Giving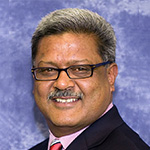 Sunil Gupta, MBBS, has been an AACR member for 25 years and a monthly donor since 2012. Currently living in Boston, Dr. Gupta is chief medical officer at OncoQuest Pharmaceuticals and has attended several AACR Annual Meetings and other events over the past quarter century. "The AACR pursues an outstanding mission in terms of education, supporting high quality research, and advocacy," Dr. Gupta says. "What the AACR does is very beneficial to the oncology community and cancer patients at large."
Dr. Gupta understands the need for the AACR to raise a steady stream of funding to help accelerate innovation in cancer science. "The need for more research is tremendous," he said. "Federal funds are continually under pressure." Because of this, Dr. Gupta has joined the Sustaining Hope Club, the AACR's monthly giving society.
"Monthly giving provides reliable, continued support so the AACR can better plan and budget for the future," he said. "Donating monthly is easy. I don't have to rush at the year end—it's good for budgeting and time management. My hope is that the AACR is able to put these contributions where the need is the greatest: toward research, education, advocacy, and patient care."
Monthly donations to the AACR and our more than 49,000 members worldwide provide sustained support for groundbreaking research that saves lives. You can join the Sustaining Hope Club to help advance our lifesaving mission to prevent and cure all forms of cancer. Go to AACR.org/SustainingHope to learn more.
---
Corporate Sponsor Employee Joins AACR Scientist↔Survivor Program®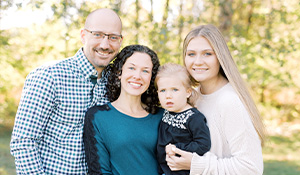 Mike Mawby's journey as a cancer survivor has had many ups and downs. After Mawby was diagnosed with a form of brain cancer called medulloblastoma in 2010, he underwent brain surgery, radiation treatment, and chemotherapy. Since the early days of his cancer journey, Mawby has been able to curb feelings of helplessness and focus on a lifestyle that could lower the likelihood of relapse. He has a healthy and balanced diet, exercises regularly by running, doing yoga, and participating in a local fitness group, and practices mindfulness. This November, Mike became a 10-year brain cancer survivor.
In 2021, Mawby took another step in his survivor journey by participating in the AACR Annual Meeting 2021 Scientist↔Survivor Program® (SSP). This program offers an opportunity for patient advocates to learn about cancer research and to network with scientists, doctors, health professionals, and other advocates. These groups come together to discuss the latest findings in cancer research, foster collaborative interdisciplinary partnerships, and promote progress in new research in cancer health disparities.
Mawby was connected to SSP through IPS-Integrated Project Services, where he works as a creative marketing specialist. Located in Blue Bell, Pennsylvania, IPS is a technical consulting, architecture, and engineering firm at the forefront of designing, constructing, and validating next-generation immunotherapy facilities using the latest process technology and streamlined project execution. The company has been an AACR corporate partner since 2019. IPS was looking for additional ways to increase employee engagement and SSP offered a prime opportunity.
Mawby learned a lot during SSP from fellow advocates who inspired him and from cancer scientists who impressed upon him the importance of research. He said he left SSP inspired to try new ways to be a better advocate at IPS and in his community.
"Being a cancer survivor is an elite club that no one wants to join. But once you're in, you'll never want to leave," said Mawby. "The AACR Scientist↔Survivor Program® is nondiscriminatory, diverse, and filled with members who all have a story to share and who make inspirational contributions to advocacy."
You can learn more about the AACR Scientist↔Survivor Program® at AACR.org/SSP.
---
Aflac Supports AACR Breast Cancer Initiatives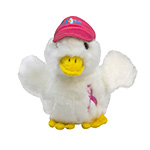 Since 2016, Aflac has supported the AACR through its Breast Cancer Awareness campaign. The company created exclusive, pink-themed Aflac Duck merchandise for National Breast Cancer Awareness month that year, with all net proceeds benefiting the AACR's breast cancer research efforts. To date, more than 83,000 ducks have been sold, raising more than $333,200. Through this ongoing initiative, Aflac generously supports the AACR Distinguished Lectureship in Breast Cancer Research. The AACR established this award to recognize outstanding science that inspires new perspectives on the etiology, diagnosis, treatment, or prevention of breast cancer.
"Aflac sees the devastating impact of cancer every day, and we know that tomorrow's improved outcomes and ultimate cure rest in the work the AACR supports today." said Buffy Swinehart, senior manager of corporate social responsibility at Aflac. "We are proud to support the AACR's efforts to change lives forever through research and drive us closer to cures for this devastating disease."
To learn more about this and other cause marketing campaigns, please visit AACR.org/CauseMarketing.
---
AACR Runners for Research Spotlight: Cancer Survivor Rabbi Benjamin David Runs to Help Others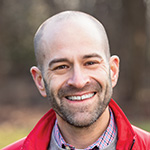 To put it simply, Benjamin David is a busy man. He is a rabbi, husband, father, avid runner, and cancer survivor. David, who lives with his wife, Lisa, and three children, Noa, Elijah, and Samuel, is the senior rabbi at Adath Emanu-El in Mount Laurel, New Jersey.
David has run 18 marathons, including the Boston Marathon twice and the New York City Marathon four times. He is also a co-founder of the Running Rabbis, which brings clergy together to run and walk in the name of shared causes.
In January 2016, at the age of 39, David received life-changing news from his doctor. He was diagnosed with a fast-growing cancer called diffuse large B-cell lymphoma and would need to start treatment immediately. During that time, he was unable run at the level he had run previously. "Being unable to run for so long was really painful to me at a time when I arguably needed to run the most. It would've been great to have that outlet," he said.
David finished four cycles of chemotherapy by the end of April 2016 and had 17 sessions of radiation therapy between April and June of that year. A PET scan later in the summer confirmed that his cancer was gone, and with that news, he was eager to run again.
Restarting his training proved challenging. He constantly asked himself if he could get back to a semblance of the runner he was before. With a long and arduous road ahead of him, he ultimately started to rebound.
"Slowly, I started to build up again," he says. "That fall, I shuffled my way through a half marathon. I have been building from there ever since."
Rabbi David set his sights on running in the AACR Philadelphia Marathon and ran the race on Nov. 21, 2021, as a member of the AACR Runners for Research team.
"I'm honored to be a part of the AACR Runners for Research team and honored to devote myself to others who are experiencing cancer," he said. "I was fortunate. I received very good treatment and my prognosis was relatively good, but I'm well-aware of the fact that not everyone is going to be as fortunate. "I felt so grateful that I survived and was able to return to my life. I wanted to be of help to people now experiencing what I did," he added.
Go to Runners4Research.org to learn more about the AACR Runners for Research team and how you can get involved.
---
Coffee for a Cause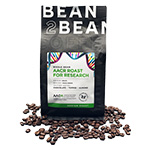 On Oct. 1, the AACR and Bean2Bean Coffee Co. released the "AACR Roast for Research," a Brazilian coffee from the Minas Gerais region. The coffee is available in whole bean or ground, and a portion of the proceeds from each bag sold supports the AACR.
Bean2Bean is a family-owned coffee business based in Philadelphia. Founded in 2013 by Obel Hernandez Sr., the company roasts and sells specialty coffee and partners with small businesses and charities in the Philadelphia region.
"Bean2Bean is an expression of our passions and personalities," said Obel Hernandez Jr., vice president of strategic partnerships. "Our beans are hand selected and roasted to craft the smoothest cup of coffee.
"We're excited about our partnership with the American Association for Cancer Research," he added. "Through the collaboration of the AACR Roast for Research, we look to increase funds for lifesaving research and support for accelerating the conquest of cancer."
AACR Roast for Research coffee costs $17.97 per bag and is available at AACR.org/Coffee.
---
Philadelphia Radio Show Supports Cancer Research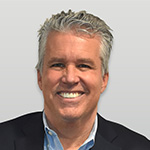 The John Kincade Show, a morning sports talk show on Philadelphia radio station 97.5 The Fanatic, selected the AACR to be its official charity through December 2021. Host John Kincade has a special connection to the AACR's mission. As a two-time cancer survivor, Kincade understands the importance of raising funds to help speed up cancer research progress.
"I love that our show has a featured charity, especially one like the American Association for Cancer Research. First of all, it's a cause that I can speak about passionately. My goal is to deliver a message of hope and encouragement to cancer patients and their families," said Kincade. "The AACR is an international organization headquartered right here in Philadelphia, which is a great source of Philly pride."
To support the AACR's mission to prevent and cure all cancers, the John Kincade Show is committed to raising awareness and funds for cancer research through a variety of initiatives. A mentorship and experience auction held in June raised nearly $10,000 to benefit the AACR's lifesaving work. Additionally, the AACR is grateful for the donations received through the partnership of the following companies: Adam Mechanical, Davis CPA Group, Farryn Electric, Peirce-Phelps, Bryant Heating and Cooling, and Window Nation.
"The Fanatic's partnership with the AACR has enabled us to rally around an important cause that has touched the lives of so many," said Kincade. "We are so proud to have the AACR as the official charity of the John Kincade Show, and we are beyond grateful to our listeners and clients who have joined and continue to join our efforts to raise awareness and funds to support cancer research and save lives."
You can learn more about this partnership at AACR.org/Fanatic and listen to the John Kincade Show every weekday 6 a.m.–10 a.m. Eastern time on 97.5 The Fanatic.
Related Posts