AACR Donors and Partners
BICO FOR LIFE Raises Over $20,000 for Cancer Research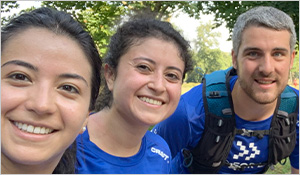 For two days in September 2021, BICO (formerly CELLINK), the world's leading bioconvergence company, celebrated BICO FOR LIFE, in which about 300 BICO employees from 12 companies around the world joined together to participate in a 5K run/walk or to volunteer at a local nonprofit. All participants committed to donate $75 or more for cancer research, and the company donated $21,750 to the AACR.
BICO provides innovative and cutting-edge technology, products, and services to improve people's health and lives. BICO carries this vision beyond their organization through activities that raise awareness and give back to those who inspire them, strengthening their bonds as a team and promoting healthy lifestyles. This dedication to their vision motivated them to select the AACR as this year's charitable beneficiary.
"The work that the AACR does for cancer research and the oncology community is unmatched," said Erik Gatenholm, CEO and co-founder of BICO. "At BICO, we strive each day to create the future of health, which is why partnering with the AACR was a perfect fit, as a recognition of the daily work of the scientists and researchers who make a difference in the lives of those who must fight this disease. We are proud to have chosen the AACR as this year's BICO FOR LIFE beneficiary."
To learn more about how your company can build a mission-driven partnership with the AACR, please visit AACR.org/UNITE.
---
Doug Black Hits Record Fundraising Total for AACR Runners for Research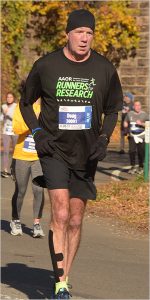 Hailing from Chatham, N.J., Doug Black is a private wealth management consultant with over 35 years of financial services experience. He also holds the record for the highest fundraising total for any AACR Runner for Research participant in the program's history, raising over $65,000 for the AACR by running in the Dietz & Watson Philadelphia Half Marathon in November 2021. The entire AACR Runners for Research team of 285 runners raised more than $400,000 during race weekend.
Running to raise funds for a good cause isn't a new concept to Black. He ran for the New York Road Runners Team for Kids at five New York City Marathons from 2004 to 2009. Like many others during the COVID-19 pandemic, he traveled less and had more free time, so he decided to pick up his weekly running mileage with an eye on a half marathon. "I haven't run a race to raise funds since 2009, and a lot has happened since then," he said. "I lost two relatives. I lost a brother-in-law and a sister-in-law to cancer. I lost my best friend to cancer." His best friend's wife is also currently going through stage 4 cancer.
Black was looking for another race to run with his two sons in fall 2021 and registered for the Dietz & Watson Philadelphia Half Marathon that took place during the AACR Philadelphia Marathon weekend Nov. 20-21. Black felt motivated to get involved with the AACR because it's primarily a research-focused organization. "If there is one thing I took away from the pandemic, it's that properly funded research matters," he said. "When you put money and smart people together, miraculous things can happen."
Black also thought it was important to support an organization that funds cancer research for all cancer types. "The AACR funds 200 types of cancers. Each one is important, particularly to those that get it," he said. "Funding across the board is important." Black set a goal to raise $25,000. He ended up exceeding his goal by the end of race weekend. As the drive started to gain momentum, he realized he was setting a new bar for fundraising, noting, "Runners can be pretty competitive. My sincere hope is that someone next year surpasses me."
When asked if he plans on running next year, Black said, "If my legs and my health hold up, I'll be back next November, and we'll try and see if we can outdo ourselves."
To learn more about the Runners for Research program, please visit Runners4Research.org.
---
A Festive Fundraiser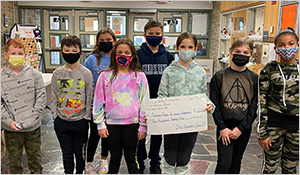 The student council at Oxford Valley Elementary School in Fairless Hills, Pa., held its 10th Annual Gingerbread Decorating Contest Dec. 13-17, 2021, and raised $230 for the AACR.
"Our lobby smelled delicious and looked amazing with 45 festively decorated houses, villages, castles, and even a football field," said Katy Stumbaugh, student council coordinator at Oxford Valley Elementary. She mentioned that the students are always eager to give back to their community. "We hope this donation helps the AACR continue to do the important work of pioneering research to find new treatments for cancer patients everywhere."
To learn about starting your own DIY fundraiser, please visit AACR.org/DIY.
---
Yangzi Jiang, Cancer Survivor and All-around Inspiration, Finishes the AACR Philadelphia Marathon With a Prosthetic Leg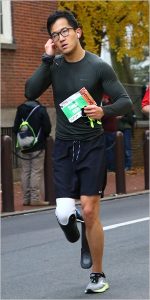 Embracing new challenges is something Yangzi Jiang has done his whole life, especially when a cancer diagnosis turned the life he knew upside down.
Jiang was 14 and living in China when he experienced pain in his leg. He was diagnosed with osteosarcoma (bone cancer) and treated in China before moving to Philadelphia when he was 14. Here he was treated at Children's Hospital of Philadelphia (CHOP) while attending a high school nearby. Jiang reflected on this difficult transition. "It was a hard decision for my parents to pull me out of the hospital in China," he said. "I had a few months of chemotherapy in China, and then had my leg amputated in Philadelphia, followed by another six months of chemotherapy at CHOP."
After a year-and-a-half of treatment in China and the United States, he was declared cancer-free. "It's been a little over 11 years that I have been cancer-free," said Jiang, now 26 years old.
Jiang was not a runner in his earlier years. He received a prosthetic running blade through the Philadelphia chapter of the Make-a-Wish Foundation and started running noncompetitively when he was a junior in high school, but wrestling was the sport he focused on. After high school, Jiang attended Davidson College in North Carolina. "Davidson's outdoor sports program was very robust," he said, which led him to try rock-climbing and kayaking. "I see my cancer diagnosis and losing my leg as an encouragement. I have a reason to push out of my comfort zone," he said.
Jiang started running again with some college friends during the COVID-19 pandemic and slowly worked his way up to longer distances. He wanted to participate in the AACR Philadelphia Marathon because of the importance of the city in his youth and his recovery from cancer. In the weeks preceding the race, he typically ran five mornings a week in Charlotte, North Carolina, where he lives and works as a software engineer.
Though it was arduous and painful, he completed the marathon in an impressive time of 4:42:52, which qualified him for the Boston Marathon Para Athletics Division.
"I decided to run this marathon to conquer my own fear and to raise money for cancer research," he said, and he raised close to $2,000 through the AACR Runners for Research program.
When asked about the importance of fundraising for cancer research, he said, "It comes down to the basics. We need to provide resources to these doctors and scientists to help them continue their research. I understand that applying for research funding can be a tedious process. I am trying to contribute in some way to help get the message across that cancer research funding is so important." Jiang said he plans to run again in the AACR Philadelphia Marathon in 2022.
To learn more about the AACR Runners for Research program, please visit Runners4Research.org.
Related Posts