The Work Continues Despite COVID-19
The COVID-19 pandemic presented significant challenges to the cancer research community. Yet the American Association for Cancer Research (AACR) continues to accelerate progress in the prevention, diagnosis, and treatment of cancer. Our work goes on to generate new sources of revenue and increase funding for our member-scientists and the important work they do.
Despite the difficulties the pandemic brought, I am proud to inform you that in 2020, the AACR awarded 57 grants to cancer researchers, totaling more than $12.62 million, thanks to the generous support of our donors and partners.
I believe the success we are seeing at the AACR has much to do with the mindset of our staff, more than 48,000 AACR members, and the cancer community at large. It's a mindset of strength, support, and community. We keep hearing the refrain "we're all in this together," and it's true. We may not be physically together, but we are united in spirit.
Despite the challenges of COVID-19, we look forward to the continued development of AACR programs, activities, and initiatives that support cancer research worldwide, and ultimately help improve patient treatment and care. If 2020 is any indication of our resolve to do good and our ability to collaborate and innovate, 2021 is sure to bring new, groundbreaking achievements. I hope you are inspired by the stories featured in this issue of Leading Discoveries.
We're keeping our heads high and our hearts full of hope. I invite you to join us.
Thank you for being a valued friend and champion of the AACR.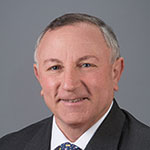 Mitch Stoller
AACR Foundation Chief Philanthropic Officer and Vice President of Development
Related Posts