Dr. Lisa M. Coussens: Cancer Immunology Pioneer and Basic Science Stalwart
The new AACR president believes in the power of science education and mentorship.
For the first time since April 2019, the AACR inaugurated its new president in person at the AACR Annual Meeting 2022, held April 8-13 in New Orleans. Lisa M. Coussens, PhD, became president of the AACR for 2022-2023 in a ceremony held April 11. She succeeded David A. Tuveson, MD, PhD, who was president in 2021-2022. Both Dr. Tuveson and Antoni Ribas, MD, PhD (president in 2020-2021), were inaugurated in ceremonies held during virtual Annual Meetings in April 2020 and 2021.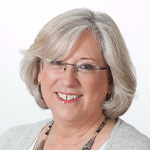 "I'm excited to see what the year brings," said Dr. Coussens, who served as a member of the AACR's Board of Directors from 2008 to 2011 and was elected as a Fellow of the AACR Academy in 2019. "The opportunity to work with Margaret Foti [AACR's CEO] hand in hand is remarkable. I have been a member of her fan club since I was a graduate student. She understands the importance of leading by example."
The admiration is mutual. "Dr. Coussens is an extraordinary scientist whose pioneering research on the tumor microenvironment and chronic inflammation has had an incredible impact on the understanding and treatment of many different types of cancer," said Margaret Foti, PhD, MD (hc), chief executive officer of the AACR. "The AACR will benefit greatly from her wide scientific knowledge, proven track record as a leader and mentor to her colleagues, and commitment to the AACR's mission."
Uncovering the Immune System's Role in Cancer
Dr. Coussens is the associate director for Basic Research at the Knight Cancer Institute at Oregon Health & Science University in Portland. She is also a professor and chair of the Cell, Developmental, and Cancer Biology Department. Her laboratory research focuses on understanding how the immune system, and, specifically, chronic inflammation, is associated with solid tumor development.
Many cancer researchers who probe the role of the immune system in cancer have focused on T cells. Dr. Coussens' pioneering work has examined the role of lesser-known immune cells called myeloid cells. These cells can facilitate tumor growth, activate angiogenesis (the development of blood vessels in and around the tumor that it uses to survive and spread), communicate with other cells, including supportive cells called fibroblasts, and suppress cytotoxic activities of anti-tumor T lymphocytes in the tumor microenvironment. Early in her scientific training, Dr. Coussens recognized the need for a holistic view to understand all the cells in the tumor's proximity and their role in communicating with each other and working together. Her lab focuses on studying the interplay between cancer cells and subsets of myeloid cells, as well as the dynamics between myeloid cells and T cells in the tumor microenvironment.
Dr. Coussens credits a phenomenal sixth-grade science teacher who instilled in her a love of asking questions and showed her the possibilities that open when you are empowered to figure things out on your own. "He had this cart in front of the classroom that was decked out like a lab with tools for experiments. It was so exciting for me."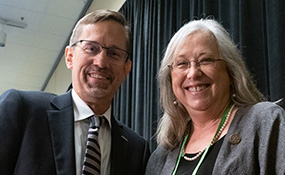 Dr. Coussens' enthusiasm for science led her to graduate from San Francisco State University with a bachelor's degree in biology. She received a PhD in biological chemistry from the University of California, Los Angeles, in 1993. She then joined the laboratory of Douglas Hanahan, PhD, at the University of California, San Francisco, as a postdoctoral fellow. At the time, genetically engineered mouse models of cancer, or transgenic mice, were a relatively new tool to study cancer.
Dr. Coussens worked on transgenic mouse models expressing viral oncogenes that initiate the development of squamous cell carcinomas, a common form of epithelial cancer, in the animals. She observed and characterized the fast-growing lesions the mice developed and their conversion into malignant, invasive cancer cells. "These first animal models gave us a glimpse into the premalignant stage of cancer development," she recalled. "The animals started out healthy and then would develop tumors, and we were able to watch the process." Besides the blood vessels and connective tissue that are normally found around tumors, Dr. Coussens was surprised to find something unexpected—copious numbers of myeloid cells, including macrophages, dendritic cells, and mast cells, that infiltrated the premalignant lesions.
"At the time, there was really nothing known about myeloid cells in solid tumors other than that chronic inflammation was associated with tumor incidence," she said. Dr. Coussens dove into understanding the role of these myeloid cells in tumors, including showing that inflammatory mast cells facilitate the formation of new blood vessels to tumors and that myeloid cells secrete certain growth factors and proteases that can facilitate cancer development. "'What are these different myeloid cells doing around the tumor? Which ones contribute to tumor development and which ones might be inhibiting it? Can we target any of these cells as possible therapies for cancers?' These are the questions that I began to address when I started my own lab," said Dr. Coussens.
Following her postdoctoral fellowship, in 1999, Dr. Coussens joined the faculty at the University of California, San Francisco, as an assistant professor. Her laboratory, established the same year, published among the first studies demonstrating that crippling myeloid cell pathways can profoundly slow tumor progression in mouse models and, importantly, that certain myeloid cells were inhibiting T cells from properly attacking the tumor. "By targeting myeloid cells, you can cripple two birds with one stone, turning off the pro-tumor pathways that myeloid cells stimulate and relieving their suppression of T cells,"said Dr. Coussens.
A Tumor Visualization Tool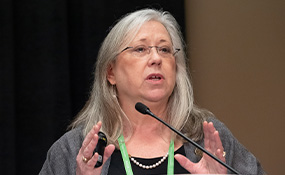 Dr. Coussens has expanded her research from the basic biology principles of cancer that her lab has uncovered to include technology development and translational medicine. Dr. Coussens' lab helped to develop imaging technology to analyze tumor cells and the immune cells found within and adjacent to them on a single-cell level, cataloging the various proteins expressed inside the cells and the cell membrane. "This imaging platform allows us, from patients' biopsies, to analyze what the tumor immune microenvironment looks like. We can look at biopsies before and after treatment to understand how the tumor and immune cells respond [and] change in response to therapy," said Dr. Coussens.
She and her collaborators are integrating the imaging technology into clinical trials, including a recent trial of an immune system-targeting drug in patients with advanced pancreatic cancer to monitor the way that immune cells in and around the tumor microenvironment respond to the therapy. The granular, detailed view that this technology enables is invaluable to assess how a drug is working and to provide the knowledge to develop better cancer therapies. "We want to understand whether what we see when animal models of cancer are treated with a drug parallels what happens in cancer patients, and helps us to understand how the tumor microenvironment contributes to response versus resistance to the drugs."
A President's Initiative: An Early Start on Science Education
"I am a basic scientist and committed to advocating for basic science. There is not a drug on the market for any disease that doesn't stem from a fundamental, basic science discovery," said Dr. Coussens. The new AACR president is a champion of basic science education for trainees, whether they are going to be clinicians, laboratory researchers, or data scientists.
"The expectations on young scientists are high," she said. "They need to be well-versed in multiple scientific languages as technology and data science are now integral to basic biology. They also need to be able to pitch their basic science to clinicians or biotechnology companies for potential translation and to be able to speak the language of both fundamental and translational science."
Dr. Coussens also advocates for science education even sooner in life. One of her top priorities as AACR president is to further develop science education programs and research experiences for high school and undergraduate students, particularly targeting underserved communities. As someone whose spark for science came from a primary school teacher, Dr. Coussens is passionate about instilling that spark in young students. "How do we put the science bug into an entire generation of young people? We need to start early, perhaps before students arrive at college."
There is not a drug on the market for any disease that doesn't stem from a fundamental, basic science discovery.
Dr. Coussens envisions summer programs in which high school or undergraduate students would conduct research in chemistry, biology, and physics laboratories or work directly with data scientists. A 10- to 12-week summer program that covered the cost of housing and airfare, if necessary, and provided students with a stipend would allow them to work in a laboratory with a mentor and experience what the life of a scientist actually entails.
"A key is to provide students with the funds necessary to leave home for a few weeks and forgo a summer job, "she said. "Many families have bigger priorities than science education, like making sure their kids are fed. We want to make sure these kids have opportunities and mentors.
"Whatever we can do to capture students' imagination and keep them excited about their education, we need to do; we need diversity in science, just like we need diversity everywhere else," she added. "We are not going to be able to recruit young people from underserved communities unless we provide financial support."
The Importance of Mentorship for Career Success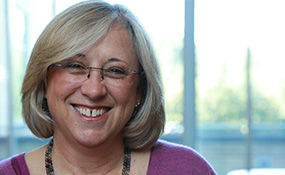 "Those who know me would say that I am a powerful advocate for science and for mentoring in science. I had very effective mentors who supported, encouraged, and advocated for me and helped me to keep my focus going in the right direction throughout my career," said Dr. Coussens.
She stressed the need for science mentors, particularly for women and minority groups. "A very important message for me to communicate is for those of us that are successful in research, to 'pay it forward' and to become supporting mentors," she said. "As a young scientist or a junior faculty member, you need senior scientists who you can talk to, get advice from, who are your cheerleaders, and who will candidly tell you the difficult things you need to hear."
Dr. Coussens also stated that such mentor-mentee support can result in greater gender balance and overall diversity in science. "Everybody's voice needs to be heard," she said. "Science, and life, are better when people of diverse backgrounds work together; the conclusions and outcomes are improved. I have experienced my share of bias, discrimination, and roadblocks, and the younger generations shouldn't have to put up with it. It's enough already."