The AACR Accelerates Cancer Research Progress
It is a great honor for me to serve as Chief Executive Officer of the American Association for Cancer Research (AACR). Leading the world's first and largest organization dedicated to advancing cancer research provides many opportunities to meet some of the most brilliant people in the field. I am referring to AACR members who work tirelessly and selflessly to conquer cancer by accelerating progress in every area of research, from cancer biology to early detection, diagnosis, treatment, and prevention.
This issue of Leading Discoveries shines a spotlight on a few of the many outstanding AACR members who have made discoveries that advance the AACR's mission to prevent and cure all cancers. Phillip A. Sharp, PhD, is a world-renowned scientist and a major contributor to the progress being made in cancer research. He and Richard J. Roberts, PhD, won the Nobel Prize in Physiology or Medicine in 1993 for their discovery of RNA splicing. Dr. Sharp is widely known for his work chairing the Scientific Advisory Committee of Stand Up To Cancer (SU2C), a remarkable organization that uses the power of celebrity to drive progress against cancer. As the Scientific Partner of SU2C, the AACR plays a pivotal role in providing expert scientific peer review and handling the administration and scientific oversight of research grants. This fall, Dr. Sharp co-chaired an AACR special conference on convergence that examined how discoveries in cancer biology, clinical oncology, and new computational methods, such as artificial intelligence and machine learning, can help discover future breakthroughs in cancer science.
Another outstanding cancer researcher, whom I'm proud to say is the current AACR President, is Elizabeth M. Jaffee, MD, the deputy director of the Sidney Kimmel Comprehensive Cancer Center at Johns Hopkins University in Baltimore. Dr. Jaffee is a widely respected physician-scientist whose pioneering work in cancer immunology and immunotherapy has had an enormous impact on the discovery and development of new and effective cancer treatments. She is also a distinguished, highly effective leader in cancer policy at the national level, and her work in this area is deeply appreciated by the whole cancer community. Her contributions to the AACR, as president and in the many other important roles she has filled over the years, have been immense.
The members of the AACR collectively represent the greatest minds in cancer research. Those members who further distinguish themselves by making important contributions to cancer research and driving major innovations and progress against cancer are elected as Fellows of the AACR Academy. The Fellows identify and support the most promising areas of research and build bridges between cancer research disciplines. These esteemed scientists also advocate for increased funding for cancer research and help educate elected officials and policymakers about why supporting research in cancer and the related sciences is so important.
The AACR helps shape science and public policy surrounding cancer issues and advocates for public funding for research. The AACR Office of Science Policy and Government Affairs in Washington, D.C., leads the way in advocating for robust, sustained, and predictable annual increases in the budgets for the National Institutes of Health, the National Cancer Institute, and the Food and Drug Administration.
The annual Rally for Medical Research Hill Day in September was a clear indicator of the AACR's leadership in advocating for all medical research. As the founding organizer of this unique event, the AACR brought together more than 325 national organizations for meetings with representatives and staff on Capitol Hill. At the same time, the AACR released the AACR Cancer Progress Report 2018, an annual summary of the latest advancements in cancer research.
The AACR also acts as a catalyst for progress in cancer research by bringing together the different segments of the cancer community to work together to prevent and cure all cancers. Turning research into lifesaving treatments requires collaboration among university-based research scientists, clinical oncologists, representatives from biotechnology and pharmaceutical companies, the federal agencies, and patients and research advocates.
Breathtaking discoveries are being made in cancer research, prevention, and treatment. The AACR is fueling these advancements by providing funding for research by scientists at every stage of their careers, including early-career investigators; presenting the latest progress in cancer research at AACR meetings and in AACR journals; and reaching out to cancer patients, survivors, and the public to inform them about the exciting developments in cancer science.
The AACR plays a pivotal role in sustaining the cancer research community that generates new insights into cancer prevention, diagnosis, interception, and cures. I hope you enjoy reading about the AACR's varied and vital activities in this issue of Leading Discoveries.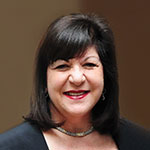 Margaret Foti, PhD, MD (hc)
AACR Chief Executive Officer
Related Posts