AACR Is Committed to Accurate Communication About Cancer Research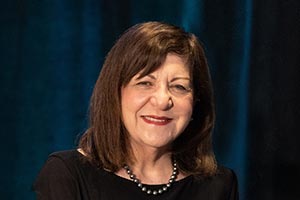 Early in my career, I was an editorial assistant for the top scientific journal in the cancer field, Cancer Research, published then and now by the American Association for Cancer Research® (AACR). Later, I became managing editor of the journal and eventually chief executive officer of the AACR. Because of my career history, I remain deeply committed to the critical role of science communication.
We are living in perilous times for accurate and unbiased communication, especially in the medical and health fields. According to Food and Drug Administration Commissioner Robert M. Califf, MD, "the truth is losing the battle right now," and he has made combating medical misinformation one of his agency's top priorities. Dr. Califf blames social media algorithms that amplify extreme claims while making it difficult for responsible journalism to break through the noise. Adding to the confusion are political leaders, celebrities, and media personalities who, either through ignorance or intent, promote erroneous and sometimes harmful information.
Dr. Califf has called on professional associations, among others, to lead the fight against medical and health misinformation. As the world's first and largest professional association dedicated to advancing cancer research for the benefit of patients, the AACR is already engaged in producing the highest quality science content. In addition to Cancer Research and our nine other scientific journals that reach a huge national and international audience of experts, the AACR also publishes Cancer Today®—a magazine for cancer patients, survivors, and caregivers—and Leading Discoveries, the publication you are reading now. In addition, the AACR launched a Trust in Science Task Force in 2022, recognizing that the full lifesaving potential of science for the public good can only be realized if scientists' work is supported by a solid foundation of public trust.
The AACR also operates a wide-ranging communications program that seeks to better inform the public, through traditional and social media, about the tremendous progress being made in cancer research. For example, in 2022, more than 24,000 stories about AACR activities appeared in the media, including nearly all major TV networks, several well-known newspapers, and influential science news websites. This year, more than 200 journalists covered the AACR Annual Meeting 2023 held in April. On the social media front, the AACR's Facebook, Twitter, and LinkedIn pages registered more than 6 million impressions each in 2022, and AACR videos on YouTube garnered 1.2 million impressions last year.
In 2015, the association established the AACR June L. Biedler Prize for Cancer Journalism to showcase outstanding media coverage of cancer and to recognize professional journalists who produce accurate, informative, and compelling stories. To date, more than 30 prizes have been awarded. The Biedler Prize is funded by a bequest from the late June L. Biedler, PhD, a scientist, mentor, and pioneer in cancer research who believed people who aren't scientists should be able to understand cancer research and cancer-related sciences.
The AACR is already engaged in producing the highest quality science content.

– Margaret Foti, PhD, MD (hc)
Professional journalists often serve as the bridge between scientists and the public, delivering scientific messages with accuracy while using language that is both rigorous and attuned to the audiences they are trying to reach. People who possess both the scientific background and the communication skills necessary to translate complex research into understandable language are in short supply, however, which is why earlier this year I established the Margaret Foti Scholarship Fund at my alma mater, Temple University in Philadelphia. The fund will offer scholarships to promising students with financial need who are seeking a graduate degree in science communication with a focus on medical, health, and related fields. I hope that this scholarship program will produce superb science and health communicators who will help translate complex information for the public, legislators, policy makers, and others, and do so in ways that are impactful and engaging.
Those who are involved in fact-based medical and science journalism work hard at their craft and take seriously their responsibility to report the news accurately and understandably. The AACR is committed to doing everything it can to support their efforts and to educate the public on the ongoing need to advance cancer research and its mission to prevent and cure cancer.

---
Cover Art:
Developing effective vaccines against pancreatic cancer and researching novel immunotherapies—hallmarks of Dr. Elizabeth M. Jaffee's storied career—are portrayed in the cover illustration. Dr. Jaffee is also a mentor to younger cancer scientists and clinicians. Read more about Dr. Jaffee here.
©2023 American Association for Cancer Research/Nicolle Fuller
Related Posts