Collaboration Is Key to Progress
Scientific research is rarely a go-it-alone endeavor, especially when investigators seek to understand and find effective treatments for a disease as complex and multifaceted as cancer. Scientists often collaborate with one another as part of established research teams or less formally through interactions at scientific meetings or in the articles of academic journals.
In this issue, you can read about some of the many collaborations forged by the American Association for Cancer Research (AACR) that drive research progress, not just among cancer scientists, but among all the stakeholders in the global fight against cancer. Within the AACR, Scientific Working Groups enable investigators who share similar interests to combine their efforts to develop insights and approaches that hold promise for advancing cancer science. From the Molecular Epidemiology Working Group (the smallest group, with 901 members) to the Tumor Microenvironment Working Group (the largest group, with 7,110 members), like-minded AACR members work and learn together. "The groups provide a place to bring new ideas forward," said Kimberly Stegmaier, MD, current chair of the Pediatric Cancer Working Group.
Cancer is a worldwide public health challenge, and while the AACR's headquarters is in the United States, three in 10 of its more than 44,000 members live outside the U.S. The AACR collaborates with cancer organizations in other countries to address mutual problems and local concerns. For example, the AACR has held meetings in China, Japan, South Korea, and other Asian countries; Africa; South America; and throughout Europe. The AACR's relationship with Cancer Research UK, based in London, is an example of an ongoing, flexible international partnership that allows the two organizations to collaborate and share their expertise to meet pressing needs in both countries.
In this issue, you can also read about a remarkable physician-scientist and extraordinary research administrator, William N. Hait, MD, PhD. Dr. Hait has worked tirelessly to advance cancer science and bring its benefits to patients as rapidly as possible. In his research and in leadership roles—as the founding director of the Cancer Institute of New Jersey, now the Rutgers Cancer Institute, and in his various important positions at Johnson & Johnson—Dr. Hait has kept a resolute focus on patients. He feels strongly that collaboration among researchers, physician-scientists, biotechnology companies, and pharmaceutical firms is necessary for breakthroughs to reach patients quickly. "Industry has its role, academics has its role, and together, that's how we get drugs to patients," he said.
Finally, according to the AACR Cancer Progress Report 2019, from August 2018 through July 2019, the U.S. Food and Drug Administration (FDA) approved 17 new anticancer therapeutics and 10 previously approved therapeutics for treating cancer types other than those for which they were first approved. This great progress is powered by the National Institutes of Health (NIH). The NIH is the largest public funder of medical research in the world, and this year it invested $39.2 billion in research. To keep that support flowing, the AACR coordinated the seventh annual Rally for Medical Research Hill Day on Sept. 19 at the U.S. Capitol in Washington, D.C. Research advocates representing the AACR and more than 350 other organizations involved in medical research collaborated to urge elected representatives and their staffs to continue supporting robust funding increases for the NIH.
At the epicenter of all this collaboration is the patient, the individual who stands to benefit most dramatically and directly from cancer research progress. In 2016, when Keith Taggart found out that his salivary gland cancer, diagnosed two years before, had spread to his lungs, liver, and kidney, he faced a grim outlook. Traditional chemotherapy would have extended his life by only three or four weeks, but a clinical trial testing an experimental targeted therapy offered hope. The drug being tested, larotrectinib (Vitrakvi), attacks tumors with the NTRK fusion, a type of mutation that caused Taggart's cancer to grow. He entered a clinical trial testing the drug, and it worked. Thanks to research that led to the discovery of larotrectinib, Taggart's cancer has been undetectable for about two years, and he is enjoying a good quality of life. And thanks also to extensive collaborations—across cancer research disciplines, by scientists around the world, and among those working in academic settings, industry, and the federal government—progress will continue to accelerate and bring more breakthroughs to cancer patients.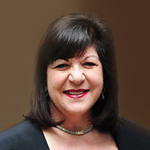 Margaret Foti, PhD, MD (hc)
AACR Chief Executive Officer
Related Posts