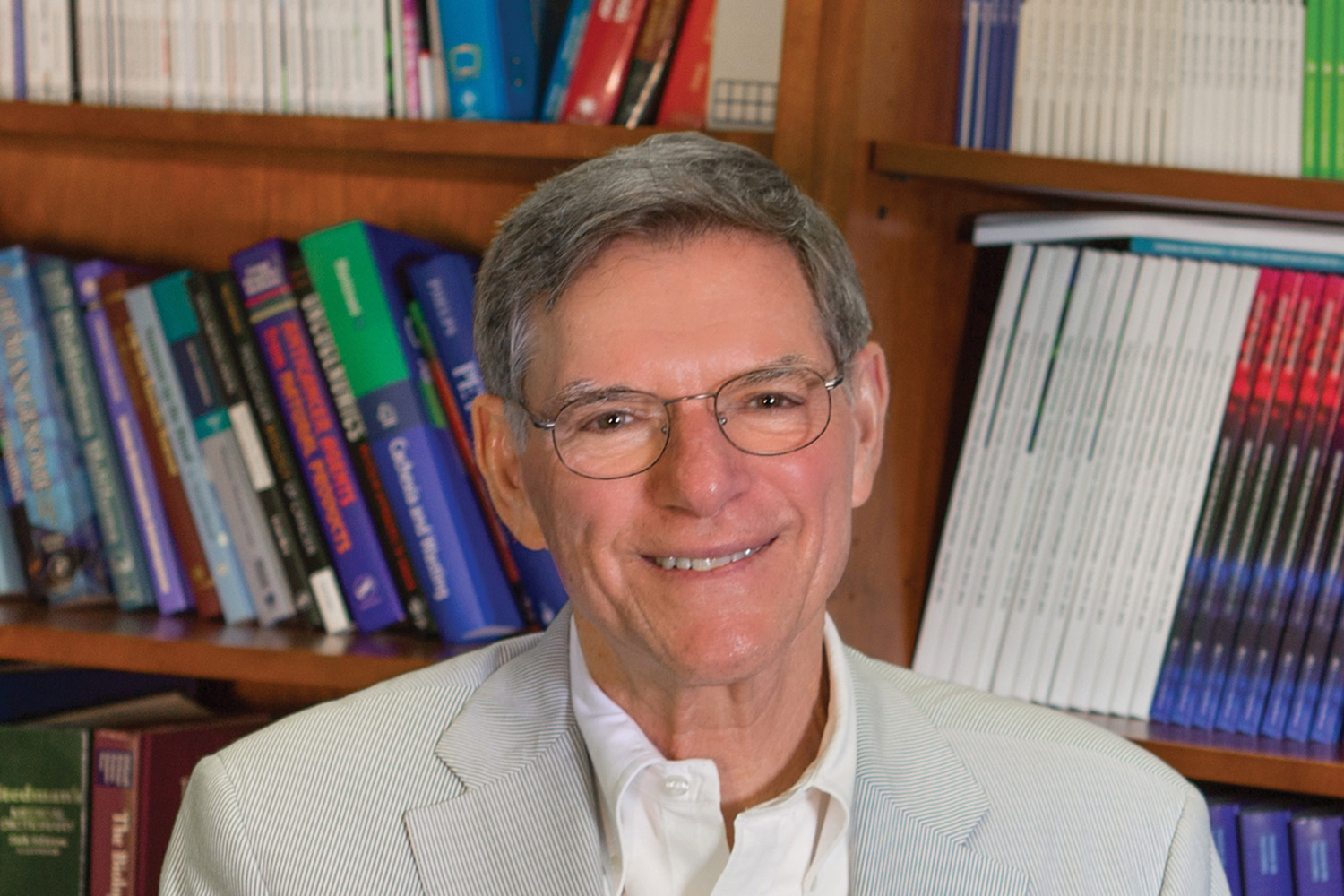 Dr. William N. Hait: A Visionary With a Focus on Patients
When the University of Medicine and Dentistry of New Jersey hired William N. Hait, MD, PhD, as the founding director of its Cancer Institute in 1993, he was charged with building a world-class cancer center. It was a formidable goal: Dr. Hait was the fifth employee at the cancer center, joining an administrator, a social worker, a secretary, and a research nurse.
Within four years, Dr. Hait had accomplished the challenging task. In 1997, the Cancer Institute of New Jersey (CINJ), located in New Brunswick, became a National Cancer Institute (NCI)-Designated Cancer Center, conducting state-of-the-art research aimed at discovering better approaches to cancer prevention, diagnosis, and treatment. But Dr. Hait didn't stop there. He continued to develop CINJ's research and education programs with another goal in mind. He wanted the institute, now part of Rutgers Health and since 2013 called the Rutgers Cancer Institute of New Jersey, to be a Comprehensive Cancer Center, the NCI's highest designation. Dr. Hait crossed that off his to-do list in 2002.
"What he did was unprecedented and remains without peer 17 years later," said Rutgers Cancer Institute's current director, Steven K. Libutti, MD. Today, Rutgers Cancer Institute remains the only NCI-Designated Comprehensive Cancer Center in New Jersey and one of only 51 nationwide.
"He had a very clear vision of what he wanted to accomplish, and he was very passionate," said Dr. Libutti. "He recognized that research is critically important to the well-being of patients suffering from cancer and the importance of making patients the focal point and improving their outcomes. It was that strong patient-centered vision that allowed him to succeed in a relatively short period of time."
A Focused Career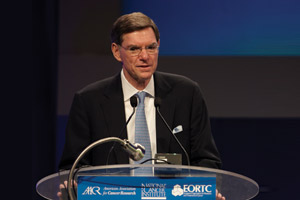 After receiving his medical degree and PhD in pharmacology from the Medical College of Pennsylvania (now Drexel University College of Medicine) in Philadelphia, Dr. Hait began his career at Yale University School of Medicine in New Haven, Connecticut. He completed his fellowship in medical oncology there in 1984, and four years later he was appointed chief of the school's medical oncology program.
Dr. Hait gained significant recognition at Yale for his expertise in translational cancer research, a field that centers on using scientific breakthroughs to improve cancer outcomes. He focused on multidrug resistance in breast cancer, a research area that combined his interests in clinical pharmacology and molecular and cellular biology. At Yale, Dr. Hait also found a lifelong mentor and role model in Joseph R. Bertino, MD, a renowned cancer researcher and past president of the AACR. But to Dr. Hait, the leadership position at CINJ felt like a calling.
"There was an event in my life that made me think carefully about what contributions a person as fortunate as I was could make," said Dr. Hait. "My mother was diagnosed with ovarian cancer and she lived in New Jersey. And my best friend's mother was also diagnosed with a serious form of cancer. When they talked to me about where they could get care in New Jersey, I could not find a single place that I could recommend. As I watched what they were going through, I felt that it was time that I take advantage of what I had learned to try to build something of quality for the people of New Jersey, my home state."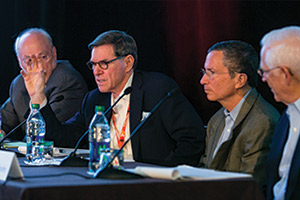 Dr. Bertino watched his mentee's success at CINJ from his position as chair of the Molecular Pharmacology and Therapeutics Program at Memorial Sloan Kettering Cancer Center in New York City. "Bill understood excellence in patient care and research and was a great recruiter," he said. And in 2002, when Dr. Bertino left his position in New York City to create a translational research laboratory at CINJ, he was able to see Dr. Hait's expertise firsthand. "He has integrity, and everyone trusted him and knew he cared about them," Dr. Bertino said. "He was able to make the cancer center a priority in the school and with the state legislature. What he accomplished while at CINJ is incredible."
From Academia to Industry
About 10 years into his tenure at CINJ, Dr. Hait set a new goal: to make it one of the top 10 cancer centers in the country. To do that, he decided that he needed to write himself out of the picture. "I felt we needed new people at the top, myself included," he said. "So, I created a strategic planning group with our associate professor-level people, who were fantastic. And I said, 'You're going to work on the strategic plan.' They said, 'Why us? Why not the senior people?' And I said, 'Because when you're done, you're going to run the cancer center.' And that's what we did. Once we finished the strategic plan and I was the only one left standing, I stepped down and needed to find a job."
Dr. Hait wanted a position that would allow both personal and professional growth. In 2007, he moved from academia to industry to serve as Global Therapeutic Area Head for Oncology at Johnson & Johnson, the health care products giant based in New Brunswick. The new job meant he would no longer see patients, teach, or mentor medical students. But it offered multiple new opportunities—and new goals. Among the first was to make Johnson & Johnson one of the top five oncology companies in the world by 2015. He hit that mark in 2014, when the company was "number four in the world as measured by sales."
His colleagues weren't surprised. "I think that Bill has a tremendous ability to see beyond, and to be able to get people to believe in the types of things he thinks need to be done," said Joaquin Duato, vice chairman of the Executive Committee of Johnson & Johnson.
Over the years, Dr. Hait's role at Johnson & Johnson has changed. He was appointed Global Head of Janssen Research & Development (the R&D arm of Johnson & Johnson's pharmaceutical division) in 2011 and then Global Head of Johnson & Johnson External Innovation in 2018. "Over the last 10 years, we've launched over 20 new drugs and have had over 50 New England Journal of Medicine publications," Dr. Hait said. "I'm very, very proud of that."
Throughout the years, he has kept patients at the forefront. "I think he honestly wakes up in the morning thinking about how we can do better by patients, and that is also his last thought before he goes to sleep," said Dr. Libutti. "That is his compass and what guides him."
AACR Involvement
Dr. Hait has contributed in myriad ways to the growth and development of the AACR. "Growing up in academic medicine and oncology as a physician-scientist, there was only one place where you wanted to present your work and that was the AACR," said
Dr. Hait. "It was the premier place to present your work, to get feedback, to become known as a scientist, and I wanted to help the organization in any way I could."
The AACR "can shape the thinking of cancer research around the world," he continued. "It has rounded out my own sense of how one has a career. I think it's a responsibility that we all should have to give back to something we believe in."
Dr. Hait has been the editor-in-chief of Clinical Cancer Research, and he served on the editorial boards of Molecular Cancer Therapeutics and Cancer Research, all journals published by the AACR. From 2007 to 2008, Dr. Hait was the AACR president. During his tenure, he launched the AACR's Translational Cancer Medicine series of Special Conferences and co-chaired the steering committee for the Cancer Biomarkers Collaborative, a program that united the AACR, NCI, and the U.S. Food and Drug Administration (FDA). The collaborative published a report in 2010 in Clinical Cancer Research that identified key strategies for advancing the use of biomarkers in drug development, clinical trials, and patient care. He currently serves as the treasurer of the AACR Board of Directors.
"Dr. Hait's contributions to the AACR and to cancer science overall have been enormous," said Margaret Foti, PhD, MD (hc). "He embodies the selfless pursuit of knowledge and innovation to bring lifesaving treatments to patients. His work as a physician-scientist in an academic setting and in industry has helped bring about remarkable progress in cancer research and medicine to benefit patients. Also, his ongoing advice and counsel to the AACR and its strategic plan have been pivotal to the growth and scientific prestige of our organization."
In 2013, Dr. Hait was one of 106 individuals chosen for the inaugural class of the Fellows of the AACR Academy, one inductee for each of the 106 years of the AACR's existence at the time. As a Fellow of the AACR Academy, Dr. Hait's duties include advising the AACR on scientific priorities, advocating for increased federal funding for cancer research, educating the public about the value of cancer research, and mentoring the next generation of cancer scientists.
"I think the Fellows have a very unique role in the world because of the power of their voice," Dr. Hait said. "These are Nobel laureates and members of the National Academies of Sciences and Medicine. When they speak, people listen."
Eliminating Disease
As technology has advanced, Dr. Hait's vision for the future of cancer research has expanded from developing new types of cancer treatments to the concept of cancer interception—finding ways to stop cancer cells in their earliest stages.
"We're living longer, but the age of onset of disease hasn't changed," Dr. Hait said. "So, if we're living longer and you start accumulating diseases at age 40, which is about when you do, you're going to live a longer but unhealthier life." But if we can "understand the origins of disease," he said, "we could prevent disease from ever happening." Dr. Hait likens the concept of cancer interception to the check engine light in a car. "If a car goes out of spec, the check engine light comes on, and an adjustment is made before the car breaks down."
Dr. Hait draws a distinction between interception and prevention. "Vaccinating a population to prevent childhood diseases is not interception, because there is no disease process going on in children who were vaccinated. But the statins used for cardiovascular disease would be interception because they stop the process of disease causation." For cancer, he said, cancer interception means finding ways to diagnose cancers even earlier, along with identifying biomarkers that can predict disease progression—goals that he has for the programs he oversees at Johnson & Johnson.
As Dr. Hait works toward these promising goals, he also remains focused on the need to develop better treatments for cancer patients right now. To do that, he said, it is critical for academic researchers, physician-scientists, biotechnology companies, and pharmaceutical companies to work closely together. It is only through these cross-sector partnerships that a drug's potential can be identified early and made available to patients as quickly as possible. "Industry has its role, academia has its role, and together, that's how we get drugs to patients."