AACR Cancer Progress Report 2019 Charts How Research Benefits Patients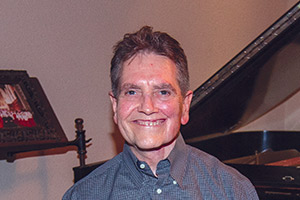 Taggart's doctors offered him two treatment options. The first was chemotherapy, which his doctor said might extend his life by three or four weeks. The second was a clinical trial testing an experimental targeted therapy for patients with a tumor driven by a type of genetic mutation, or error, called an NTRK fusion. Genetic profiling of Taggart's tumor had previously shown that this fusion was helping it to grow.
"I jumped at the chance to participate," Taggart recalled. "Within hours, I had spoken to the clinical trial administrator and begun the process of enrolling."
In November 2018, that drug, larotrectinib (Vitrakvi), became the first targeted therapy approved to treat patients with a tumor that has a specific genetic biomarker—in this case, the NTRK fusion—regardless of where the cancer started. The approval was made possible by Taggart and other patients enrolled in that clinical trial. Today, thanks to the research that created larotrectinib, Taggart's cancer has been undetectable for about two years.
Taggart, now 63, said his quality of life is extraordinary. "I go to the gym and run two miles on the treadmill every day, and I haven't missed a day's work due to cancer-related illness since I started the clinical trial."
Taggart is one of the 11 cancer patients featured in the AACR Cancer Progress Report 2019. Stories like his illustrate how researchers are bringing innovative cancer science to patients in the form of novel approaches to cancer prevention, detection, diagnosis, treatment, and survivorship. These patients also bring to life encouraging statistics like this one: The number of cancer survivors in the U.S. increased from 15.5 million in 2016 to 16.9 million in 2019.
"There has never been a time of greater excitement in the cancer field," said Margaret Foti, PhD, MD (hc), chief executive officer of the AACR. "The rapid pace and broad scope of the progress against cancer are extraordinary."
Charting Progress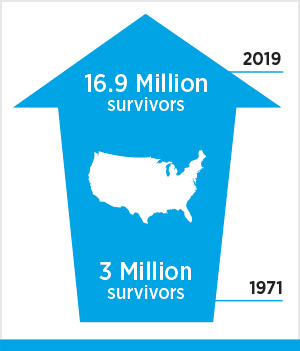 The AACR produced the first AACR Cancer Progress Report in 2011. Each year since 2014, the report's release has coincided with the Rally for Medical Research Hill Day held at the U.S. Capitol in Washington, D.C. The AACR is the founding organizer and lead sponsor of the Hill Day and annually brings together nearly 350 organizations to advocate for robust, sustained, and predictable funding increases for the National Institutes of Health to support medical research.
For many, progress in cancer research is measured by the number of cancer drug approvals by the U.S. Food and Drug Administration (FDA). Between Aug. 1, 2018, and July 31, 2019, the FDA approved 17 new drugs for patients with various types of cancer, including the larotrectinib used to treat Keith Taggart, and expanded the use of 10 previously approved drugs to treat additional types of cancer.
Some of these drugs benefit patients with rare cancers. Other therapies offer new options for patients with more common cancers. The drug palbociclib (Ibrance), first approved to treat women with certain types of breast cancer in 2015, is now approved to treat men with the same type of advanced breast cancer. The FDA used real-world data and evidence collected through patient medical records to expand the approval of the treatment. The advantage of using real-world evidence and data is the ability to assess the impact cancer therapies have on patient groups that can be difficult or expensive to study in clinical trials.
New Needs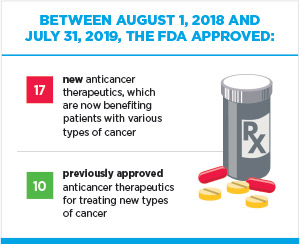 The AACR Cancer Progress Report 2019 also calls attention to new or newly identified issues that increase cancer risk. The rising popularity of Juul and other e-cigarettes has put at risk decades of success in reducing nicotine addiction. Use of these products increased by 78% among high-school students and 50% among middle-school students between 2017 and 2018. E-cigarettes deliver high levels of nicotine, which is extremely addictive, and emit numerous potentially toxic substances. In addition, youth who use e-cigarettes are more likely to try combustible cigarettes, which are directly linked to increased cancer risk.
The FDA will begin regulating e-cigarettes as tobacco products next year, and manufacturers must submit applications for review to the FDA no later than May 12, 2020. The AACR Cancer Progress Report 2019 underscores the need for more research on the long-term health risks posed by these e-cigarettes and the AACR's commitment to moving this research forward.
The AACR Call to Action
In 2019, the AACR urged Congress to:
Continue to support robust, sustained, and predictable growth of the NIH budget by providing an increase of at least $2.5 billion for NIH in fiscal year 2020, for a total funding level of at least $41.6 billion.
Ensure that the funding designated through the 21st Century Cures Act for targeted initiatives, including the National Cancer Moonshot, is fully appropriated in fiscal year 2020 and is supplemental to the increase in the NIH base budget.
Support the FDA's critical regulatory science initiatives by providing an increase of at least $316 million in discretionary budget authority for medical products.
Support the CDC Cancer Prevention and Control Programs with total funding of at least $555 million. This includes funding for comprehensive cancer control, cancer registries, and screening and awareness programs for specific cancers.
"We have the scientific knowledge, cutting-edge technologies, and capability to deliver a new wave of innovations that will stimulate more lifesaving progress," said Margaret Foti, PhD, MD (hc), chief executive officer of the AACR. "However, if we are to seize these opportunities to further transform cancer care, we must ensure that medical research remains a high priority for our nation's policymakers."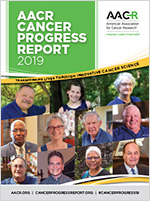 Get your FREE copy of the AACR Cancer Progress Report 2019.