Fifty Years of Cancer Research Progress
It has been a half-century since the passage of the National Cancer Act of 1971, which was signed into law by President Richard M. Nixon. The National Cancer Act catalyzed five decades of federal investment in cancer research that spurred transformative discoveries and technological innovation. This groundbreaking legislation laid the foundation for scientific advances that have contributed to decades of progress for patients in the U.S. and globally.
The American Association for Cancer Research (AACR) and its more than 49,000 dedicated members in the United States and 125 countries and territories around the world have been in the vanguard of research progress that has saved millions of lives. The rapid pace and broad scope of progress made against cancer are extraordinary:
In the U.S., the overall age-adjusted cancer death rate has decreased by 31 percent from 1991 to 2018, a reduction that translates into 3.2 million lives saved. This includes a record 2.4 percent decline between 2017 and 2018, the largest reduction ever seen in a single year.

Successful efforts to reduce smoking rates among Americans have contributed to a dramatic increase in lung cancer survival since the 1970s.

Fueled by discoveries made over the past 50 years, molecularly targeted therapeutics and immunotherapeutics have substantially increased the five-year survival rates for patients with formerly intractable cancers, like lung cancer and metastatic melanoma.
The AACR has recognized the 50th anniversary of the National Cancer Act in the pages of the AACR Cancer Progress Report 2021, released in October. This comprehensive report showcases some of the remarkable achievements realized over the past 50 years, including the growth in the number of National Cancer Institute (NCI)-Designated Cancer Centers, progress against childhood and adolescent cancers, and the development of vaccines to prevent infection by human papillomavirus (HPV), which causes cervical cancer and other cancers.
The AACR has also observed the 50th anniversary of the act in Cancer Research, the AACR's first journal and the only AACR publication when the National Cancer Act was signed. This year, Cancer Research published commentaries by eminent scientists on important research papers published in the journal over the past 50 years. "This is our way to applaud the landmark National Cancer Act of 1971," said Chi Van Dang, MD, PhD, editor-in-chief of Cancer Research.
This year has also seen the launch of the AACR's 10th journal and first open-access journal, Cancer Research Communications. This new journal is dedicated to capturing the full range of cancer research, from basic science through translational research to clinical studies. Editors-in-Chief Elaine R. Mardis, PhD, and Lillian L. Siu, MD, are committed to a multidisciplinary approach for the journal. "We are seeking cancer research from different disciplines, and especially out-of-the-box studies that may not be a good fit for traditional cancer journals," said Dr. Siu.
In addition to the COVID-19 pandemic, the current period will be remembered as a time when public awareness of racial inequities came to the fore in the U.S. and worldwide. This issue of Leading Discoveries features a profile of John D. Carpten, PhD, a leading scientist and AACR member who has worked on issues of inequity in cancer research and treatment for decades. In the mid-1990s, Dr. Carpten recognized that African American families were underrepresented in a prostate cancer clinical trial, despite higher incidence and death rates from prostate cancer in this population, compared with Americans of European descent. "I began to make calls, reaching out to others to support me in doing a similar prostate cancer genetics study, but focused on African Americans," Dr. Carpten said of a study that was ultimately published in Prostate. "This was a time when the purpose of my work crystalized for me. My research was always important to me, but now it went beyond academics into the realm of responsibility and purpose to represent African Americans and other minority groups in biomedical research."
Since then, Dr. Carpten has prioritized studies of cancers that disproportionately affect minorities. Outside the laboratory, he has mentored scientists from minority groups and encouraged greater minority group participation in clinical trials. Within the AACR, Dr. Carpten has led the AACR's special interest group Minorities in Cancer Research; chaired the steering committee for the first-ever AACR Cancer Disparities Progress Report; and was a four-time chair of the annual AACR conference on the science of cancer health disparities. Dr. Carpten is currently a member of the AACR Board of Directors and a Fellow of the AACR Academy.
Today we live in extraordinary times for cancer research. Major discoveries over the past 50 years have set the stage for the next wave of breakthroughs, innovations that would not have seemed possible just a decade ago. We now have the scientific knowledge, new technologies, capabilities, and awareness to deliver these advances to all cancer patients. We must maintain this momentum against cancer by keeping medical research front and center as a national priority. The AACR will continue to advocate for robust, sustained, and predictable annual growth in federal funds allocated to cancer research so that we can make further strides toward the goal of preventing and curing all cancers.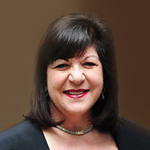 Margaret Foti, PhD, MD (hc)
AACR Chief Executive Officer
Related Posts