The AACR Supports Women in Oncology
The advancement of women in the sciences has long been a personal and professional priority for me. As a woman working in oncology, I have been privileged to be in a position to help support the careers of women in this exciting field. Yet, despite the major impact of women on cancer research and medicine, their advancement and career opportunities have moved forward at a slow, inconsistent, and inadequate pace.
For example, although women make up nearly 50 percent of young oncologists and 45 percent of fellows in hematology/oncology programs in the United States, they continue to be severely underrepresented in leadership positions. Only 17 percent of department chairs are women, and minority women make up only 5 percent of department chairs.
Similar disparities can be seen in the prizes awarded in biology and biomedicine, of which 27 percent go to women. Among the most prestigious prizes, only 11.3 percent are awarded to women. For perhaps the best-known science awards—the Nobel Prize in the three categories of Physiology or Medicine, Chemistry, and Physics—only 19 women have been recognized since 1901, compared to 586 men.
I'm proud to report that the American Association for Cancer Research (AACR) is at the forefront of efforts to strengthen the position and impact of women in oncology. In 2018, 40 percent of AACR members and 45 percent of committee chairs were women. This year, half of the AACR Board of Directors is female. For more than 20 years, Women in Cancer Research has been a key membership group in the AACR and has recognized women's achievements in cancer science and fostered their career development.
In this issue of Leading Discoveries, you can read about two exemplary female scientists who have made major contributions to our knowledge about cancer. Olufunmilayo Olopade, MD, is a global leader in cancer genetics who has sought to identify those at risk for breast and ovarian cancer so that these cancers can be controlled more effectively. The Nigerian-born physician-scientist has a special interest in treating breast cancer in moderate- and high-risk populations—especially young or pregnant women, those with hereditary cancer syndromes, and young women of African descent. Dr. Olopade is a professor of medicine and human genetics, associate dean for global health, and director of the Center for Clinical Cancer Genetics at the University of Chicago Medical Center.
Another outstanding cancer scientist, and the current AACR president, is Elaine R. Mardis, PhD, who succeeds Elizabeth M. Jaffee, MD, as AACR president and is the 14th woman to hold this prestigious position. Dr. Mardis was part of an international team that did foundational work on the Human Genome Project, an initiative to sequence human DNA. Upon completion of the project in 2003, Dr. Mardis turned her attention to comparing normal cells to cancer cells in order to identify the mutations in cancer cells that cause them to grow. This research led to precision medicines that target these mutations to treat cancer. As co-executive director of the Institute for Genomic Medicine at Nationwide Children's Hospital in Columbus, Ohio, Dr. Mardis has a special interest in applying these insights to treating children with cancer. "Kids with cancer should not have to be lucky enough to go to one of the best cancer hospitals so that they can survive their disease," she says. "These data and tools should be something that oncologists across the world ultimately have access to."
The future success of women in cancer science and medicine is assured if there is a real commitment to overcoming the challenges they face. What is at stake is more than just equity, fairness, or justice. We need women working in cancer science, indeed in all the sciences. As biologist and Nobel laureate Sir Peter Brian Medawar wrote in Advice to a Young Scientist in 1979: "The case for rejoicing in the increasing number of women who enter the learned professions has nothing primarily to do with providing them with gainful employment or giving them an opportunity to develop their full potential. It is above all due to the fact that the world is now such a complicated and rapidly changing place that it cannot even be kept going (let alone improved…) without using the intelligence and skill of approximately 50 percent of the human race."
Watch a video of AACR Chief Executive Officer Margaret Foti, PhD, MD (h.c.) discussing Women in Cancer Research.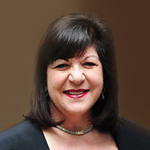 Margaret Foti, PhD, MD (hc)
AACR Chief Executive Officer
Related Posts