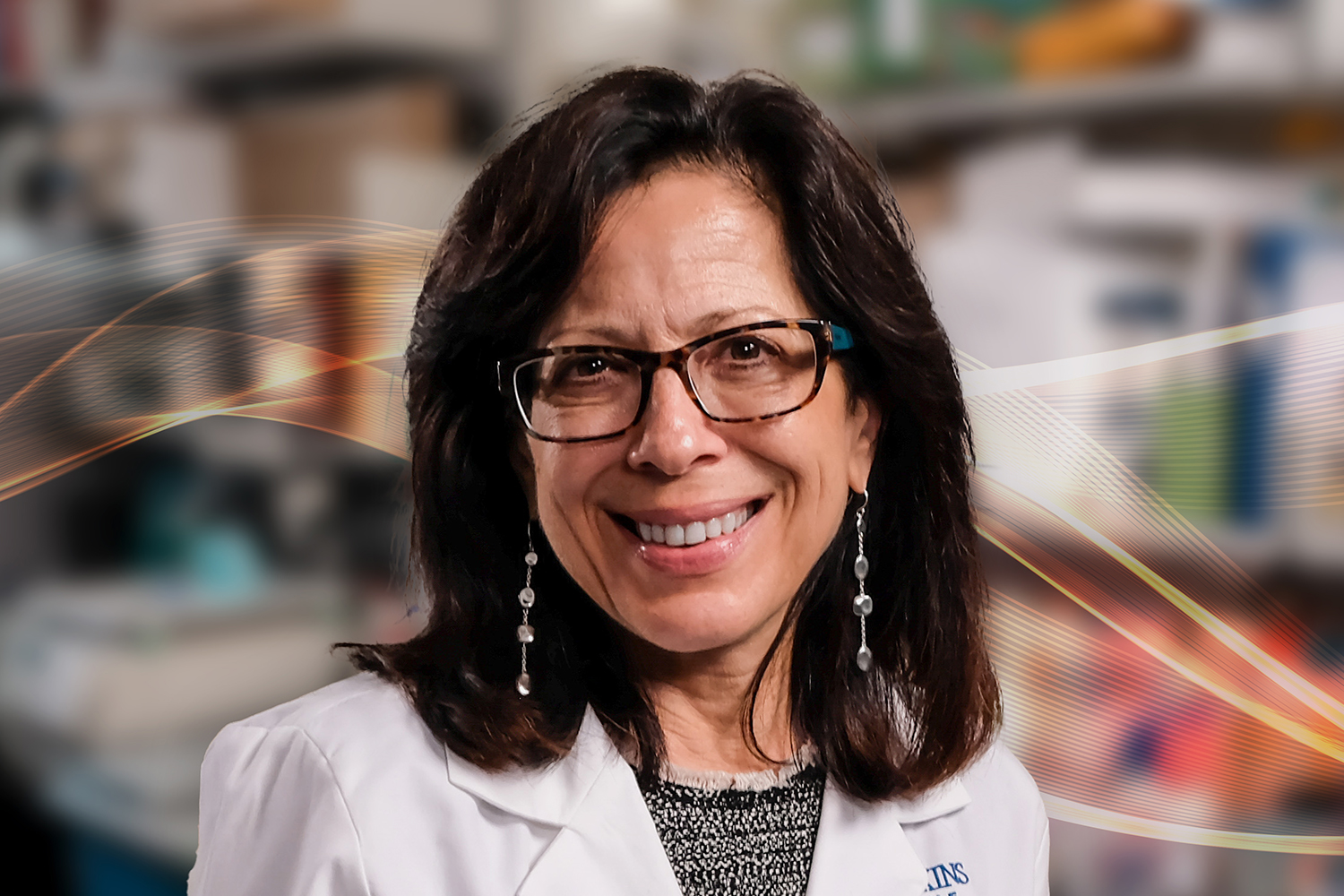 Dr. Elizabeth M. Jaffee: A Cancer Immunotherapy Visionary
The world-renowned expert in cancer immunology is developing vaccines for pancreatic cancer and other cancer types, mentoring a new generation of cancer immunology researchers and clinicians, and advising the president of the United States on ways to accelerate progress against cancer.
When Elizabeth Jaffee was a fourth-grade student in a New York City public school, she read a biography of Marie Curie, an early-20th-century scientist who was awarded Nobel Prizes in both physics and chemistry. Dr. Curie was the first woman to be awarded a Nobel Prize and the only person, man or woman, to garner Nobels in two scientific fields.
"When I read about Marie Curie, I realized that women could do science, and not only that, their science could also benefit humanity," said Dr. Jaffee, reflecting on her first scientific mentor. "She was really the mother of radiation oncology."
Today, Elizabeth Jaffee, MD, is the deputy director of the Sidney Kimmel Comprehensive Cancer Center at Johns Hopkins in Baltimore and a leading immunotherapy researcher, but her early interest in science was nurtured by her second mentor, a female high school chemistry teacher who encouraged young Elizabeth to have more confidence in her scientific abilities.
After high school, Dr. Jaffee majored in biochemistry at Brandeis University in Waltham, Massachusetts. Courses in virology sparked an interest in the immune system's ability to find virally infected cells by seeking out the abnormal proteins these cells generated. She worked in a lab to understand how antibodies recognize virally infected cells. The research led her to ask why the immune system doesn't similarly recognize cancer cells as foreign.
A Drive to Identify Immunotherapies
After finishing medical school at New York Medical College in Valhalla, New York, Dr. Jaffee was drawn to an innovative National Institutes of Health (NIH)-funded residency program at the University of Pittsburgh. The unique program gave medical residents the opportunity to do laboratory research for a full year. It was then, in 1988, that Dr. Jaffee conducted her initial research on how the immune system can recognize tumor cells.
Among her mentors was John M. Kirkwood, MD, a cancer immunologist who was conducting studies on the immune system's response to melanoma and looking for ways to harness the immune system to attack these tumors. In the late 1980s, the biology of T cells was just beginning to be understood, and researchers were learning how to isolate these cells and propagate them in the lab. Still, immunotherapy to treat cancer was far from the mainstream of cancer research and treatment. "At the time, immunotherapy for cancer was not a popular topic of study. No one then ever thought that immunotherapy would be a major modality to treat cancer," said Dr. Jaffee.
After completing the residency program at Pitt in 1989, Dr. Jaffee came to Johns Hopkins Medical School for a fellowship at a time when surgery, radiation, and chemotherapy were the only treatment options for cancer patients. One of her patients, an older woman who had been diagnosed with early-stage breast cancer, was convinced that her disease would come back. When it did recur during Dr. Jaffee's first year at Johns Hopkins, the woman was treated with chemotherapy but died within a year. "The chemotherapy kept her alive for almost a year, but still, she and most other patients [suffered debilitating side effects] throughout their chemotherapy," Dr. Jaffee said. "I decided that I couldn't practice oncology my whole life giving my patients chemotherapies. That is when I decided to work on the immune system and develop cancer immunotherapies."
She began working on the tools necessary to develop new cancer immunotherapies. Researchers at the Whitehead Institute for Biomedical Research in Cambridge, Massachusetts, had developed a technique to make mouse cells secrete immune system-signaling molecules called cytokines by inserting a virus into their genome. When these cells were injected into a mouse tumor model, they could stimulate a systemic immune response against the tumor.
Using patient-derived tumor cells, Dr. Jaffee was the first to successfully extend this virus-based technology to generate a human tumor vaccine. The study results were published in Cancer Research, an AACR journal, in 1993. Dr. Jaffee was able to take tumor cells from patients, minimally culture them in the lab, and transduce them with virus to make them express and secrete a cytokine called granulocyte-macrophage colony-stimulating factor (GM-CSF) that stimulates the production of immune cells. The results were primary renal, ovarian, and pancreatic tumor cells stably secreting GM-CSF that could be used as a tumor vaccine for clinical trials.
Working with a surgeon specializing in renal cell carcinoma (RCC), the most common form of kidney cancer, Dr. Jaffee tested the vaccine in patients with RCC. "The vaccine had good activity, and we showed that we could create primary cell lines for cancer vaccines, and that these did not have to be matched to the patient's tumor if they produced enough antigens. But it was not clear that we could efficiently generate the vaccine in its current form for many patients," she said.
In 1994, Bert Vogelstein, MD, a professor of oncology at Johns Hopkins who studies the molecular basis of colorectal and other cancers, came to Dr. Jaffee, along with a pancreatic cancer surgeon, John Cameron, MD. "'We need you in pancreatic cancer,' they told me, and I thought that this was an incredible opportunity to work with these amazing researchers," Dr. Jaffee said. "I also felt that I was meant to do this because my father's brother had passed away from pancreatic cancer."
The National Cancer Institute (NCI) Specialized Programs of Research Excellence (SPORE) had recently been established in 1992, focusing on specific organs or related cancers. Dr. Jaffee applied for and received a prestigious SPORE grant to study gastrointestinal tumors. "It was a wonderful opportunity, with monthly meetings with researchers discussing the science of pancreatic tumors. It opened a new door for me, and I went through it with great enthusiasm."
An Early Dedication to the AACR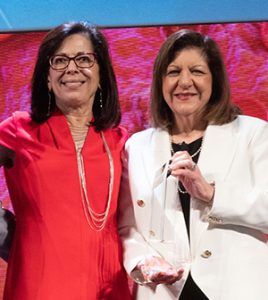 That same year, 1994, Dr. Jaffee joined the AACR and since then has made extensive contributions to the organization. She was AACR president in 2018-2019 and served on the Board of Directors from 2013 to 2016. She also chairs the AACR International Affairs Committee and the AACR Precision Combination Therapy Task Force, among countless other commitments. In 2018, she was elected a Fellow of the AACR Academy. This year, she was awarded the prestigious AACR-Margaret Foti Award for Leadership and Extraordinary Achievements in Cancer Research.
Interviewed in 2018, Dr. Jaffee said of the AACR, "It is a wonderful organization that facilitates big science with the goal of impacting patients. They are tireless in their efforts to help eradicate all cancers so that we will have a cancer-free future."
Dr. Jaffee's approach to science parallels that of the AACR, she said. "For a large organization, Dr. Foti [AACR's CEO] and her team make you feel like you are a part of a big, scientific family, full of enthusiasm and welcoming." Dr. Jaffee also emphasizes the AACR's focus on supporting early-career scientists through workshops, networking, and educational programs, as well as the organization's ability to help propel cancer research forward by always being a few steps ahead of the pack.
Leading by Example
Still an early-career investigator in 1997, Dr. Jaffee received an NIH grant to run her first pancreatic cancer vaccine trial. Her lab focused on identifying antigens produced by pancreatic tumors and renal cell carcinoma that could be important targets for cancer vaccines. Dr. Jaffee built the protocols necessary to generate the customized, patient-derived cancer vaccines to run clinical trials at Johns Hopkins. The pancreatic cancer trial results were published in 2001 in the Journal of Clinical Oncology, showing that the personalized vaccines could rev up the immune system to induce antitumor immunity and increase patients' disease-free survival.
More clinical fellows and graduate students were coming to work in Dr. Jaffee's lab, drawn to the exciting translational research she was conducting in immunotherapy. Her lab developed assays to assess the sensitivity of T cells to be triggered by tumor antigens. She also showed that the protein mesothelin is overexpressed in virtually all pancreatic tumors, and thus was an antigen that could be targeted with immunotherapy. In 2004, she and her team provided the first strong evidence that a novel T-cell targeting approach was viable to treat cancer. She and her team found that indirect T-cell stimulation, by which immune cells called professional antigen-presenting cells activate tumor-specific T cells, could eradicate tumors. The study, published in the Journal of Experimental Medicine, showed that pancreatic cancer patients vaccinated with GM-CSF-transduced pancreatic cancer lines elicited a robust T-cell response. "This was early work proving T-cell concepts that now we take for granted in cancer immunotherapy," said Dr. Jaffee.
By the mid-2000s, Dr. Jaffee was focusing on the biology of cancer immunotherapy and identifying therapeutic strategies to take to the clinic. She currently oversees many clinical trials, but she also has a clinical team to run the trials. The team includes Daniel Laheru, MD, who initially joined Dr. Jaffee's lab as a clinical fellow in 2001 and whom she recruited to the faculty of the cancer center. Dr. Laheru is now a professor of oncology at Johns Hopkins and the co-director of the Skip Viragh Center for Pancreas Cancer Clinical Research and Patient Care. Another of Dr. Jaffee's former clinical fellows, Neeha Zaidi, MD, is also on the faculty at Johns Hopkins and is the investigator of an early-stage clinical trial testing the safety and efficacy of a preventive vaccination strategy for individuals at high risk of developing pancreatic cancer. The concept was first developed and tested in animal models in Dr. Jaffee's lab. "My dream has always been that we would be able to figure out ways to target premalignancies that could prevent individuals from ever getting cancer. Now this is something that is starting to be realized," said Dr. Jaffee.
Mentoring the Next Generation of Cancer Researchers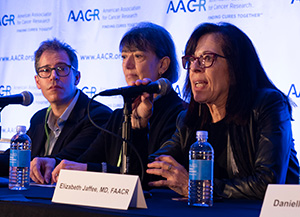 Today, in addition to her role as deputy director of the Sidney Kimmel Comprehensive Cancer Center, Dr. Jaffee is the associate director of the Bloomberg-Kimmel Institute for Cancer Immunotherapy and the co-director of both the Cancer Immunology Program and the Gastrointestinal Cancers Program at Johns Hopkins. As a translational researcher, Dr. Jaffee brings together her clinical team—which sees cancer patients and conducts clinical trials—and her laboratory team in weekly meetings, understanding the importance of exchanging ideas between groups. She brings in computer scientists and other non-biologists to receive biology training so they can work with biologists and clinicians to propel translational research. Dr. Jaffee has also mentored an international group of cancer researchers who are now leading their own laboratories and clinical teams in various countries. "I believe that my legacy will be my having encouraged, mentored, and brought together scientists to make progress in fighting cancer," she reflected.
Dr. Jaffee's mentees appreciate her interest in them and their work. "Looking back, the very best decision that I have ever made [in my career] was to work with Dr. Jaffee," said Dr. Laheru. "After I completed my clinical fellowship training in 2001, I did not see a place for me at Johns Hopkins in pancreatic cancer as Dr. Jaffee was already leading both the basic science immunotherapy team and also expertly managing the clinical care of these patients." Dr. Jaffee told Dr. Laheru that she wanted to focus on the basic science aspects of pancreatic cancer immunology and needed him as a clinical partner to bring these research findings back to patient care.
"She saw my future before I was able to understand this for myself. I trusted in her wisdom and have never regretted this decision for a single moment," said Dr. Laheru, adding that Dr. Jaffee appreciated that he should expand his clinical translational interests and be an independent clinical investigator. "She is the very definition of the ideal mentor."
For Vivian Weiss, MD, PhD, assistant professor at the Vanderbilt School of Medicine in Nashville, Tennessee, Dr. Jaffee has also been a career-long mentor. "I was incredibly fortunate to have Dr. Jaffee as my research mentor during my MD and PhD training at Johns Hopkins. Little did I know at the time, [but] her mentorship would continue after my PhD and throughout the development of my career. Even though I am now at a different institution and in a different field, she is still mentoring me and forming new collaborations with my research team," said Dr. Weiss. "Dr. Jaffee is brilliant, supportive, inspiring, and incredibly giving. She is not only changing the field of cancer immunology, but she is also training many bright scientists who are making exciting discoveries in many fields of medicine."
A Life of Service
Among Dr. Jaffee's many accomplishments are her appointment as the co-chair of the National Cancer Moonshot Initiative Blue Ribbon Panel. Vice President Joe Biden launched the Cancer Moonshot in 2016, and it was reestablished by President Biden in 2022 with the goal of accelerating cancer scientific discoveries, boosting collaborative research, and improving data sharing. Also in 2022, Dr. Jaffee was named the chair of President Biden's Cancer Panel, serving as an expert adviser to the president on how to best use government resources to guide the newly resurgent Cancer Moonshot program, reduce the cancer death rate by half within 25 years, and improve the lives of cancer patients and cancer survivors. Dr. Jaffee is also the past chair of the NCI's National Cancer Advisory Board, the first woman to fill the role.
"Dr. Jaffee is an international authority in the field of cancer immunotherapy. Her groundbreaking research has led to invaluable breakthroughs in the treatment of deadly cancers, namely pancreatic cancer," said Margaret Foti, PhD, MD (hc), AACR's CEO. "In addition, she is a visionary leader and continues to have a remarkable track record of contributions to the field that include the education and mentorship of young investigators. And Dr. Jaffee's leadership extends well beyond the laboratory and the clinic to her promotion of important science and regulatory policy at the national level."