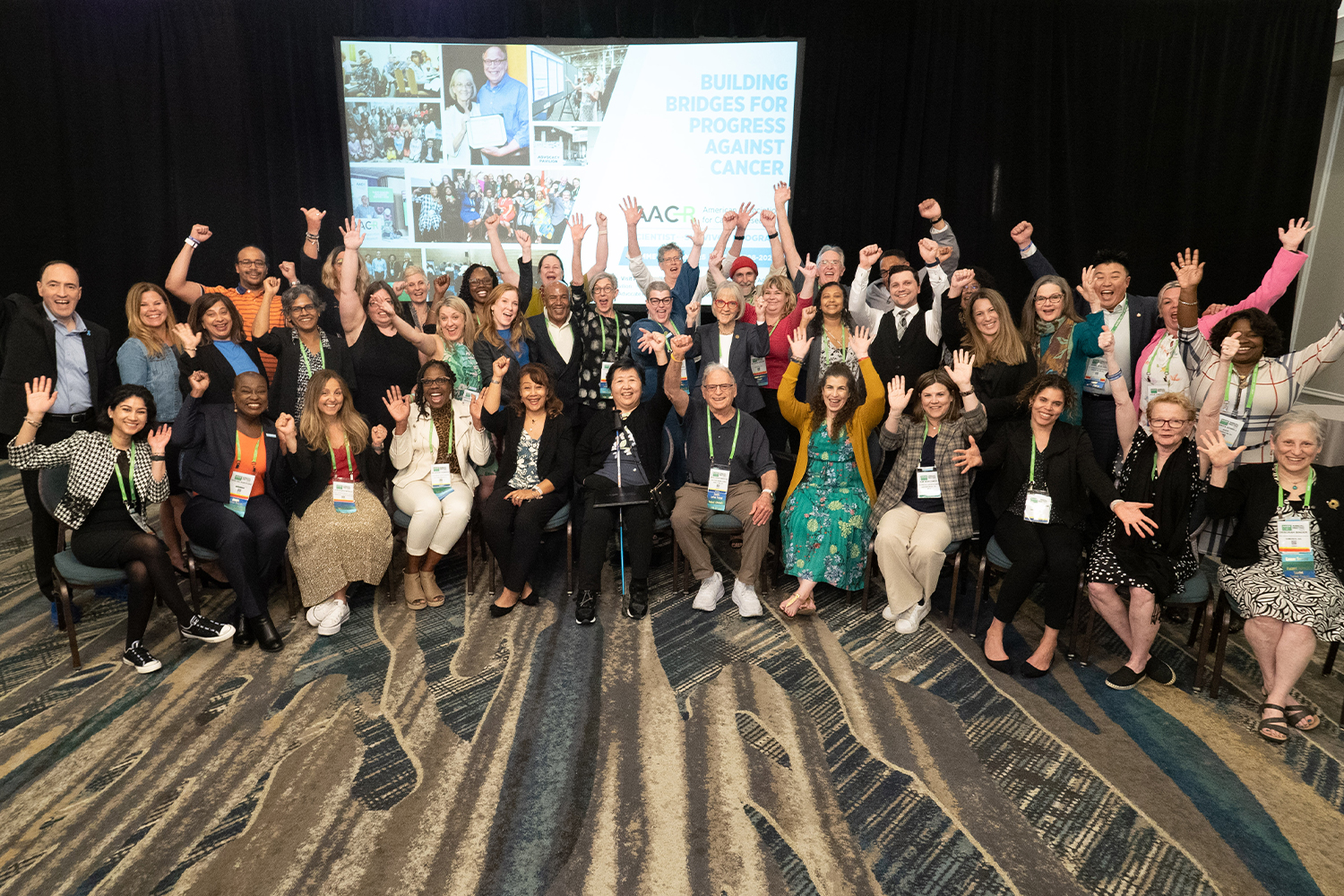 25 Years of the AACR Scientist↔Survivor Program®
Trailblazing initiative offers opportunities for scientists and patient advocates to learn from each other.
In 1985, Jane Perlmutter, PhD, MBA, then in her early 30s, was diagnosed with breast cancer. She was a busy professional and was floored by the diagnosis. After successfully completing treatment, Dr. Perlmutter was inspired to help other cancer patients and survivors. In the 1980s, patient advocacy was still in its infancy, but Dr. Perlmutter found ways to volunteer. In the 1990s, she explored more opportunities for research-related patient advocacy. "I have a degree in experimental psychology, so I naturally gravitated towards research advocacy," she said.
Through her advocacy efforts, Dr. Perlmutter learned about the AACR Scientist↔Survivor Program® (SSP) and participated in SSP at the AACR Annual Meeting in 2006 and 2007. "Being part of the SSP connected me to scientists and other advocates. It has given me confidence to pursue different aspects of patient advocacy work," she said. After participating as a two-time advocate, Dr. Perlmutter continued her involvement in the program as an advocate mentor from 2008 to 2010. This year, she was awarded the AACR Distinguished Public Service Award for Exceptional Leadership in Cancer Advocacy.
SSP was established in 1998 by Anna D. Barker, PhD, who still leads the program and is also the chief strategy officer at the Ellison Institute for Transformative Medicine at the University of Southern California in Los Angeles. As a cancer scientist, Dr. Barker was involved at the very beginning of the cancer patient advocacy movement, including a march on Capitol Hill by patients, clinicians, and researchers in September 1998. "At the time, patient advocates were already saying, 'Cancer is a really big problem, it is going to get even bigger, and we as a country are not investing enough in cancer research,'" she said. "I could see that over time this was going to become a stronger movement."
Cancer survivors and their families were thirsty for knowledge. Dr. Barker saw in this desire the spark for an initiative that to this day provides unique opportunities for patient advocates and cancer survivors to interact with researchers and learn more about the science behind cancer. The goal of SSP is to create powerful connections between patient advocates and cancer researchers that benefit both groups. Patient advocates learn about research and policies and then go back to their communities to provide better peer support, effective legislative and regulatory reform advocacy, cancer education for the public, and research advocacy, including input on clinical trial development. Cancer researchers gain a direct understanding of the challenges faced by cancer patients that can inform their work when they return to the lab.
SSP has been part of the AACR Annual Meeting every year since 1999. (SSP sessions have also been held at the AACR Conference on The Science of Cancer Health Disparities in Racial/Ethnic Minorities and the Medically Underserved.) For the Annual Meeting, SSP participants follow a rigorous agenda that includes lectures on the latest in cancer research, small group meetings with scientific and patient advocate mentors, and poster sessions to describe their advocacy work. Patient advocates also receive group assignments to complete during the Annual Meeting and present their findings on the final night of the program.
Emil Lou, MD, PhD, a medical oncologist at the University of Minnesota Masonic Cancer Center in Minneapolis, treats patients with gastrointestinal cancers and conducts basic and translational research. He learned about SSP through his AACR membership and signed up to be a scientific mentor beginning at the AACR Annual Meeting in 2013. A decade later, Dr. Lou feels fortunate to still be part of the program as a scientific mentor for patient advocates.
Scientific mentors like Dr. Lou facilitate the patient advocates' journeys. "We volunteer in order to help guide SSP participants throughout the meeting. We are there to give them our perspective as working scientists and in turn to learn from them as well," he said. For Dr. Lou, the decade he has spent being part of SSP has been immensely rewarding. "I always find it extraordinary to see the new patient advocate cohort come in and see how motivated they are, how well informed and savvy they are about the science of cancer. They have helped me understand how to talk to my patients, what people want to hear about cancer, and, importantly, how they do not want to hear about cancer."
At the first SSP event in 1999, Dr. Barker did not imagine the initiative would be going strong a quarter century later. "Initially, there was a strong community of breast, prostate, and colon cancer advocates. More recently, we are seeing more advocates representing rare cancers. Advocacy has swept through the cancer world, thankfully, reaching around the world," she said.
For Dr. Perlmutter, being part of SSP has given her new opportunities. She is currently serving as a patient advocate on the innovative and adaptable I-SPY2 early breast cancer clinical trial and the TAPUR study of targeted therapy use in people with late-stage cancer. "We provide the patient perspective and voice," she said. "We need to be able to speak up in a room with scientists and have them, ultimately, think about and focus on the patient in their work."