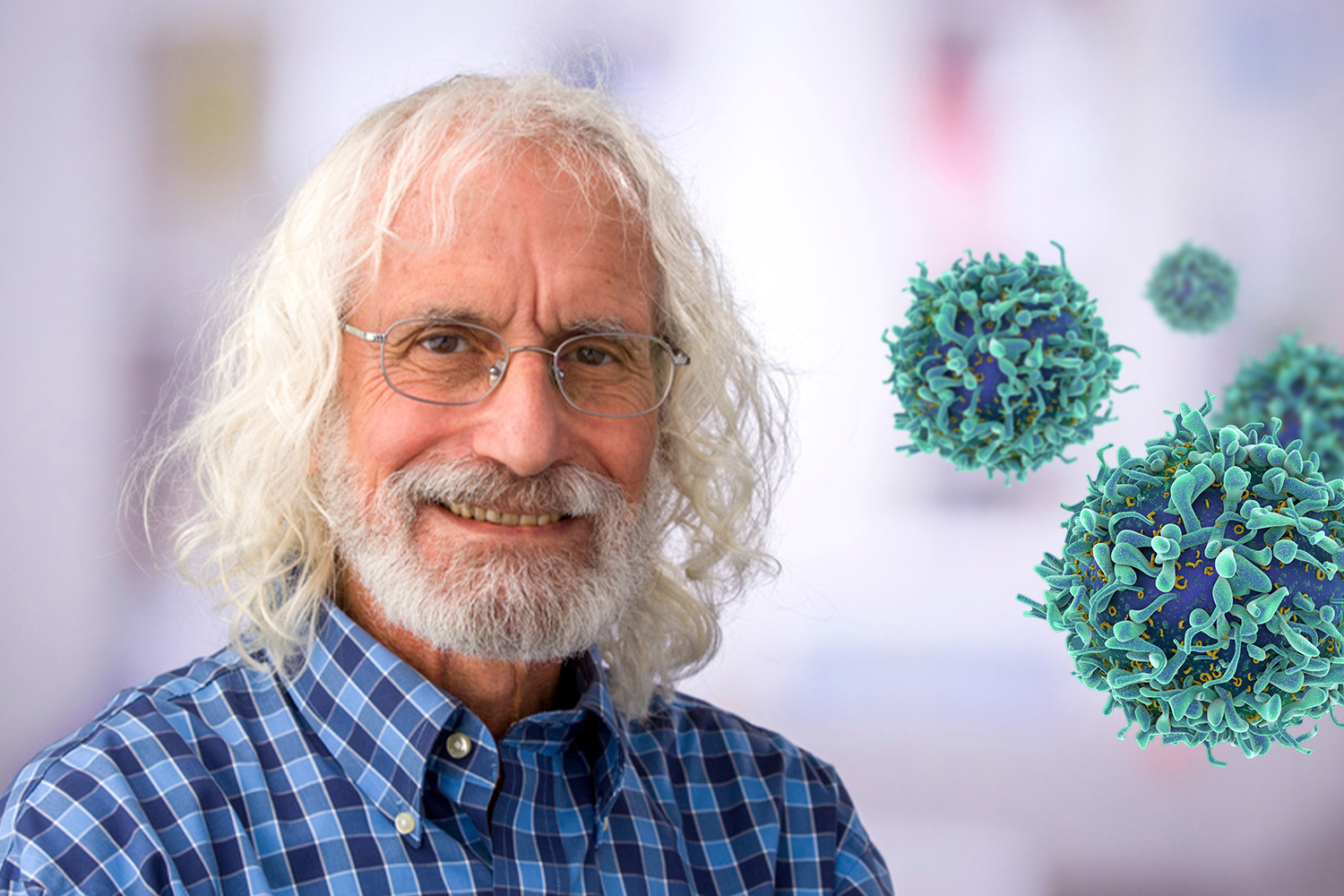 Dr. Philip D. Greenberg: Harnessing T Cells to Fight Cancer
The new AACR president and immunotherapy pioneer encourages better science communication.
The COVID-19 pandemic exposed a deep vein of skepticism toward science among some of the American public. For Philip D. Greenberg, MD, AACR president since April, that problem presents an opportunity and a call to action for scientists to clearly communicate their work and explain why it is important to society. Such expertise requires training, and Dr. Greenberg has made it a goal of his AACR presidency to establish a program to instruct scientists in how to be better communicators.
Dr. Greenberg was inducted as AACR president for 2023-2024 at the AACR Annual Meeting, held April 14-19 in Orlando, Florida. He succeeds Lisa M. Coussens, PhD, AACR president for 2022-2023 and deputy director for Basic & Translational Research at the Knight Cancer Institute at Oregon Health & Science University in Portland.
Dr. Greenberg also wants to equip scientists so they can effectively lead workshops for high school students. The goal would be to show students that science careers can be interesting, rewarding, and, importantly, attainable. "We want scientists who can transfer their own joy and fascination with science to students," Dr. Greenberg said.
Inspiring students to pursue a career in science is a cause near and dear to Dr. Greenberg, who credits his love of biology to Buzz Sawyers, who taught him in high school. "He was so excited about biology and passed that on to me so much that biology became all-encompassing for me. I knew that was what I had to pursue," Dr. Greenberg recalled.
"This ongoing high school program would also be a great way to promote and foster diversity, equity, and inclusiveness," he said. "Our goal is to involve not just those who are already interested in science and biology, but especially those who don't think that science is a career they can consider."
Homing in on the Power of T Cells to Treat Cancer
Dr. Greenberg is the Rona Jaffe Foundation Endowed Chair and professor and head of the Program in Immunology, Translation Science and Therapeutics Division, at Seattle's Fred Hutchinson Cancer Center, often called the Hutch. He is also an investigator at the Parker Institute for Cancer Immunotherapy and a professor of Medicine and Immunology at the University of Washington School of Medicine, also in Seattle.
He was among a minority of cancer biologists initially attracted to the work of harnessing the immune system to treat cancer. "It has been an incredible evolution to be part of," he said of the nearly five decades he has worked in the field.
Dr. Greenberg led a team that was among the first to take T cells from a cancer patient, isolate specific cancer-targeting T cells, expand the number of T cells in the lab, and infuse them back into the patient as a cell-based cancer immunotherapy. His lab continues to develop tools to genetically engineer effective cancer-targeting T cells and to create immune cell-based therapies for patients with solid tumors, including those with pancreatic and ovarian cancers.
Dr. Greenberg received his medical degree in 1971 from the State University of New York, Downstate Medical Center, in New York City, and after completing an internship and residency in medicine at the University of California, San Diego (UCSD), he began a postdoctoral fellowship in basic immunology at UCSD. At the time, little was known about the components of the immune system and how they communicate with and recognize other cells in the body.
When Dr. Greenberg completed his fellowship, the obvious choices for an immunologist with medical training were to study allergies or rheumatology, but Dr. Greenberg chose a much less popular path—cancer immunology. In 1976, he began a senior fellowship at the Hutch, where E. Donnall Thomas, MD—who eventually shared the 1990 Nobel Prize in Physiology or Medicine for his groundbreaking work in developing bone marrow transplantation—was beginning to show that transplants could cure patients with leukemia and other blood cancers.
"Thomas' group had some data that suggested T cells were an important component of the anti-tumor response of human bone marrow transplants. It was a remarkable time when people were beginning to understand how to manipulate T cells," said Dr. Greenberg.
"A few labs were working on adoptive T-cell therapy in mice, but there was very little basic science worked out, and I thought it was an ideal time to develop a program of T-cell therapy to recognize cancer," he added.
In 1978, Dr. Greenberg joined the faculty at the Hutch. His lab, collaborating with the labs of Martin A. Cheever, MD, and Alexander Fefer, MD—two pioneers in the development of lifesaving immunotherapies—worked out a technique to isolate individual T cells from patients that were specific for tumor cells and to increase their number in vitro. T cells are stimulated by an antigen, which is a protein on a cell, including a cancer cell, that the T cell recognizes as foreign. A cancer-targeting population of T cells can recognize multiple foreign antigens on tumors and work together to attack the tumor. The key to generating an effective T-cell therapy is identifying antigens found on almost all the cells in a patient's tumor.
Dr. Greenberg's lab focused on a mouse leukemia model and showed that the isolated cancer-specific T cells could be infused into mice to eradicate tumors. "There were a lot of growing pains and a lot of unknowns to resolve, but we ultimately had the signal in the mouse models that this technique worked and did so without toxicity."
Training an Army of T-Cell Clones
Those initial experiments led Dr. Greenberg to attempt to isolate T cells for a specific antigen. His lab initially focused on creating T cells against cytomegalovirus (CMV), a virus found in most people that does not cause disease in those with a functioning immune system. However, CMV infection was then a major cause of death among patients who had received a bone marrow transplant. Post-transplant, these patients were immunocompromised, which allowed the virus that was normally held in check to multiply and cause pneumonia. Dr. Greenberg focused on generating T cells that would bind to a specific cytomegalovirus (CMV) protein that was known to elicit a T-cell response and could be isolated in the lab.
In their study, Dr. Greenberg, Stanley Riddell, MD, a colleague at the Hutch, and others extracted white blood cells from bone marrow donors, grew the cells in the presence of the CMV protein, and then infused billions of the trained T cells into five leukemia patients who had received a transplant from the same donor. They tested the patients' T cells and saw that they were able to fight the CMV infection for at least 12 weeks after the infusion. The study, published in Science in 1992, was the first demonstration of the transfer of the specific adoptive T cells to confer immunity in people. "It was the beginning of being able to show that antigen-specific T cells could mediate benefit for patients," Dr. Greenberg explained.
In 2002, Dr. Greenberg and his colleagues showed that this same approach also worked for patients with refractory metastatic melanoma. "We knew that this was a labor-intensive process, and that the scientific community would develop more practical ways to generate cancer-fighting T cells for patients. Understanding the biology and showing that it could work was the critical first step," he said.
Dr. Greenberg's lab has also helped develop technology to engineer T cells, making them better at homing in on and attacking tumors. A technique that took weeks to months is now a technology that creates patient- and cancer-specific T cells for infusion in one to two weeks. "It all comes together," he said. "Science is a big community, and we all benefit from each other's advances."
---
---
A President's Initiatives
Dr. Greenberg, who joined the AACR in 2015, was elected to the Fellows of the AACR Academy in 2019. He was a member of the AACR Board of Directors from 2017 to 2020 and is also a member of the AACR's Cancer Immunology Working Group. Dr. Greenberg serves as co-editor-in-chief of the AACR journal Cancer Immunology Research. His priorities as AACR president include:
Better science communication. A need emerged during the COVID-19 pandemic for scientists to better communicate with the public about their research and why it is important to society, Dr. Greenberg said. His initiatives as AACR president include establishing a training program to teach scientists how to explain their work and its societal purpose. "The goal is to engage with the public in positive ways and to communicate that science is generally not self-serving but drives medicine and technology advances that better peoples' lives."
Science-technology hubs for researchers. With the incredible technological explosion in science, the capacity to conduct high-throughput sequencing, proteomics, and other types of experiments has never been greater, yet many researchers do not have access to these technologies because not all research centers can afford the machines and facilities needed to conduct the experiments. Dr. Greenberg is calling on the AACR to use its influence in establishing technology centers throughout the U.S. to help democratize scientific research, giving scientists access to innovative but expensive technologies.

Sparking public-private collaborations. "Biological research requires continued support from the National Institutes of Health, but also from foundations and investment from biotechnology and pharmaceutical companies," said Dr. Greenberg. "Academic researchers are extraordinarily creative and inventive in ways that are almost unimaginable. That creativity is essential for moving science forward and bringing technologies to biotech and pharma to turn them into therapies." But to increase the number of potential therapies that move beyond small-scale studies, Dr. Greenberg wants the AACR to bring together industry and academia to foster mutually beneficial partnerships. "We are all best if we do what we are best at. The science of oncology is exploding at a rapid rate, and industry partnerships could be an important source of new funding to sustain the academic research enterprise."