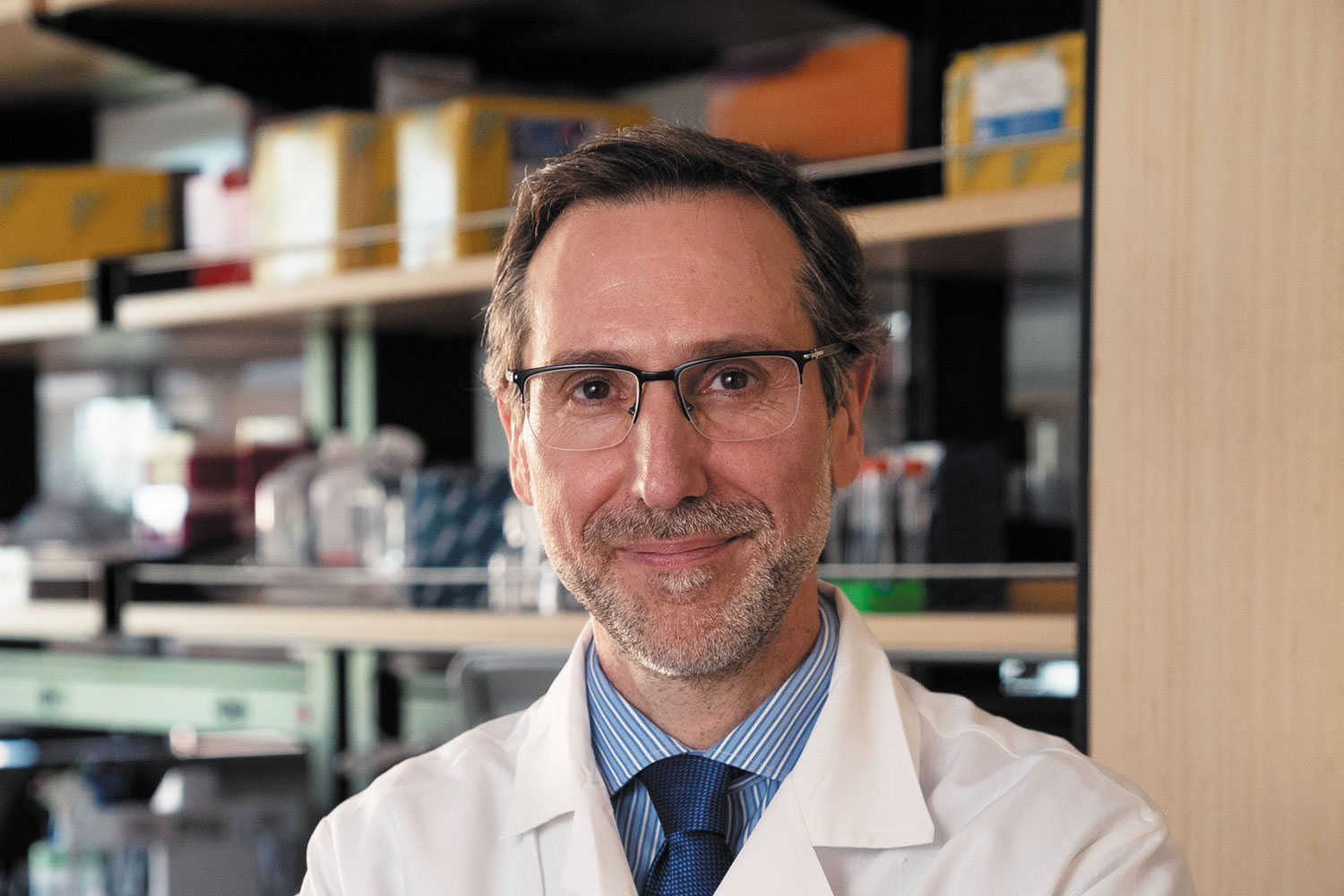 Dr. Antoni Ribas Pivots in Response to COVID-19
Antoni Ribas, MD, PhD, officially became president of the AACR for 2020-2021 under unusual circumstances. Because of the COVID-19 pandemic, his elevation to president took place virtually on June 9, instead of in-person at the AACR Annual Meeting 2020, originally scheduled for April in San Diego. In addition to the pandemic, Dr. Ribas' succession to the presidency happened during international protests held in response to the death of George Floyd, who was killed by a Minneapolis police officer on May 25.
In a time of crisis, Dr. Ribas took the lead in establishing the AACR COVID-19 and Cancer Task Force, charged with engaging the enormous AACR membership brain trust to combat the global COVID-19 pandemic. Dr. Ribas chairs the Task Force. "It is obvious that my term as president is going to be marked by how we respond to the COVID-19 pandemic," he said. As part of that response, the AACR held a Virtual Meeting on COVID-19 and Cancer in July. A second Virtual Meeting on the same topic is scheduled for Feb. 3-5, 2021.
In addition, Dr. Ribas has called on the AACR to address the challenges of pervasive racism. "The recently witnessed inhumanities against people of color have refocused our nation's attention on the terrible issue of racism that exists in this country," he said. "Racism has resulted in a public health emergency, and it's critical that everyone plays a role in eradicating societal and economic injustices, as these are major barriers to health equity."
In September 2020, Dr. Ribas announced the creation of an AACR Task Force that will focus on racial inequities in cancer research and provide leadership in addressing racial injustices in biomedical research and health care. Chairing the Task Force are John M. Carethers, MD, of the University of Michigan in Ann Arbor and Melissa B. Davis, PhD, of Weill Cornell Medical College in New York City.
An Early Interest in Cancer Research
Dr. Ribas first became interested in cancer research in the early 1990s during his medical residency at Vall d'Hebron University Hospital in Barcelona, Spain.
At the time, "most patients with cancer were treated with chemotherapy," he said. "We would have some patients who did great and others who didn't. But we didn't know how or why some treatments worked and others didn't."
Eager to learn how to answer that question, Dr. Ribas spent a summer as a researcher in San Diego during his medical training, gaining insight into how cell and animal models are used to develop and test new cancer therapies before they get to patients. In search of a postdoctoral fellowship after completing his medical residency, he mailed letters to 15 labs in the U.S. and waited by the mailbox. He packed his bags when the Department of Surgical Oncology at the University of California, Los Angeles (UCLA), offered him a postdoctoral position. Dr. Ribas started there in 1994—and he never left.
Today, he is a physician-scientist who wears many hats at UCLA: professor of medicine, professor of surgery, and professor of molecular and medical pharmacology at the David Geffen School of Medicine; director of the Tumor Immunology Program at the Jonsson Comprehensive Cancer Center; and director of the Parker Institute for Cancer Immunotherapy Center at UCLA. Throughout his career, he has never stopped trying to answer the question: Why do some cancer therapies work for some patients, but not for others?
Immunotherapy Discoveries
Since the 1990s, Dr. Ribas has been a key contributor to the field of immunotherapy, seeing potential where many saw a dead end. "My colleagues would say, 'You are wasting your time. It is voodoo and it will never work,'" he said. "They saw our early patients who would respond as anecdotes. But they were reproducible anecdotes, and I knew there was something there. We just needed to understand more of the biology and the science."
Slowly, the science revealed answers. Researchers learned how immune cells are regulated, what they target, what turns them on and off, and how to activate them. "We came to realize that the immune system is mostly in an off-switch mode, and that it has these brakes that we called checkpoints," he explained. Following that discovery, scientists began exploring ways to release the brakes, making it possible for patients' own immune systems to kill the cancer cells.
Dr. Ribas was one of the first researchers to launch a clinical trial of a drug designed to release the brakes, the checkpoint inhibitor pembrolizumab (Keytruda). The study's findings contributed to the 2014 decision by the Food and Drug Administration (FDA) to approve pembrolizumab, the first PD-1 checkpoint inhibitor endorsed by the FDA as a cancer treatment. It is now used to treat malignant melanoma and 12 other types of cancers that previously had few treatment options.
"Dr. Ribas is a highly distinguished physician-scientist whose pioneering research has had an enormous impact on the discovery and development of new and effective treatments for malignant melanoma," said Margaret Foti, PhD, MD (hc), chief executive officer of the AACR. "His dedication to accelerating the pace of discovery and its translation to the clinic is invaluable as he leads our organization toward its goal of markedly reducing cancer incidence, morbidity, and mortality while improving quality of life for all."
A President's Objectives
Throughout his career, Dr. Ribas has been a champion of incorporating data collected through basic and population science into patient care. "By letting the data guide us, we can improve health care for disadvantaged populations and reduce health inequities," he said. "Data allow us to know what the issues are and how to address them scientifically."
One of Dr. Ribas' goals as AACR president is to find new ways to make patient data more readily available to cancer researchers. "We need to capture more information on how patients respond to therapies," he said. "It's not that some patients are lucky or that some are unlucky. It's about biology, and we need to understand that more."
Dr. Ribas also intends to take a proactive approach to achieve gender, geographic, and ethnic diversity in the AACR. "My father was a professor of medicine and a medical oncologist, which made it easier for me to do what I'm doing," he said. "We need to recognize that some people have it easier than others and provide support to those who don't have such advantages."
These efforts include continuing to offer assistance and encouragement to young researchers. "The majority of people who are creating the top-rung science in all the fields of cancer research started somewhere and learned from others," he said. "It is important for this organization to foster young researchers and give them the guidance they need as they embark on their careers."
Dr. Ribas also wants to make sure the public is aware of how the AACR advocates for increased governmental and private funding necessary to improve outcomes for cancer patients. "Cancer researchers have a proven track record," he said. "We have shown that we can bring deaths down by developing better treatments. I don't want there to be an AACR in the next 50 years if we can cure cancer in a shorter period of time."
A Leader for the AACR and Beyond
Dr. Ribas has been an active member of the AACR since he joined more than two decades ago. He chaired the AACR Annual Meeting 2020 Program Committee, and previously he served as co-chair of the Combination Therapies Future of Cancer Research Innovation Summit in 2019, the AACR-NCI-EORTC Molecular Targets and Cancer Therapeutics Conference in 2017 and 2018, and the AACR Tumor Immunology and Immunotherapy Conference in 2016. Dr. Ribas also serves as a scientific editor for the AACR journal Cancer Discovery. The prestigious AACR-CRI Lloyd J. Old Award in Cancer Immunology in 2018 and the AACR Richard and Hinda Rosenthal Memorial Award in 2016 are two of the many honors and awards he has received. Dr. Ribas was elected a Fellow of the AACR Academy in 2020.
But the acclaim has extended beyond the AACR. In 2020, Dr. Ribas won the ESMO Award for Translational Research. This award, granted by the European Society for Medical Oncology, recognizes his translational research in malignant melanoma, especially his work on genetically engineered T cells, the PD-1 blockade, and BRAF-targeted treatments. In addition, in 2020, Dr. Ribas was elected to be a member of the National Academy of Medicine, one of the highest honors in the fields of health and medicine.