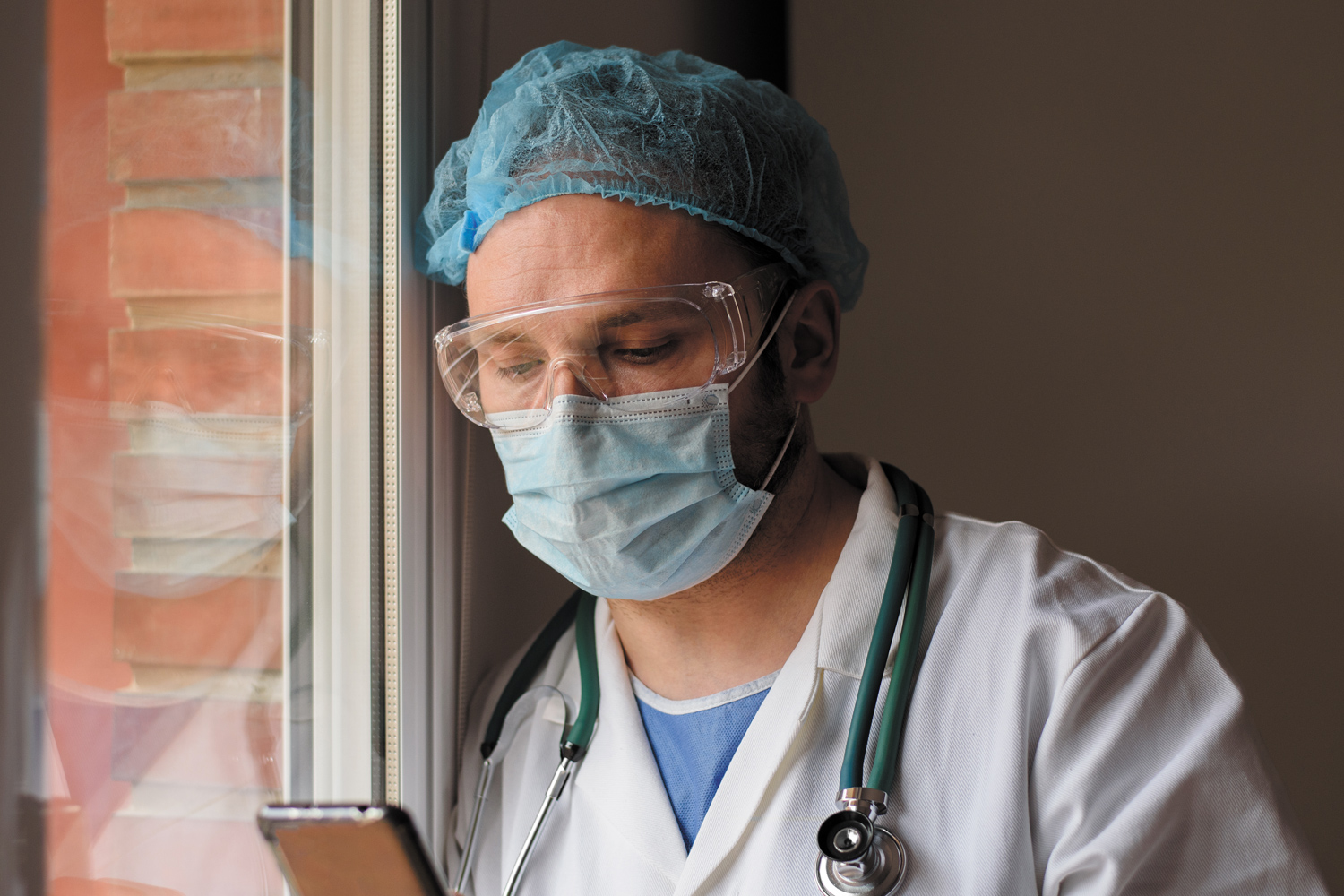 Research Updates
When the global pandemic led to widespread lockdowns earlier this year, it quickly became clear that the AACR's schedule of on-site scientific meetings would not go ahead as planned. However, a timely response to the situation allowed researchers to share their findings unabated, albeit in a virtual setting.
Events like the AACR Annual Meeting provide crucial opportunities for scientists, clinicians, patients, and advocates to share knowledge and personal perspectives. While virtual meetings do not offer the same experience as in-person events, the AACR's virtual meetings have been effective in helping to disseminate new knowledge about cancer and the progress being made against the disease in these unprecedented times.
Looking ahead, the AACR will continue to hold virtual meetings in 2021, including the AACR Annual Meeting 2021 to be held April 10-15 and May 17-21. Charles Swanton, MB, PhD, of the Francis Crick Institute and the UCL Cancer Institute in London, is the chair of the Program Committee.
A Targeted Therapeutic for Non-Small Cell Lung Cancer
In 2020, more than 135,000 people will die as a result of lung cancer in the U.S., despite a steady upward trend in survival rates for this cancer type over the past quarter-century. This progress has come about thanks to scientific advances like genomics research to identify the molecular drivers of lung cancer. At a clinical plenary session held during the 2020 AACR Virtual Annual Meeting I, hematologist-oncologist Edward B. Garon, MD, director of the Thoracic Oncology Program at the David Geffen School of Medicine at UCLA in Los Angeles, presented data from a clinical trial evaluating Tabrecta (capmatinib) among non-small cell lung cancer patients with MET gene mutations. "Patients with tumors that harbor these mutations have been reported to have poor outcomes with both cytotoxic chemotherapy and immunotherapy," said Dr. Garon. The Food and Drug Administration cited the data that Dr. Garon presented when it approved Tabrecta for the treatment of adult patients with metastatic non-small cell lung cancer whose tumors have MET exon 14 skipping mutations.
Two New Tools to Help Catch Cancer Earlier
The stage at which cancer is detected can have a huge impact on the patient's outcome, so research into new diagnostic tools is a vital task. A pair of studies presented at the 2020 AACR Virtual Annual Meeting I demonstrate the ability of two different liquid biopsy-based tests to differentiate between blood samples of people with cancer and those of people without cancer. Both tests also have some ability to identify in which tissue the cancer originated. "Many cancers are detected too late," said David D. Thiel, MD, a urologist at the Mayo Clinic in Jacksonville, Florida, who developed one of the tests with scientists from the Circulating Cell-free Genome Atlas (CCGA) Consortium and Grail Inc. "A simple and noninvasive multicancer early detection test could potentially decrease cancer-related mortality."
Combating Racism in Cancer Research
At the 2020 AACR Virtual Annual Meeting II, the AACR renewed its commitment to confronting systematic racism and racial inequities. AACR President Antoni Ribas, MD, PhD, led a panel discussion on the subject, in which he called for action to eliminate all forms of racial inequity. He announced that the AACR will establish a Task Force dedicated to addressing racial injustice, alongside plans for a slate of panel discussions, blogs and other communications on what's needed to ensure positive change. Dr. Ribas is director of the Tumor Immunology Program at the Jonsson Comprehensive Cancer Center and director of the Parker Institute for Cancer Immunotherapy Center at UCLA in Los Angeles. "Racism is a hard word," said panelist John D. Carpten, PhD, chair of the AACR's Minorities in Cancer Research Council. "We say 'diversity and inclusion' because it sounds better, but we have to acknowledge racism if we are to make it better." Dr. Carpten is director of the Institute of Translational Genomics of the Keck School of Medicine at the University of Southern California in Los Angeles.
A Better Outlook for Kids With Cancer
Great strides have been made in improving the chances of survival for children diagnosed with cancer. However, the fact that pediatric cancers have fewer tumor mutations compared to adult cancers makes it difficult to identify targets for new molecular approaches that treat these tumor mutations. During a session at the 2020 AACR Virtual Annual Meeting II, researchers from Germany, Canada, and Australia shared updates on how they are using genomic sequencing and precision oncology to learn more about how best to provide care for pediatric cancer patients. The session's moderator, cancer genomics researcher Elaine Mardis, PhD, noted that the ultimate goal of these pioneering efforts is to expand access to high-quality care for all pediatric patients. Dr. Mardis, past president of the AACR, is co-executive director of the Institute for Genomic Medicine of Nationwide Children's Hospital in Columbus, Ohio.
Lessons Learned During the Pandemic
The effects of the pandemic on cancer research was the topic of a panel discussion at the 2020 AACR Virtual Meeting: COVID-19 and Cancer, held July 20-22. Panelists shared their experiences in the preceding months, as scientists from all corners of the medical community were called upon to help study SARS-CoV-2, the novel virus that causes COVID-19. Many cancer researchers were well-positioned to contribute to these efforts, given their expertise and familiarity with topics like virology and immune response. There is hope that efforts to learn more about COVID-19 could be a boon to future cancer research. Anna D. Barker, PhD, chief strategy officer at the Ellison Institute for Transformative Medicine at the University of Southern California in Los Angeles, explained how a clinical trial that played a key role in testing neoadjuvant treatments for breast cancer was being used as a blueprint for research on acute respiratory distress syndrome, a severe complication of COVID-19. "Because we had a trial structure already in place, we secured institutional review board approval in six weeks," Dr. Barker said. "There are now four drugs ready to go and six in the pipeline."