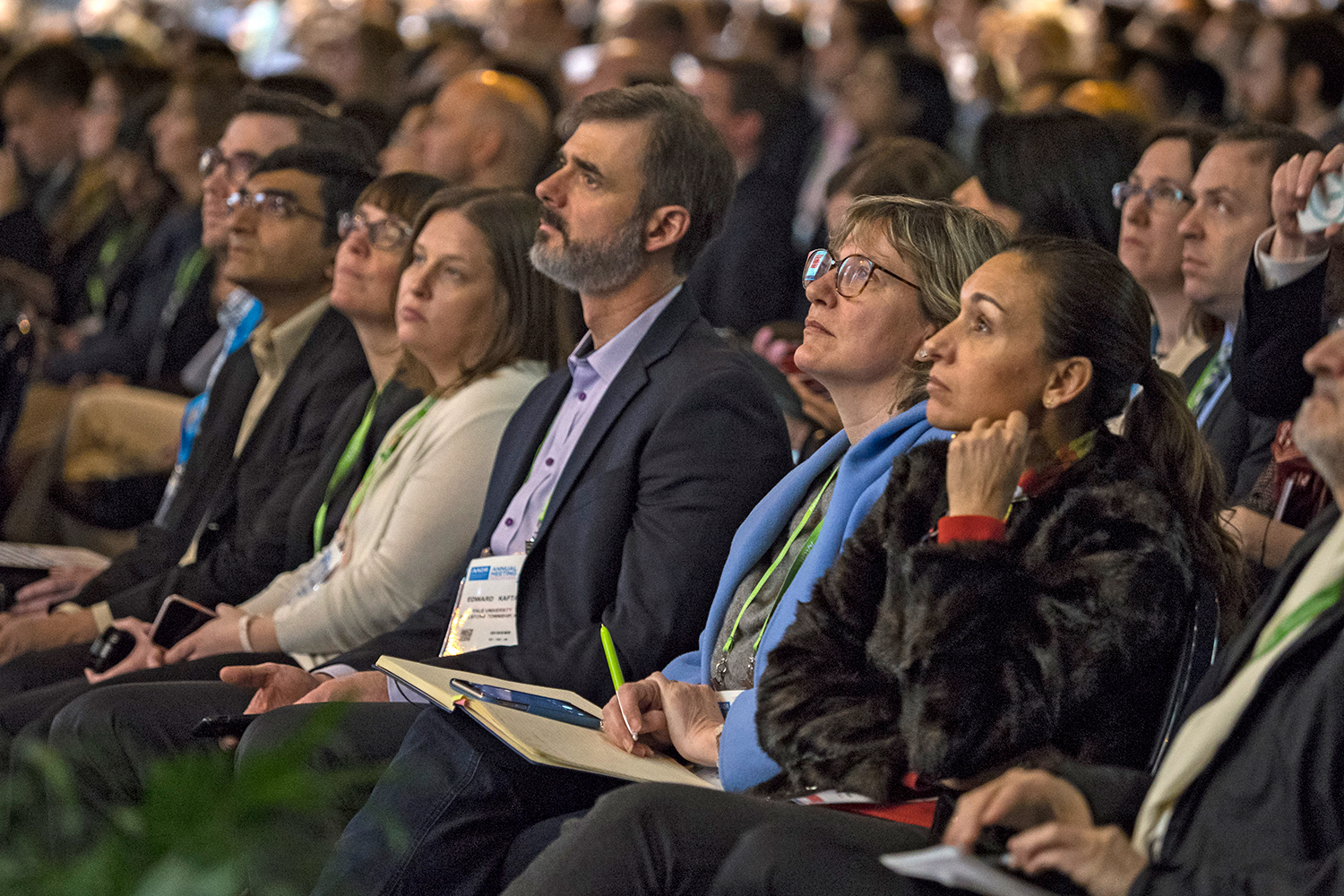 Research Updates
Blockbuster Clinical Trials Featured at AACR Annual Meeting 2018
The AACR Annual Meeting 2018, held April 14-18 in Chicago, garnered a record-breaking attendance of more than 22,500 cancer researchers, physician-scientists, industry scientists, patient advocates, and other stakeholders from around the world. They came to hear the latest developments in cancer research, spanning a wide range of topics in basic, translational, and clinical research.
A high bar was set on April 16, when the clinical trial plenary session featured three major clinical trials testing immune checkpoint inhibitors—a class of immunotherapy drugs that have revolutionized cancer treatment—for certain patients with early-stage lung cancer and as a first-line therapy for advanced lung cancer. In another trial, investigators tested whether treatment with immune checkpoint inhibitors before surgical resection of early-stage
non-small cell lung cancer (NSCLC) would lower the relapse rates in this patient population.
KEYNOTE-189 was a phase III study of pembrolizumab (Keytruda) as a first-line treatment in patients with metastatic nonsquamous NSCLC. The study found that patients with newly diagnosed metastatic nonsquamous non-small cell lung cancer (NSCLC) who received pembrolizumab plus chemotherapy had significantly longer overall survival (OS) and progression-free survival (PFS), compared with those who received chemotherapy alone.
Study presenter Leena Gandhi, MD, PhD, told meeting attendees that the results were practice-changing, meaning they were convincing enough to change the way doctors treat NSCLC. Dr. Gandhi is now heading immuno-oncology medical development for pharmaceutical company Lilly Oncology.
Data from IMpower150, a phase III trial, showed that the anti-PD-L1 inhibitor atezolizumab (Tecentriq), given as a first-line treatment in combination with bevacizumab (Avastin) and chemotherapy, prolonged PFS, regardless of PD-L1 expression, in patients with nonsquamous metastatic NSCLC, compared with patients who received bevacizumab and chemotherapy only.
Study presenter Mark A. Socinski, MD, executive medical director of the Florida Hospital Cancer Institute in Orlando, noted that the trial met the primary endpoint of overall survival, and clinically meaningful
PFS benefit was observed in patients with EGFR/ALK genomic alterations in their
tumors and in patients with liver metastases.
CheckMate-227 was a phase III trial testing nivolumab (Opdivo), nivolumab plus ipilimumab (Yervoy), or nivolumab plus platinum-doublet chemotherapy (PT-DC) versus PT-DC alone in patients with stage 4 or recurrent NSCLC who had not received prior treatment. The trial met its co-primary endpoint of PFS, and among patients with high tumor mutational burden—a measure of the number of mutations found in a tumor—those who received nivolumab plus ipilimumab had significantly improved PFS compared with patients who received PT-DC alone. Matthew Hellmann, MD, a medical oncologist and researcher at Memorial Sloan Kettering Cancer Center in New York City, who presented the data, noted that the study identified tumor mutational burden as an important and reliable biomarker that should be tested in patients with newly diagnosed NSCLC.
In a neoadjuvant immunotherapy clinical trial, Drew Pardoll, MD, PhD, director of the Bloomberg-Kimmel Institute for Cancer Immunotherapy and director of Cancer Immunology at Johns Hopkins School of Medicine, and colleagues demonstrated that nivolumab given prior to surgical resection (called neoadjuvant treatment) of stages 1-3 NSCLC was safe and resulted in major pathologic responses (10 percent or fewer viable cancer cells detectable in the resected tumor following neoadjuvant treatment) in 45 percent of the patients. Major pathologic responses were observed in the patients' tumors irrespective of PD-L1 expression by tumor cells, and tumor mutational burden closely predicted the degree of pathologic response.