AACR Donors and Partners
Running Every Step for Her Mother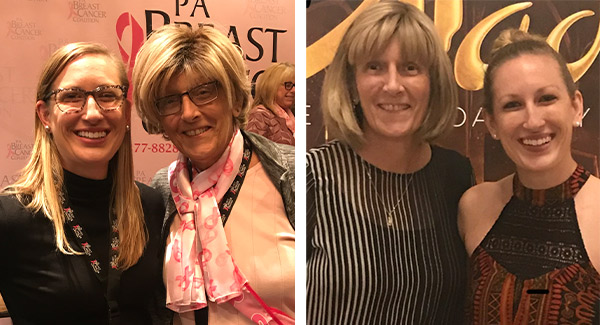 Pat Sellman endured 76
rounds of five different types of chemotherapy to treat her metastatic triple-negative breast cancer, but the treatments were ineffective. Her daughter, Regina, took Pat to breast cancer patient conferences, hoping to learn of a new treatment that might turn Pat's disease around. They discovered no such cure, however, and Pat died in February 2020.
In her final journal entry, Pat made a plea to her daughter. "I know this isn't going to be easy. But if you could, find a way to get all the breast cancer organizations to take stage IV metastatic triple-negative breast cancer seriously for a cure—first of all for your health and happiness, but [also for your] future children."
Two years after her mother's death, Sellman still felt grief and anger. With a benign breast tumor removed in 2016, she felt that triple-negative breast cancer might one day affect her as well. At her doctor's recommendation, she enrolled in a high-risk cancer patient program that focused on prevention, and she began investigating various research organizations before settling on AACR. She learned about AACR's support for triple-negative breast cancer research and felt like she had heard "something new." The more she learned, the more hopeful she became, and she shared her newfound knowledge with her mother's siblings.
Sellman joined the AACR Runners for Research to help raise money in support of cancer research, and she ran in the Dietz & Watson Philadelphia Half Marathon on November 19, 2022. "I'm so happy that I found the AACR that connects the research and my love of running," she said. "I needed to go into a sport that's not competitive with other people. I felt having a mom with cancer was competing against so many external factors, that I needed something internal that I could battle in my own head."
Sellman is inspired by her mother, who persisted in trying out different treatments even though the side effects were difficult and the drugs ultimately didn't help her.
"She kept saying, 'OK, I'll try it. OK, I'll try it.' Having that as a role model, I can't stop," she said.
---
Evan Horn Runs for His Sister and Father

In 2021, Evan Horn celebrated his father's successful cancer treatment and remission from non-Hodgkin lymphoma by joining the AACR Runners for Research team and raising funds for research.
In February 2022, cancer again stunned the Horn family. Evan's sister, Darcy, had been diagnosed with Ewing sarcoma. Her diagnosis was "the sequel that nobody needed or wanted, and it was just brutal," Horn said.
Instead of being defeated, however, Horn was resilient. He remembered the camaraderie of the AACR Runners for Research team. "When you're watching someone who you are close with go through something so terrible, it's hard just to sit on the sidelines," Horn said. "This has just become my personally meaningful way to contribute. Because I'm not a doctor, I don't know anything about chemotherapy or cancer, but this is the only way I know how to contribute."
More than 92 of Darcy's loved ones joined her brother on race weekend. "Luckily, a lot of people feel the same way [I do]," Horn said of the massive turnout. The group calls itself the D-Team, running in support of Darcy.
Horn ran in the New York City Marathon November 6, just two weeks before the AACR Philadelphia Marathon November 20. With two marathons in three weeks, Horn said he was prepared to support his sister, even if he'd needed to "crawl to the finish line." Together the team raised an astounding $98,000 in honor of Darcy, who has since gone into remission.
---
Sidney Kimmel Cancer Center Goes All in for AACR Runners for Research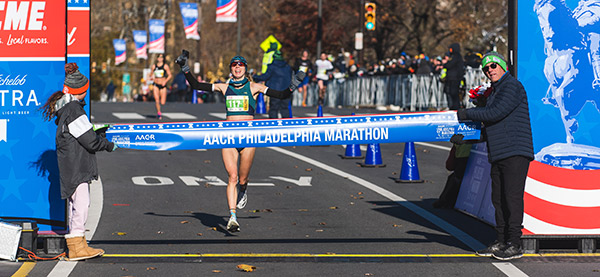 With a $50,000 donation, Jefferson Health's Sidney Kimmel Cancer Center (SKCC) in Philadelphia has given its full support to the AACR's Runners for Research Team. In addition, a team of 20-plus staff members raised funds for the AACR by participating in Philadelphia Marathon Weekend, headlined by the AACR Philadelphia Marathon.
After running his first half marathon in 2021, Christopher Gantz, MBA, DBA, senior director of the research liaison office at SKCC, ran in the AACR Philadelphia Marathon in 2022. "I was really impressed by the number of people who were there, both spectators and runners who had some type of dedication to research," he said.
"In my field, we do a lot of work around educating the public about the importance of research and the public's role in research," Gantz said. "It can be a challenge because people don't tend to know how important they are to moving research forward. A lot of research—clinical research—doesn't happen without the public's participation."
At the race convention center, the SKCC promoted cancer-related research, shared information on clinical trials, and provided free cancer screenings. As a result of its team's participation in AACR Runners for Research, SKCC raised an additional $2,500 for AACR.
---
Two Friends and a Cow Raise Funds for AACR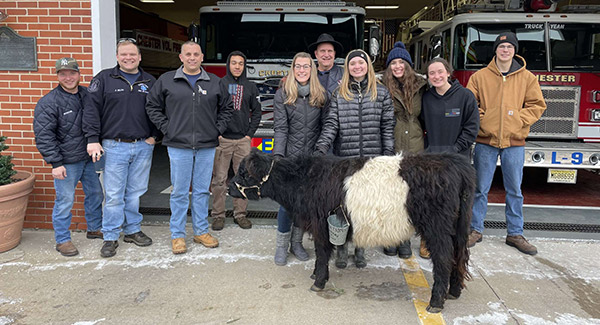 With Hannah the cow in tow, West Morris Mendham High School seniors Nicole Salem and Adriana Totten ventured into the ice-cold streets of Chester, New Jersey, last winter, determined not only to bring a smile to people's faces but also to raise money in support of AACR. Both teens had grandparents whose lives were affected by cancer, and both are interested in careers in medicine, so raising funds for AACR was the perfect fit for a community project.
Walking down Chester's main street, they solicited donations in exchange for raffle tickets for prizes provided by local businesses. Adriana's cow, Hannah, whom she raised on her family's farm, served as the perfect icebreaker. "They would stop and ask us what we were doing before we had a chance to say anything," said Nicole of people on the street. "Some people would even donate to our cause without buying a raffle ticket; they were just so supportive of it." Eventually, the two friends raised $1,300 for the AACR.
This year, the young women are taking the first steps in fulfilling their dreams of working in medicine. Nicole is studying molecular genetics at King's College in London, while Adriana is majoring in health sciences with an emphasis on cancer research at Northeastern University in Boston.
Related Posts