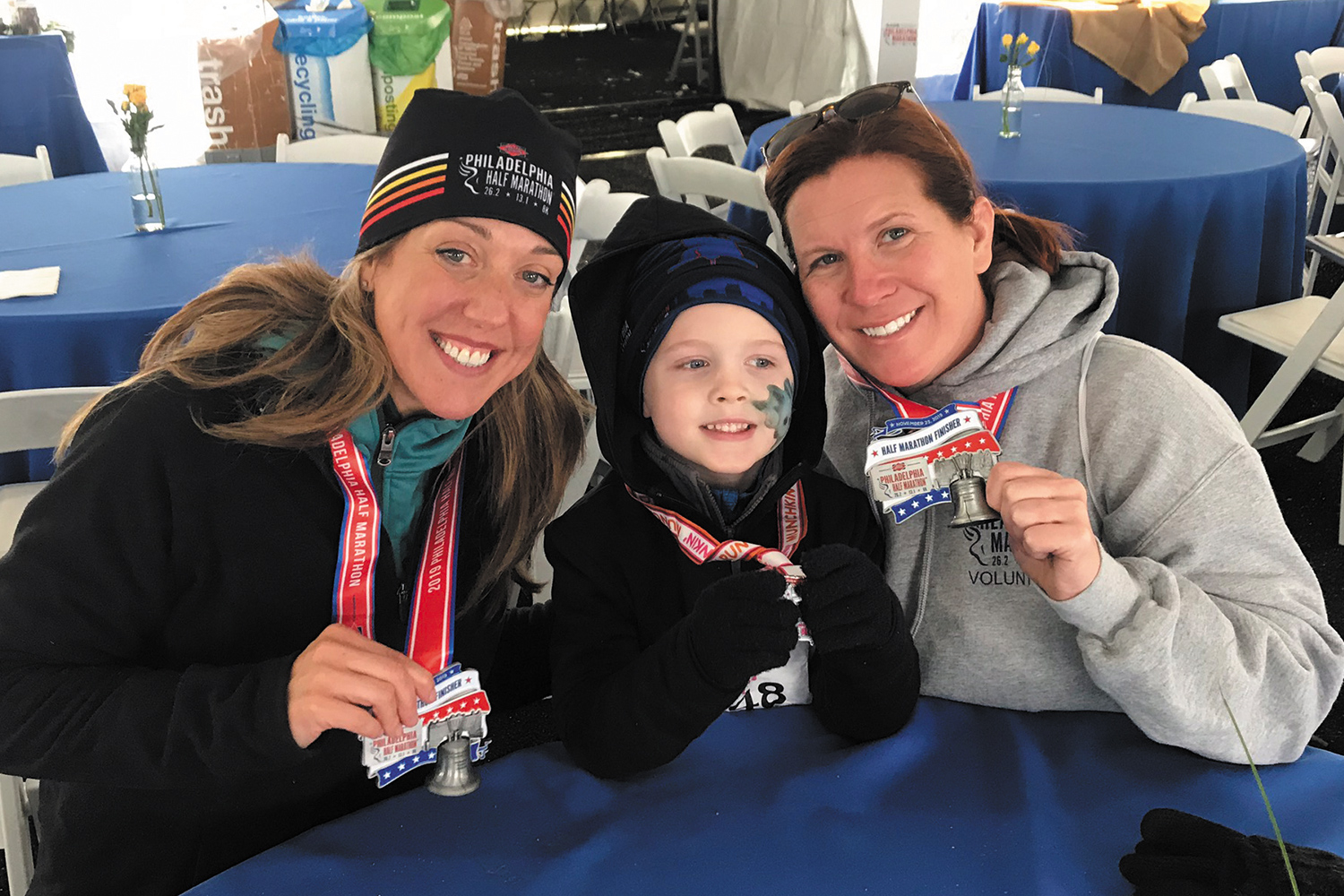 AACR Volunteers and Ambassadors
Wendy Ross Runs to Honor Her Late Husband
More than 30,000 runners from around the world gathered in Philadelphia Nov. 23-24, 2019, for the AACR Philadelphia Marathon Weekend, which included the Rothman Orthopaedics 8K, the Dietz & Watson Half Marathon, and the AACR Marathon. For many people, the races weren't just about running. They were also about making a difference in the fight against cancer.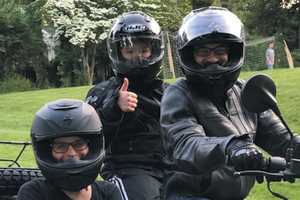 This was especially true for one physician working in the Philadelphia area. Wendy Ross, MD, is a pediatrician at the Center for Pediatric Development in Bryn Mawr, Pennsylvania. She ran with the AACR Runners for Research in honor of her late husband, Michael Ross, MD, a sports medicine physician. Five years ago, at age 43, Michael was diagnosed with stage IV colon cancer. He died in September 2019.
The two met in medical school. Wendy went on to specialize in autism, while Michael studied sports performance at Rothman Orthopaedic Institute in Philadelphia. "No one loved life more than Michael did," Wendy said. She describes her husband as full of life, a wonderful father, a triathlete, and a cancer warrior.
Team Semi-Colon ran the Rothman Orthopaedics 8K with Wendy in honor of her husband. The team was one of the largest AACR Runners for Research teams registered and was made up of "people who love Michael, people who love running, people who support cancer research," she said. They wore bright blue shirts emblazoned with yellow semicolons, a riff on what remained in Michael's body after surgeons removed part of his colon.
Wendy credits the AACR with helping them find a clinical trial that gave Michael more time. "Those were extra days he had with our sons," she said. "And not just extra time, but extra time when he could go back and do the things he liked to do.
"Aside from the world-class research they fund, what drew us to the AACR was their support of events like the Philadelphia Marathon," Wendy said. "He used to frequently say that cancer does not like exercise. My husband helped to train athletes to run in AACR events and ran himself in several."
"Running also seems like a great metaphor for cancer," she added. "Some cancers may not be a sprint to a cure, but rather a marathon leading from treatment to treatment in a more sustained effort to simply continue further, if not to a cure, than to a peaceful coexistence."
Stephen D. Ryan: Five Years of Solid Financial Guidance on the AACR Foundation Board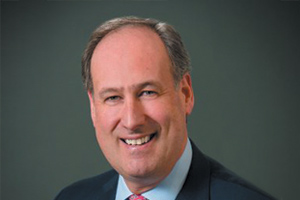 Stephen D. Ryan has brought a wealth of financial expertise to the AACR Foundation Board of Trustees over the past five years. Ryan is a senior vice president with Merrill Lynch Private Banking and Investment Group in Pittsford, New York, and Philadelphia. He has more than 30 years of financial industry experience as a senior executive of a private wealth management team specializing in investment management, legacy planning, and investment advisory services.
As a wealth management expert, Ryan is often called on by nonprofits to weigh in on the financial side of their operation. "My experience is that many times these nonprofit organizations need some additional help finance-wise," he said. "They need to make sure the money is managed properly, to better aid in fundraising."
Ryan is keen on seeing that the AACR's donations are used in the best way possible. "When we receive those dollars, I ask, 'Are we being good stewards of that money? Is what we're doing fulfilling the objective of the AACR?'" he says.
To accomplish its mission, the AACR relies upon its AACR Foundation Board of Trustees volunteers who serve as officers, directors, and committee members. The board helps the AACR Foundation operate effectively in an ever-changing financial environment. In 2019 the AACR Foundation raised more than $31 million, and 88 cents out of every dollar donated to the AACR goes directly to cancer research.
The Marchiano Family Runs for "Popi"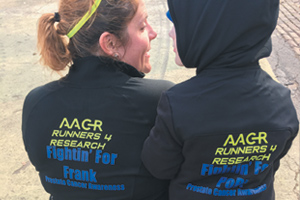 Over the past four decades, Daneen Marchiano's family has provided her neighborhood with authentic Italian specialty breads and tomato pie. She is the general manager of Marchiano's Bakery in the Manayunk neighborhood of Philadelphia. The family-run bakery has been in business since 1984.
In recent years the Marchiano family has been repeatedly touched by cancer. Daneen's mother, Kathy, is a lung cancer survivor who was diagnosed in 1996. In 2012, Daneen was devastated to learn that her father, Frank Marchiano Sr., was diagnosed with metastatic prostate cancer. Frank has been fighting it ever since. Her sister-in-law's mother was diagnosed with bile duct cancer in 2019 and died in August 2020.
Daneen felt compelled to make a difference in the fight against cancer and joined the AACR Runners for Research team in 2018. Her nephew, Jace, who was only 3 years old at the time, also joined the team and ran the Dunkin' Munchkin Kids Fun Run in honor of Frank, his beloved "Popi," becoming the youngest participant on the AACR Runners for Research team.
Jace then joined Daneen for the Dietz & Watson Half Marathon event with the AACR Runners for Research team in 2019. It was Daneen's second time running the race, and she raised $1,300. Jace raised $1,100 running the 2019 Dunkin' Munchkin Kids Fun Run.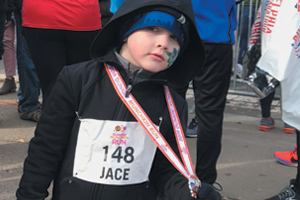 "Jace and I really do run with a passion for my dad, though we've seen how [cancer] affected our whole family," Daneen said. "It's different when you run for a purpose."
Today Jace is 5, but even at a young age he understands why they are running. Daneen describes him as wise beyond his years. "He understands that Popi is sick, and we run for cancer research in honor of my dad," she said. "Jace doesn't want people to be sick."
Though the 2020 Philadelphia Marathon weekend was canceled this year, Jace and Daneen are still fundraising and plan to run in 2021. "We want to make sure no daughter and grandchild feel the way we feel," Daneen said.
Jordan Liberty, AACR Ambassador, Navigates COVID-19 as a Cancer Survivor
Jordan Liberty is no stranger to creating iconic campaigns and visuals for beauty brands like Urban Decay, NARS, Sigma Beauty, MAC, and CoverGirl. However, his partnership with the AACR may be his most powerful and meaningful one to date. A two-time cancer survivor, Liberty celebrated three years cancer-free in November 2020.
Liberty kicked off the partnership by participating in the AACR Revolutions for Research in Philadelphia in December 2019. The next day, he hosted a makeup master class at a Philadelphia hotel to benefit cancer research. The live makeup demonstration featured tips and tricks using Sigma Beauty products from his International Beauty Tour. He raised over $6,000 for the AACR in that one weekend.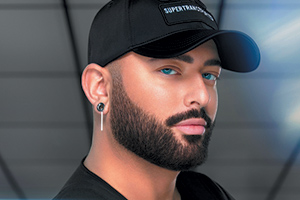 In March 2020, Liberty released his Master Artistry Collection of makeup brushes in collaboration with Sigma Beauty featuring 14 vegan-friendly, cruelty-free, and waterproof brushes, and $25 from every set sold is donated to the AACR. Sigma Beauty will donate up to $50,000 for the collaboration.
Liberty's tour was put on hold due to the COVID-19 pandemic. Like other cancer survivors, Jordan may be more vulnerable to COVID-19 so he needs to be especially cautious, but he has a positive perspective. "At least with coronavirus, I get to be at home and feel healthy, so I've done my best to find the silver lining and have compassion for those who are going through chemo now," he said.
He also thinks COVID-19 is delivering a much-needed rude awakening to the makeup artistry industry. "In the beauty business, sadly, hygiene is often an afterthought. My dedication to cleanliness has me feeling a bit ahead of the curve, so I've been using my platform to share helpful information," he said.
Liberty will continue his partnership with the AACR despite the challenges that the pandemic poses for him. "I intend to pay it forward and give as much as I can back to others in need," he said.