AACR Volunteers and Ambassadors
Volunteer Spotlight:
Lou Lanza Wants to Give Back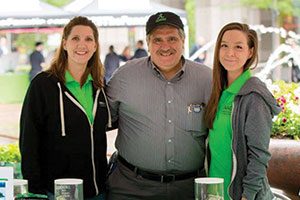 Lou Lanza was diagnosed with stage IAA large B-cell non-Hodgkin lymphoma in January 2005. After receiving eight chemotherapy treatments and 20 radiation treatments, he was declared in remission.
Lanza is aware of his good fortune in surviving cancer and wants to give back. Today he is an enthusiastic AACR volunteer and ambassador at fundraising events in the Philadelphia area. "My association with the AACR gives me an avenue to thank the people who give their time and money to assist the AACR in raising funds," he said. "I like to have them put a face to the
people they are helping to combat this horrible disease."
Two-Time Cancer Survivor Becomes AACR Ambassador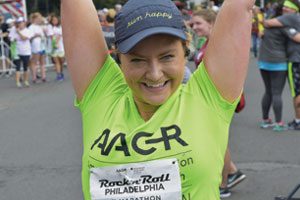 By the age of 25, Sarah Happy had survived not one but two types of cancer—lymphoma and cervical cancer. After her lymphoma diagnosis in 2007, the University of Michigan graduate and aspiring lawyer began a six-month regimen of chemotherapy, followed by two months of
radiation therapy. After her treatment was completed, there was no trace of cancer.
While she was preparing for a move to Philadelphia to begin law school in 2009, a routine Pap
test came back abnormal. The subsequent biopsy, performed the day before her move, found
early-stage cervical cancer. She quickly underwent surgery to remove the cancer and finally moved to Philadelphia shortly after to begin school. Six months later, however, the cervical cancer returned. After another operation, Happy was once again declared free of cancer. Since then, she has been monitored closely and reports that the cancer has not returned.
Cancer, however, remains an ever-present element in Happy's life. The side effects of her treatments include chronic pain and persistent ulcers that require ongoing treatment. Her experiences with physicians skilled in cancer survivorship issues have convinced her of the importance of research. Last spring, she became an AACR Foundation ambassador, joining the Runners for Research team and speaking on behalf of the AACR at public events.
"I think it's important as a survivor to talk about what the AACR is doing and make sure that people, not only cancer patients but cancer survivors, know about the latest in science," she said. "I'm doing as well as I am because I've had access to doctors who have the best training and know what is going on in the research."
NFL Player Takes On Cancer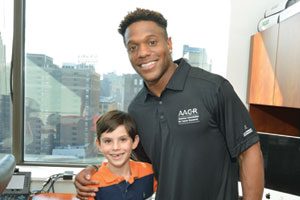 As a child, Rodney McLeod of the Philadelphia Eagles dreamed of playing pro football. His grandmother shared his dream and supported him in every way possible. So McLeod was devastated when his grandmother was diagnosed with pancreatic cancer and died of the disease while he was still in high school. To honor her, he became an AACR Foundation ambassador.
"So many lives have been lost due to cancer. Everybody is affected by it," said McLeod, who has participated in the AACR Runners for Research 5K, hosted a pingpong fundraising event, and appeared in AACR radio and TV spots and on billboards in the Philadelphia region.
Related Posts