AACR Donors and Partners
AACR Foundation Board President Says 'Get Involved'
For the past three years, Raymond N. DuBois, MD, PhD, has served as President of the AACR Foundation Board of Trustees. In this role, he has led an engaged Board consisting of three committees—Governance, Development, and Communications & Marketing—that provide guidance and direction for the AACR Foundation team on initiatives and community outreach.
"I'm so proud to have an integral role at the AACR Foundation and to be a part of the incredible work this organization has contributed to advancing cancer research," said Dr. DuBois. "If you too are looking to make an impact and help cancer patients, I strongly encourage you to learn more about the AACR and get involved."
Dr. DuBois, a Fellow of the AACR Academy and AACR President from 2008 to 2009, is the dean of the College of Medicine at the Medical University of South Carolina in Charleston. He previously served as chairman and president of the Biodesign Institute at Arizona State University in Tempe, provost and executive vice president of academic affairs at MD Anderson Cancer Center in Houston, and director of the Vanderbilt–Ingram Cancer Center in Nashville, Tennessee.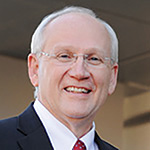 Raymond N. DuBois, MD, PhD
President
AACR Foundation Board of Trustees
Sixth-Grade Student Donates Funds Raised From Origami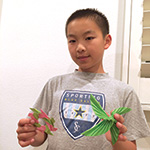 Felix Xie donated $41 to the AACR by selling handmade origami to friends and family members, showing that you can make a difference at any age using the special skills you already have.
"When I was younger, I had no idea about the horrors of cancer," Felix said. "I had made fun of a girl in kindergarten who had no hair, calling her bald. This made me feel that I should repay her. Why not make it so that no one will call anyone bald due to cancer?"
Amgen Gives $1 Million to Mission Support
This past year, Amgen, a leading biotechnology company, provided the AACR with a historic contribution of $1 million for mission support. Amgen has long supported the AACR, providing sustainable and predictable resources for members for more than two decades. In 1996, Amgen provided the funds to support one of the AACR's first fellowships, and this sparked the AACR's efforts to become a major grant-giving organization. The AACR now administers a multimillion-dollar portfolio, funding hundreds of innovative research projects. The incredible expansion of this vital AACR program is a testament not only to support for the best cancer research, but also to the benevolence of partners like Amgen with a steadfast commitment to funding lifesaving cancer research.
Family Raises Funds for Ocular Melanoma Research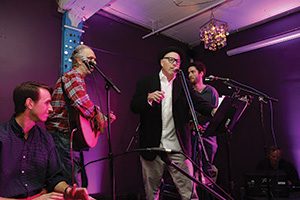 David Kammerman, a husband and father of three sons, was diagnosed with ocular melanoma (OM), an extremely rare and aggressive eye cancer, in December 2013. The cancer metastasized to his liver in summer 2016. Feeling powerless in the face of her husband's diagnosis, Maura Kammerman started researching OM clinical trials and treatment options. "What I discovered is that research on OM is limited, largely due to funding, the rarity of this disease, and the limited number of patients to study," Maura said. "Dedicated research is urgently needed to discover more effective treatment modalities."
The family has begun a fundraising campaign, "Be the Light," to raise funds for OM research. "Research is the one sure way of finding a cure for ocular melanoma," Maura said. "We are putting our energies into raising awareness and funding for this rare cancer. Together, we hope to inspire others to help us fund research for a cure for OM."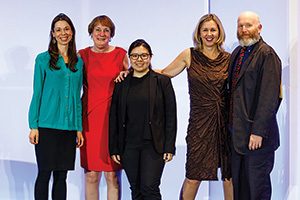 In November 2016, the family hosted a music-themed fundraising event with a goal of $25,000. They exceeded their goal by raising more than $40,000. The Ocular Melanoma Foundation (OMF), an AACR partner, matched the Kammerman's goal of $25,000 to fund a research grant to honor David. At the AACR Annual Meeting in April, the 2017 Ocular Melanoma Foundation–AACR Fellowship was awarded to Vivian Chua, PhD, a postdoctoral fellow at the Sidney Kimmel Cancer Center at Thomas Jefferson University in Philadelphia.
The Kammerman family hopes to award two grants to young investigators in 2018.
Related Posts