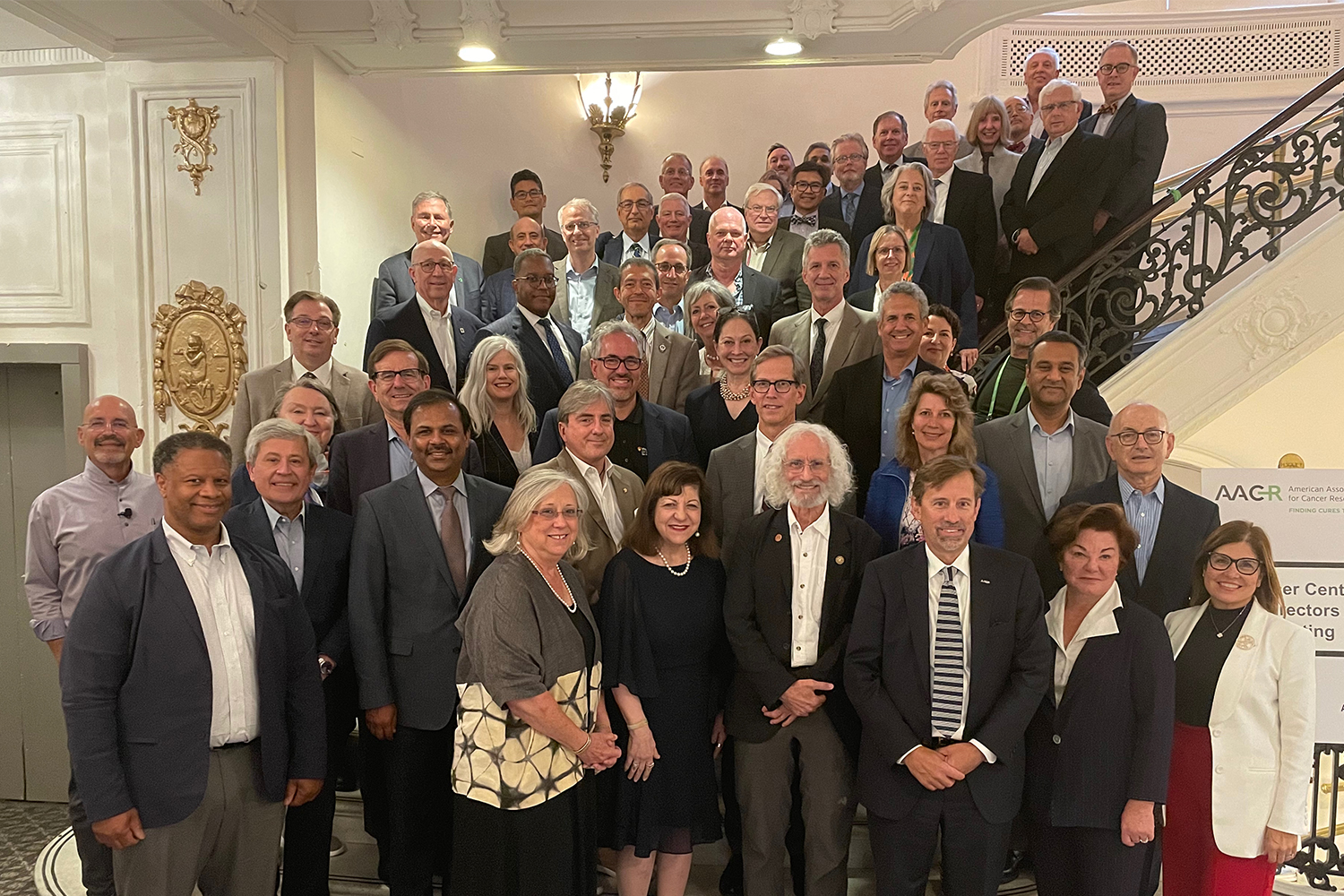 A Common Vision
AACR and the nation's cancer center directors explore ways to collaborate on shared goals.
In its role as a convener and catalyst for innovative ideas, the AACR has met with cancer center directors several times during the past year to discuss how they can work together to accelerate transformative cancer research and improve patient care.
Nearly 60 cancer center directors attended the first meeting, held in the AACR's headquarters city of Philadelphia in July 2022. A virtual meeting for 25 directors unable to attend the July gathering followed in October 2022. Recently, 51 cancer center directors met with AACR leadership during the AACR Annual Meeting 2023 in April in Orlando, Florida.
The cancer center directors attending the historic gatherings identified several priorities. These include initiatives to:
Forge better collaborations among all cancer centers to catapult advancements in basic and translational research.
Emphasize the need for increased funding for cancer research and cancer-related science.
Reform and streamline clinical trials to markedly increase participation and diversity in patient accrual in
therapeutic studies as well as in prevention, screening, and interception trials.
Strengthen and empower the future cancer workforce by enhancing education, training, and mentorship, and develop impactful diversity, equity, and inclusion initiatives.
The directors highlighted the need to engage with urgency and to speak with one voice for synergies and novel solutions to the numerous challenges in cancer research, prevention, and treatment.
"We are thrilled with this historic initiative by the AACR and cancer center directors," said Margaret Foti, PhD, MD (hc), AACR chief executive officer. "There are enormous opportunities for syngergies and substantive collaborations that could have significant benefits for patients."
David A. Tuveson, MD, PhD, AACR past president and director at the Cold Spring Harbor Laboratory in New York, has spearheaded the effort. He said he is enthusiastic and hopeful that, by working together, the AACR and cancer center directors will accelerate progress in cancer research and patient care.
"I'm honored to work with the AACR, Marge Foti, and cancer center leaders to bring this much-needed forum to fruition, and I look forward to the great work ahead in this collaborative effort, all for the benefit of patients and their loved ones," Dr. Tuveson said.