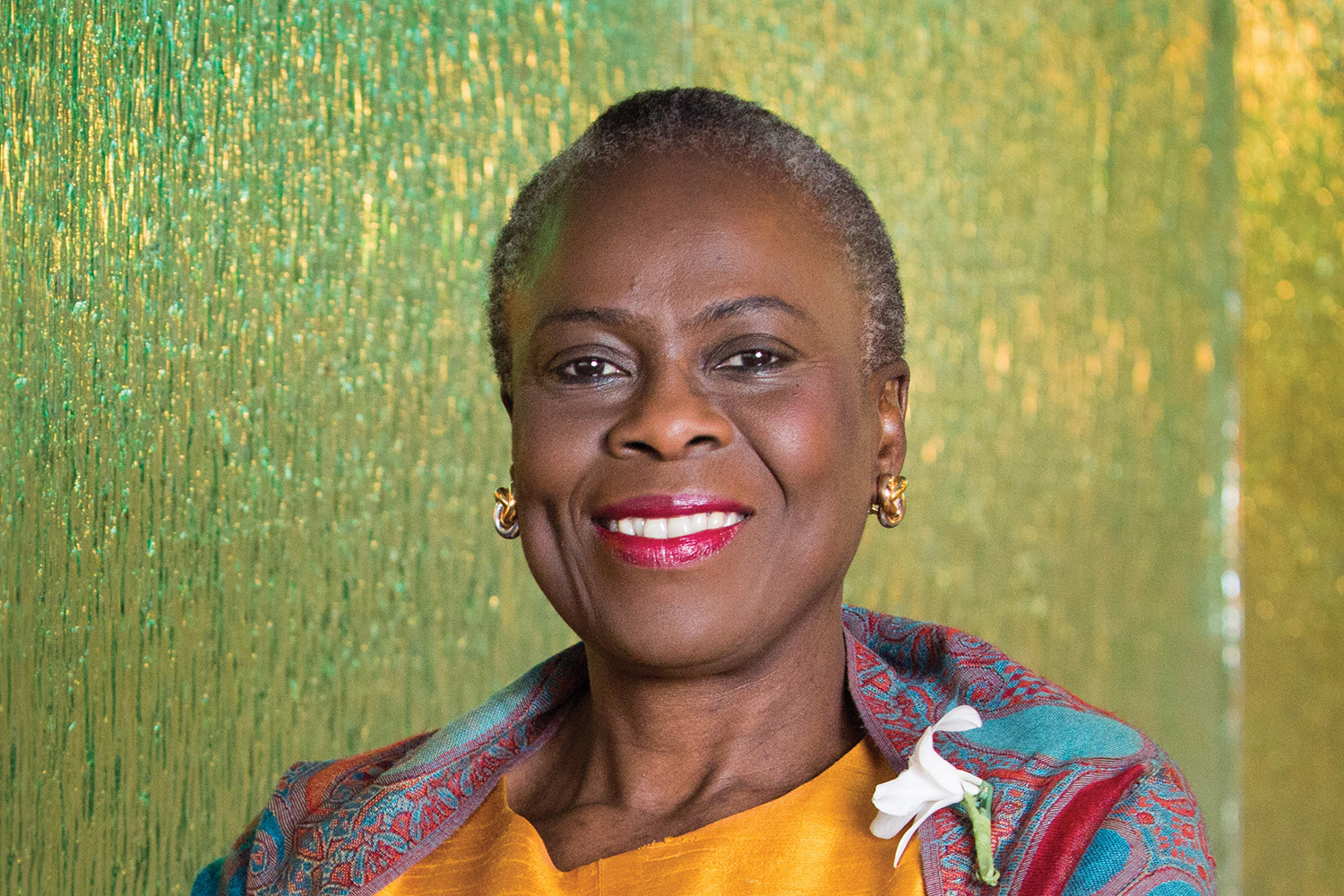 Dr. Olufunmilayo Olopade: Closing Disparities Through Genetic Testing
The dedicated physician-scientist seeks widespread use of testing to encourage prevention and early detection of deadly cancers.
Any serious conversation about reducing cancer deaths must factor in cancer health disparities—differences in patient outcomes, such as cancer incidence or death, due to race, ethnicity, age, income, education, geographic location, and other factors.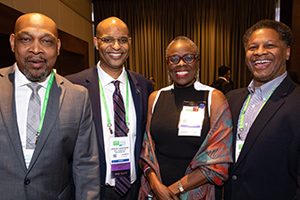 Olufunmilayo (Funmi) Olopade, MD, has made it her mission to ensure that discussions about health care disparities include the need to integrate genetics into cancer risk assessment and treatment. Dr. Olopade, a medical oncologist and the director of the Center for Clinical Cancer Genetics at the University of Chicago Medical Center, is especially interested in using genetic testing to promote early detection and treatment of breast cancer and ovarian cancer.
Dr. Olopade founded the Cancer Risk Clinic, now part of the Center for Clinical Cancer Genetics, at the University of Chicago in 1992 to coordinate preventive care for women and men at high risk for cancer. At the time, physicians and researchers knew that a family history of certain cancers increased cancer risk, but they were only beginning to understand the reasons why. The discovery, in 1994, of inherited damaging mutations tied to breast cancer risk in the BRCA1 gene was followed a few months later by the discovery of such damaging mutations in the BRCA2 gene. These discoveries provided a connection between family history and cancer risk. The introduction of a genetic test for the mutations in 1995 turned the concept of testing for inherited cancer risk into something real.
With the discovery of BRCA genes, Dr. Olopade saw the future of cancer risk assessment. She also quickly grasped the role genetic testing could play in either increasing or reducing cancer health disparities. In a November 1996 editorial in the New England Journal of Medicine, "Genetics in Clinical Cancer Care—The Future is Now," she addressed the issue, noting that disparities were evident from the outset, "with the only women at high risk who are not being tested [being] those who are economically disadvantaged or uninformed."
The Genetics of Cancer Care
Born and raised in Nigeria, Dr. Olopade received her medical degree there from the University of Ibadan. She was a medical officer at the Nigerian Navy Hospital in Lagos when, in 1983, she accepted a residency at Cook County Hospital in Chicago. Four years later, she started her postdoctoral fellowship in hematology and oncology in the University of Chicago and joined the laboratory of renowned geneticist Janet D. Rowley, MD, who would become a mentor and close friend. There, Dr. Olopade learned to identify genetic alterations in cancer cells and understand how they lead to cancer.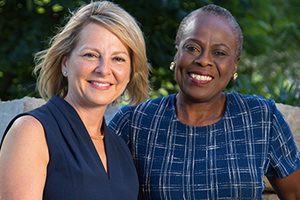 In 1991, Dr. Olopade was offered a faculty position at the University of Chicago. She has been there ever since, focusing her research on genetic risk factors for breast cancer in women of African ancestry in the U.S. and West Africa. In recognition of her unique and influential role in cancer research and in calling attention to disparities in cancer care, Dr. Olopade was awarded a MacArthur "Genius" Grant in 2005. She also was elected an inaugural Fellow of the American Association for Cancer Research (AACR) Academy in 2013 and served on the AACR Board of Directors from 2002 to 2005.
Dr. Olopade's enthusiasm for scientific research on the genetics of cancer hasn't waned. "Right now, the excitement in breast cancer research is really about the ability to develop personalized approaches to risk assessment and treatment based on the decades of genomic research that we have done," said Dr. Olopade. "It is rewarding to be in the field and contribute in a way that allows us to use genetics to stratify women at different levels of risk, and then use that information to help them manage that risk."
For the past two decades, surgical oncologist Laura J. Esserman, MD, MBA, director of the UCSF Carol Franc Buck Breast Care Center in San Francisco, has worked closely with Dr. Olopade, whom she calls "one of the giants of medicine." Dr. Esserman credits Dr. Olopade with blazing the trail for the integration of genetic predisposition into the routine of cancer care.
"It was fantastic to work with someone who has such energy and urgency," Dr. Esserman said of her colleague. Their collaborations started with the first BRCA registry studies, and later they made research trips to West Africa, where Dr. Olopade developed population-specific risk assessment tools and treatment strategies to improve breast cancer outcomes. According to Dr. Esserman, her colleague's research has demonstrated that there is a much higher rate of hormone receptor-negative, aggressive tumors in African women, and that poor outcomes for African-American women are linked to the biology of the tumors they develop.
"Through her work, she has changed the care for women in Africa and for women in the U.S.," Dr. Esserman said. "She is an inspiration to all those who work with her, and [she] will not let people get in the way of progress."
A Global Perspective
In the U.S., Dr. Olopade's research is often talked about in terms of the impact it has had on African-American women, but she is quick to point out that her work has much broader implications. "There have been very few studies of women across different populations, so that's why everyone has focused on my work," she said. "But there are women all over the world—Indian women, Hispanic women—who develop triple-negative breast cancer, and most of these women didn't know they were at risk for it. These cancers may be more common among African-American women, but our discovery was really that there are genetic risk factors for breast cancer in all populations."
Finding more of these factors, she said, could make it possible "to develop a personalized way to identify every woman at high risk, whether African-American or Jewish or Italian or Ukrainian, so that they could go in and have their doctor develop a personalized approach for them."
"Right now, most women in the world are diagnosed with breast cancer at an advanced stage," she said. "We need to accelerate prevention that can be adopted in low-resource settings or adopted in this country as a way to help low-income women care for themselves."
Margaret Foti, PhD, MD (hc), chief executive officer of the AACR, underscored the fact that the world's first and largest cancer research organization has long been at the forefront of reducing cancer health disparities. She lauded Dr. Olopade's efforts to bring the benefits of genetic testing to all.
"The important work done by Dr. Olopade and her colleagues has led to a revolution in cancer disparities research that holds the promise for significantly enhancing cancer prevention, diagnosis, and treatment in medically underserved populations," Dr. Foti said. "Dr. Olopade's efforts in the lab and in the clinic are helping to bring the latest and best technologies and treatments to patients in the U.S. and worldwide."
The commentary Dr. Olopade wrote in 1996 presented her vision for the role that genetics could play in cancer care. She also raised questions about whether mutations influence the types of tumors that develop and how a tumor responds to treatment, questions that have since been answered. It is now known that women with damaging BRCA1 mutations are more likely to develop triple-negative breast cancer, and that triple-negative breast tumors are found at higher rates in African-American women and black women around the world. Moreover, there are now treatments specific to these populations. In January 2018, the drug olaparib (Lynparza) was approved specifically for patients with metastatic breast cancer and an inherited BRCA mutation. In March 2019, atezolizumab (Tecentriq) became the first immunotherapy drug approved to treat metastatic breast cancer in patients with triple-negative tumors that test positive for a biomarker called PD-L1.
Dr. Olopade's interest in using genetics to address cancer health disparities and promote health equity continues to drive her research. It is also behind her push for a global movement to improve access to new cancer treatments.
"The hope for precision medicine is to have the right drug for the right person at the right time," said Dr. Olopade. "Triple-negative breast cancer is not the majority of breast cancer. But if we have drugs that can target the genetic abnormalities in these tumors, and we are able to rapidly conduct global clinical trials, not only can we get studies done quickly, but we can also make it possible for women all over the world to participate in the cures of tomorrow."