Leading by Inspiring Others
We all know people who dedicate their lives to helping others. They inspire us by the example they set in their words and actions. Working in the field of cancer research, I've been fortunate to meet countless people who inspire me—individuals who work tirelessly to improve the lives of those diagnosed with cancer, and people who live with cancer and are able to look beyond their situation to help others.
One of these remarkable people is Michael Ross, MD. Dr. Ross is a sports medicine physician who was diagnosed with stage IV colon cancer in 2014, when he was 43. Since then, he has undergone multiple surgeries and has been treated with immunotherapy and chemotherapy.
Dr. Ross is the founder of the Performance Lab at the Rothman Orthopaedic Institute in Bryn Mawr, Pennsylvania, and has devoted his life to health and fitness. He continues to exercise almost every day and works to improve the health of others through his work. His dedication has remained intact despite the treatments and surgeries he has undergone, and notwithstanding the low survival statistics for metastatic colon cancer. Dr. Ross' positive energy is felt by all who know him. For the 2015 Rothman Orthopaedics 8K race, his family and friends formed Team Semicolon, a riff on the surgical removal of part of his colon, and raised nearly $7,500 for cancer research.
Another inspiration for me is Waun Ki Hong, MD, an AACR past president who retired from the University of Texas MD Anderson Cancer Center in Houston in 2014. Dr. Hong, who died in January 2019, devoted his life to cancer research and prevention and to training and mentoring the next generation of researchers. He demonstrated his commitment in the way he stayed in touch with former students, congratulating them on their successes and encouraging them when they needed it. Dr. Hong was an avid sports fan, and he believed that teamwork was the best way to achieve goals in sports and in life.
Dr. Hong's impact on cancer research has been felt by too many patients and colleagues to count. To honor him, the AACR established the AACR-Waun Ki Hong Award for Outstanding Achievement in Translational and Clinical Cancer Research in 2016. His colleagues in the cancer research community demonstrated their admiration for him by contributing more than $1 million for the award in less than a year. I'm incredibly grateful for the time I spent with this remarkable colleague and friend who taught me so much. His legacy lives on in the passion for life he instilled in others.
I come to work every day filled with hope, and I am convinced that one day we will defeat all forms of cancer. The examples set by warriors like Dr. Ross and Dr. Hong are part of the reason why.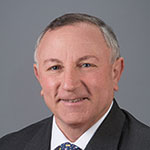 Mitch Stoller
AACR Foundation Executive Director,
Vice President, Philanthropy
Related Posts