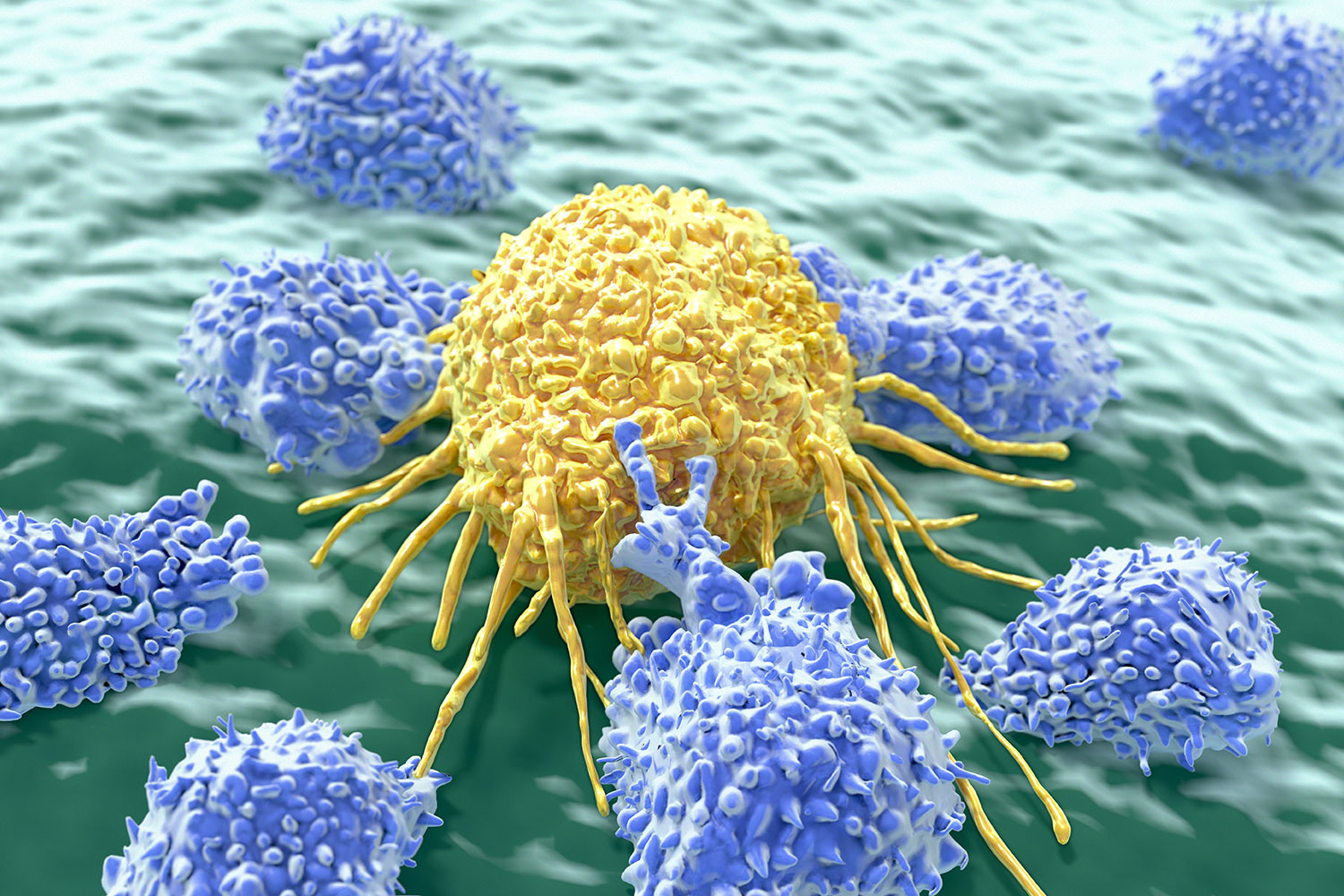 Research Updates
AACR Cancer Progress Report 2017 Spotlights Immunotherapy and Targeted Therapy
Immunotherapy and precision medicine continue to be at the forefront of progress against cancer, according to the AACR Cancer Progress Report 2017: Harnessing Research Discoveries to Save Lives, released Sept. 13, 2017.
Report highlights include:
• The U.S. cancer death rate declined by 25 percent in adults from 1991 to 2014, resulting in 2.1 million lives saved.
• The U.S. Food and Drug Administration (FDA) approved nine new anti-cancer treatments and eight previously approved anti-cancer treatments for treating new types of cancer between Aug. 1, 2016, and July 31, 2017.
• Cigarette smoking rates among U.S. adults declined from 43 percent in 1964 to 18 percent in 2012, resulting in 8 million lives saved.
The annual AACR Cancer Progress Report is a cornerstone of the AACR's efforts to elevate public understanding of cancer and the importance of cancer research. The report is also used to advocate for increased funding for government agencies that fuel progress against cancer, primarily the National Institutes of Health (NIH), the National Cancer Institute (NCI), and the U.S. Food and Drug Administration (FDA).
AACR Project GENIE: Using Data to Drive Progress
AACR Project GENIE (Genomics Evidence Neoplasia Information Exchange), the AACR's international cancer registry, publicly released nearly 19,000 de-identified genomic records in January 2017 and published the first analysis in Cancer Discovery, an AACR journal, in June 2017. The second set of records was publicly released in November 2017 and brought the total to about 32,000 records. The first public release of 2018, in January, added 7,600 sequenced tumors, bringing the total number of records to nearly 40,000.
In addition to adding more data, the project expanded by eight additional participating sites, with more to be announced later in 2018. As data from these new centers are added to the registry, it will expand rapidly.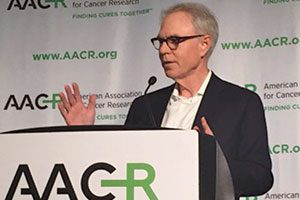 The report in Cancer Discovery showed that more than 30 percent of the samples in the GENIE cohort had mutations that are clinically actionable, meaning they could potentially be treated with a therapy already approved by the U.S. Food and Drug Administration (FDA) or being tested in clinical trials.
"We are particularly excited by the clinical actionability analysis," said Charles L. Sawyers, MD, the AACR Project GENIE Steering Committee chairperson and a study author. Dr. Sawyers is chairperson of the Human Oncology and Pathogenesis Program at Memorial Sloan Kettering Cancer Center in New York and a Howard Hughes Medical Institute investigator. "The huge number of samples in our study and the high rate of clinical actionability give us confidence that tumor genome sequencing can have an important role in clinical care."
AACR Project GENIE is an international cancer registry that began with data sharing among eight hospitals and cancer centers in the United States, Canada, and Europe. The project aggregates, harmonizes, and links clinical-grade, next-generation sequencing data with clinical outcomes obtained during routine medical practice from tens of thousands of cancer patients treated at these institutions. The goal is to provide the statistical power needed to improve clinical decision-making, particularly for rare cancers and rare variants in common cancers.
AACR Publishes Screening Recommendations for Children Predisposed to Cancer
The AACR journal Clinical Cancer Research published international consensus screening recommendations for children with common cancer predisposition syndromes in the summer and fall of 2017. The recommendations emerged from the Childhood Cancer Predisposition Workshop held by the AACR Pediatric Cancer Working Group in October 2016.
The workshop included 65 professionals from 11 countries. The panel reviewed existing data and practices and established international consensus recommendations for cancer surveillance for the 60 most common syndromes that predispose children to develop cancer. The recommendations, published as 18 position papers, highlight the genetic nuances associated with childhood cancer predisposition syndromes. For primary and specialty pediatric clinicians, the recommendations offer standardized approaches to appropriate surveillance of children affected by such syndromes.
"The genetics of an individual probably plays a more important role than we had appreciated in the past, so it is important to be aware of your family history," said Garrett M. Brodeur, MD, a pediatric oncologist who led the conference. Dr. Brodeur is director of the Cancer Predisposition Program at Children's Hospital of Philadelphia. For those who do have a hereditary form of cancer or cancer predisposition, "it is very important to follow surveillance, because there is high likelihood that tumors will be detected earlier and be more treatable and curable" Dr. Brodeur said.
The AACR has made the papers available at no charge at clincancerres.aacrjournals.org/pediatricseries.
Research and Treatment Advances Presented at AACR Scientific Conferences
Data from several clinical trials presented at the AACR Annual Meeting 2017 showed that, for many patients, response rates to treatment with an immune checkpoint inhibitor, particularly those that target the immune checkpoint proteins PD1 and PDL1, can last several years. The AACR Annual Meeting 2017 was held April 1-5 in Washington, D.C. The trials found that some patients with advanced non-small cell lung cancer, metastatic triple-negative breast cancer, advanced melanoma, and advanced Merkel cell carcinoma—an aggressive type of skin cancer—experienced improved overall survival compared with the historical survival rates for these diseases.
The AACR-NCI-EORTC International Conference on Molecular Targets and Cancer Therapeutics, held Oct. 26-30, 2017, in Philadelphia, featured research advances in the discovery, biology, and clinical applications of new cancer therapeutics. Notable presentations included data from a phase I clinical trial showing that more than a quarter of patients with recurrent high-grade glioma, a type of brain cancer, treated with the retroviral vector Toca 511 and the prodrug of the chemotherapy 5-fluorouracil, Toca FC, were alive more than three years after treatment. "The treatment we tested in this trial delivers local chemotherapy specifically to the brain tumor," said Clark Chen, MD, PhD, Lyle French Chair in Neurosurgery and Head of the University of Minnesota Medical School Department of Neurosurgery in Minneapolis. "Toca 511 and Toca FC work together to turn the brain tumor into a factory that produces an anticancer drug while also activating the immune system through a combination of mechanisms, which together work to attack the cancer." Other highlights included updates from the National Cancer Institute (NCI) Molecular Analysis for Therapy Choice (MATCH) clinical trial, which achieved the goal of screening nearly 6,000 patients in just under two years, and a noninvasive computational imaging method that could help predict response to immunotherapy.
The San Antonio Breast Cancer Symposium, held December 5-9, 2017, showcased data from clinical trials featuring many new treatment advances for breast cancer patients, including using the PARP inhibitor talazoparib to treat women with advanced HER2-negative breast cancer harboring germline BRCA mutations. Also discussed were adding the CDK4/6 inhibitor ribociclib (Kisqali) to standard endocrine therapy with temporary ovarian suppression for pre- and perimenopausal women with advanced HR-positive, HER2-negative breast cancer, and the benefit of increasing the dose intensity of chemotherapy to reduce the risk of early-stage breast cancer recurrence and death. Many clinical trials also focused on improving patients' quality of life.
Research News from the AACR Journals
The AACR publishes eight peer-reviewed scientific journals that cover the entire spectrum of cancer research.
A study published in Cancer Research found that genomic sequencing of tumor DNA circulating in the blood of patients with carcinoma of unknown primary (CUP) identified genetic alterations that potentially could be targeted with therapies. CUP is a rare metastatic disease with no identifiable primary tumor and an incidence of only seven to 12 cases per 100,000 each year. Response to chemotherapy is modest and the overall median survival is about six to eight months. This study showed that liquid biopsies can identify treatments and evaluate treatment response in patients with this difficult-to-treat disease.
In a pair of studies published in Clinical Cancer Research and Cancer Immunology Research, researchers discussed the unexpected negative consequences of combining two immunotherapies concurrently in preclinical studies. Data showed that administration of the T-cell stimulating anti-OX40 antibody and the immune checkpoint inhibitor anti-PD1 antibody concurrently weakened the effect of anti-OX40 and resulted in poor treatment outcomes in mice. The authors caution that treating a patient with one immunotherapy could potentially change the tumor microenvironment to an extent that treatment with another immunotherapy could lead to an outcome opposite to the one expected. Current clinical trials are testing this combination, highlighting the importance of these studies.
A study published in Cancer Epidemiology, Biomarkers & Prevention estimated the potential spending per case of oropharyngeal cancer treatment for two years, a condition that can be avoided by HPV immunization. The study found that the adjusted mean total health care cost in the first two years after an oropharyngeal cancer diagnosis was $160,639 among 467 patients in Texas, compared to $20,890 for 467 control individuals (individuals without a cancer diagnosis). Even though there is an effective HPV vaccine available, only 42 percent of girls and 28 percent of boys ages 13 to 17 had completed the HPV vaccination series in 2015 in the United States, according to the U.S. Centers for Disease Control and Prevention.