A Lifeline for Lifesaving Cancer Research
Over the past two decades, the AACR has awarded nearly $400 million to support cancer researchers through grants, fellowships, and awards. Most of this funding has come through our partner organizations. We could not be more grateful for these collaborative relationships and for our partners' commitment to the AACR and to cancer research. But it's not enough. 
In recent years, scientists have found it increasingly difficult to obtain funding for their meritorious research. Many have left the field as a result, especially young researchers who are clearly needed for future progress against these diseases. In response, the AACR has made philanthropy a top priority. Without increased funding, researchers will not be able to continue their lifesaving work that leads to new discoveries and treatments for cancer. 
With each passing year, our philanthropic strategy continues to evolve, including innovative ideas aimed at generating new sources of revenue. As a result, revenue from fundraising has improved year over year, with a 55 percent increase since 2013. A recent emphasis has been to reach out to the public to introduce the work of the AACR to the community. 
I could not be prouder of this publication. It highlights the great work of the AACR and its members and acknowledges those who make it all possible. It is through your continued support that we will, in the near future, defeat cancer.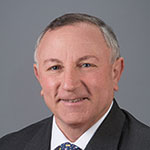 Mitch Stoller
AACR Foundation Executive Director; Vice President, Philanthropy
Related Posts