AACR Volunteers and Ambassadors
Running for Research: A Family Affair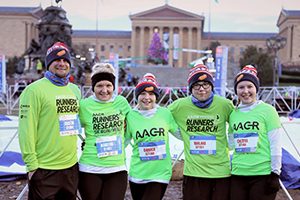 The Weller family of Boyertown, Pennsylvania, has been running and raising funds for the AACR since 2016. The Wellers took part as AACR Runners for Research in the 2018 Philadelphia Half Marathon and in several Disney races, including the Disney Wine and Dine Half Marathon and the Disney Princess Half Marathon, both held at the Walt Disney World Resort in Orlando, Florida. Kristen and Dustin Weller and their three children—Calista, Malaki, and Danika—run as a family and have raised just under $10,000 from all the races combined.
"We feel that raising money for the American Association for Cancer Research is starting at the root of curing cancers," said Kristen. In addition to raising money for the AACR by running, the family donates proceeds from collecting and selling cans to metal recyclers. They also sell silicone bracelets to customers at their pool supply store to raise funds and hold other fundraisers throughout the year.
Watch a video of the Wellers talking about DYI fundraising.
A Cancer Survivor's Marathon Effort to Back Research
Alex Hohmann was born in Brazil and moved to the Philadelphia area as a child in the late 1960s. As a healthy young man with no family history of cancer, the disease was the last thing on his mind.
That changed when Hohmann was diagnosed with testicular cancer at age 30 in 1996. He had surgery to remove his right testicle followed by radiation therapy, a treatment with a 95 percent survival rate over five years.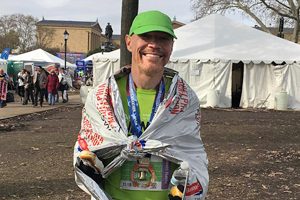 After surgery and radiation, Hohmann thought his cancer was cured. But 12 years later, in 2008, he joined the 1 percent of testicular cancer patients diagnosed with contralateral testicular cancer—a second primary tumor in the other testicle. Hohmann was not a candidate for radiation this time, so the left testicle was removed surgically, followed by eight years of surveillance.
In 2016, Hohmann dealt with cancer again. His father was diagnosed with small-cell lung cancer and died just two months after his diagnosis. To honor his father's memory and to make an impact against cancer, Hohmann decided to join the AACR Runners for Research team. On Father's Day 2018, he signed up to run in the 2018 AACR Philadelphia Marathon in November.
Alex finished the 26.2 miles with a smile on his face—and with good reason. He had raised nearly $3,500 to support his run. Of his fundraiser, he said, "I'll take care of running—that's the hard part. All I need people to do is give something. It doesn't matter how much."
William H. Mears: 16 Years of Service on the AACR Foundation Board of Trustees
The AACR would like to extend its gratitude to long-time AACR Foundation Board of Trustees member William H. Mears for his expertise, thoughtful leadership, and dedicated service to the AACR over the past 16 years.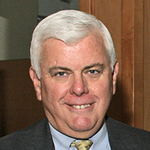 As regional trust head of Brown Brothers Harriman Trust Co., LLC, and a past president of the Estate Planning Council of New York City, he shared his planned giving expertise with the AACR as vice chairman of the AACR Foundation Board of Trustees and chairman of the AACR Foundation Planned Giving Committee, as well as several other committees. He stepped away from his AACR positions in April 2019 when he retired.
The AACR Foundation's founding chairman and president, Bayard "Barney" D. Clarkson, MD, recruited Mr. Mears to help formulate the AACR's development strategy. "During the early years of the Foundation, we needed someone with special expertise to help the Foundation flourish, and Bill was the person to do just that," Dr. Clarkson said. "In the early days, Bill gave numerous presentations to our scientific members during the AACR Annual Meetings, emphasizing how important the Foundation is to the AACR and to cancer research, and describing how they could help.
"Bill's enthusiasm and support were vital in ensuring the subsequent continuing growth and success of the Foundation," Dr. Clarkson added. "All of us who have known Bill and are aware of his many contributions from the beginning are most grateful and wish him all the best."
Related Posts