AACR Donors and Partners
Women Giving Back for Breast Cancer Research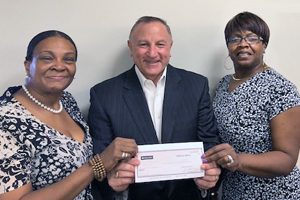 Adrianne Bell and Robin Holts of Philadelphia have something in common: breast cancer. Holts is a breast cancer survivor and Bell's mother and aunt were diagnosed with breast cancer. Together, Bell and Holts formed Club R-K, a subgroup of the Order of the Eastern Star, in order to raise funds for breast cancer research.
After evaluating cancer research organizations, they donated the $1,000 they raised through events like a group walk during Breast Cancer Awareness Month to the AACR after learning that 88 cents of every dollar of their donation would go to cancer research.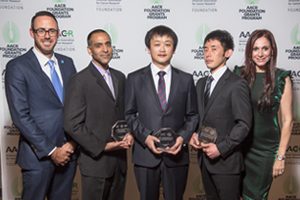 Debbie Zelman was diagnosed with stage IV stomach cancer in 2008, a condition with a five-year survival rate of less than 4 percent. While being treated with chemotherapy, she created Debbie's Dream Foundation (DDF) in 2009. Zelman died in 2017.
DDF's mission is to fund research into innovative, progressive, and cutting-edge treatments for stomach cancer and to improve diagnosis and treatment; to raise awareness about stomach cancer; and to provide information and assistance to stomach cancer patients, families, and caregivers.
DDF has grown to 29 chapters and has had a significant impact
on stomach cancer research and treatment. In 2013, DDF first partnered with the AACR, and since then has distributed more than $850,000 in grants to scientists researching stomach cancer.
Watch a video of grantees supported by the Debbie's Dream Foundation partnership with the AACR.
Raise Funds Through Facebook
Now it is easier than ever to create a fundraiser for the AACR Foundation using your Facebook account. Go to the Facebook Fundraiser and set the AACR Foundation as a recipient of donations from members of your Facebook network. Donating to the AACR through Facebook is an easy way to support lifesaving cancer research.
Bosarge Family Foundation Donates $1 Million
Thanks to the generosity of Dr. W. E. "Ed" Bosarge, the AACR awarded its first fellowship in regenerative cancer medicine at the AACR Annual Meeting 2019 in April. Dr. Bosarge donated $1 million to honor his dear friend Waun Ki Hong, MD, an eminent physician-scientist and past president of the AACR who died in January 2019. The donation will support two funding opportunities for cancer scientists.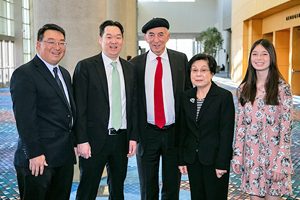 A new award, the Bosarge Family Foundation-Waun Ki Hong Scholar Award for Regenerative Cancer Medicine, was presented to Alfredo Oliveros, PhD, of the Mayo Clinic in Rochester, Minnesota. Dr. Bosarge's generous donation also helped fund the 2019 AACR-Waun Ki Hong Award for Outstanding Achievement in Translational and Clinical Cancer Research, which was awarded to Andrew T. Chan, MD, MPH, of Harvard Medical School and Massachusetts General Hospital in Boston at the AACR Annual Meeting 2019 in Atlanta.
Dr. Bosarge is a world-renowned pioneer in the application of advanced mathematics to the fields of finance, medicine, and energy. He is the co-founder and CEO of Quantlab Financial, founder of Capital Technologies, and founder and chairman of Black Beret Life Sciences.
Through Black Beret Life Sciences, Dr. Bosarge has become a leader in the search for treatments based on regenerative medicine for cancer, diabetes, neurodegeneration, osteoarthritis, and other conditions related to aging. His key investments in regenerative medicine technologies have laid the groundwork for discovering new approaches not only to palliative therapies, but also to curative and restorative therapies. The AACR grant is intended to support novel and provocative research in the field of regenerative cancer medicine and to improve the quality of life of cancer survivors.
Small Change, Big Changes
What if donating money to the AACR was as easy as rounding up the cost of a purchase to the next dollar and donating that amount to support cancer research? The RoundUp App has made it possible. You can download the RoundUp App from the App Store or the Google Play Store and create an account that will donate leftover change from credit or debit card purchases to the AACR. Donations are made monthly, and you can set a limit to your donations and track transactions on the app. The RoundUp App uses the same platform as Amazon and Venmo to ensure that donor information is kept secure. If you don't want to use the app, create an account online at roundup.app/p/aacr.
Novocure Supports Tumor Treating Fields Research Grants
Novocure and the AACR have announced the inaugural AACR-Novocure Tumor Treating Fields Research Grants. These grants represent a joint effort to promote and support innovative research on tumor treating fields (TTFields), which are mild electrical fields that disrupt cancer cell division, inhibit tumor growth, and cause affected cancer cells to die.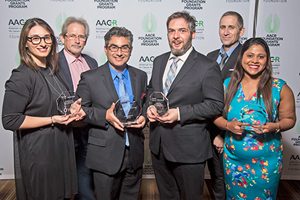 "At Novocure, we are striving to extend survival in some of the most aggressive forms of cancer through the development of tumor treating fields," said Eilon Kirson, MD, PhD, Novocure's chief science officer and head of research and development. "This inaugural grant program with the AACR allows us to support independent researchers as they advance basic and translational research on tumor treating fields. The program is intended to provide a deeper understanding of the mechanism of action of tumor treating fields and to accelerate the development of new treatment strategies to advance therapeutic options for cancer."
Mitch Stoller, the AACR Foundation chief philanthropic officer and vice president of development, added, "This is truly a remarkable partnership, and we are incredibly grateful to Novocure for its commitment to support novel approaches to advancing cancer research.
"The Novocure partnership is another example of how the AACR Foundation is continuing to broaden its ability to generate new sources of funding that will ultimately lead to saving more lives around the world," Stoller said.
More than $1.5 million was awarded to nine grant recipients at the AACR Annual Meeting 2019 in April.
Related Posts