AACR On Campus: A Global Collaboration
First-ever AACR® On Campus program connects early-career investigators across Latin America with leaders in cancer research.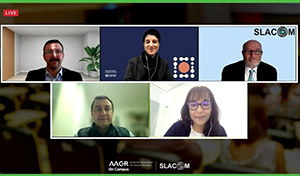 Cancer knows no borders, and neither should the latest in cancer research. That's the idea behind AACR on Campus (AACRoC), a new outreach program designed to advance global collaboration in cancer research. AACRoC offers young investigators at research institutions in low-resource settings across the globe an opportunity to learn from renowned cancer research experts.
The inaugural AACR on Campus took place virtually in late 2021, providing participants from Latin American academic and cancer research institutions with perspectives on implementation research—its origins, aims, trends, innovations, and applications for cancer treatment. It also offered sessions tailored to early-career investigators' soft-skill interests, such as manuscript writing, best practices to assure research integrity, and career development.
"This new offering exemplifies the AACR mission to prevent and cure cancer through research, education, communication, collaboration, science policy and advocacy, and funding for cancer research," said Margaret Foti, PhD, MD (hc), CEO of the AACR.
In developing the 2021 AACRoC, AACR partnered with the Latin American and Caribbean Society of Medical Oncology (SLACOM) to ensure the program addressed the diverse needs of the Latin American cancer research and clinical practice communities. SLACOM is a regional society of Latin American oncologists that focuses on member education and establishing treatment standards. Event organizers identified basic, translational, and clinical research experts, as well as journal editors and cancer research association leaders, to deliver customized programming through a mix of technical lectures, panel discussions, interactive sessions, and professional development offerings.
The virtual 2021 AACRoC event consisted of three segments: general concepts of implementation research; practical aspects (methods, models, tools, techniques, resources, and best practices); and implementation research conducted in clinical settings and within health systems, including its use in public policy and advocacy. All three segments included professional skill development content. Sessions were delivered in the presenter's native language with Spanish subtitles provided for English presentations.
AACRoC registration was free. On average, each live segment drew 30 attendees, and participants who joined all three segments received a certificate of completion. Attendees gave the program high marks in a post-event survey.
AACRoC co-chairs were Ophira Ginsburg, MD, MSc, of the U.S. National Cancer Institute; Raúl Murillo, MD, MPH, of the Javeriana Center for Oncology at San Ignacio University Hospital in Bogotá, Colombia; Silvia Neciosup, MD, of the National Cancer Institute of Peru; and Gilberto Schwartsmann, MD, of Academic Hospital at Federal University in Porto Alegre, Brazil.
AACRoC speakers included the event co-chairs, as well as Dr. Foti; Anne Rositch, MSPH, PhD, of the Department of Epidemiology at the Johns Hopkins Bloomberg School of Public Health; Carolina Wiesner, PhD, of the Instituto Nacional Cancerología in Colombia; Mauricio Maza, MD, MPH, of the Cancer Program of the Pan American Health Organization; Rebecca DeBoer, MD, of the Division of Hematology/Oncology at the University of California, San Francisco; Fred Biemar, PhD, Jing Peng, PhD, and Srivani Ravoori, PhD, of the AACR; Diego Paonessa, of the Latin-American Association of Cancer Leagues; Gustavo Werutsky, MD, of the Latin American Cooperative Oncology Group in Brazil; and Silvina Arrossi, PhD, of the Consejo Nacional de Investigaciones Científicas y Técnicas and Centro de Estudios de Estado y Sociedad in Argentina.
AACR International Affairs is working with prospective partners and funders to develop future AACRoC offerings in Brazil and India.
"My vision for AACR on Campus is to seek new partnerships and support worldwide to continue delivering tailored content to help address unmet needs in cancer research," Dr. Foti said.
For more information on AACR on Campus, visit aacr.org or email internationalaffairs@aacr.org.