AACR Volunteers and Ambassadors
Advocating for Prevention and Screening for HPV-related Cancers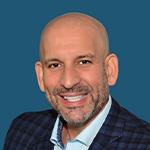 Jason Mendelsohn is the co-founder and president of Ashar Group, LLC, a privately held, nationally licensed firm specializing in the secondary market for life insurance. Mendelsohn and his wife, Ronni, have been married for 25 years and have three children: 20-year-old twins, Ryan and Lauren, and a 14-year-old son, Adam.
In 2014, at the age of 44, Mendelsohn was diagnosed with HPV-related tonsil cancer with no symptoms except a small bump on his neck. Within two months of his diagnosis, he had a radical tonsillectomy and neck dissection (42 lymph nodes were removed), followed by seven weeks of chemotherapy, radiation, and a feeding tube. On Aug. 11, 2014, he finished his last treatment, but he still endured considerable pain from the side effects of radiation.
Today, Mendelsohn is cancer-free and works diligently to serve as a positive role model to other oral cancer patients, survivors, and families struggling through a cancer diagnosis. In 2019, he shared his story of HPV-related cancer at the Congressional Briefing on HPV-Related Cancers presented by the AACR, Moffitt Cancer Center, and Biden Cancer Initiative. Since then, Mendelsohn has made dozens of speaking engagements in person and virtually. He has adopted the persona SupermanHPV because his friends called him Superman while he was suffering the brutal side effects of his treatment.
"I chose the name SupermanHPV, as I knew it would draw attention to the diagnosis and help me more effectively share my story about HPV-related cancers," Mendelsohn said. In the past few years, Mendelsohn has appeared on podcasts, TV, and radio shows, and been in the news sharing his message of prevention and screening for HPV-related cancers. He also serves as the co-chair of the Patient Education Committee for the Head and Neck Cancer Alliance.
"My goal is to share my cancer story to positively educate and support other families impacted by HPV-related oral cancer. I feel incredibly fortunate that I have been given the gift of life, and that I can use my experience to help others," Mendelsohn said. "I have a strong admiration for the AACR because the AACR funds research for more than 200 different types of cancers," explained Mendelsohn. "It doesn't matter if you're young, old, rich, or poor. Anyone can get cancer, and the AACR is working to find cures for all of them."
To learn more about Mendelsohn's advocacy work, please visit supermanhpv.com.
---
AACR Super Volunteers: Barbara and Todd Roberson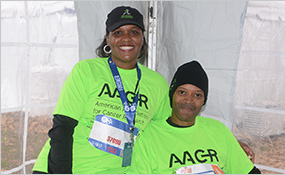 Barbara Roberson began her career at the AACR as a staff associate in October 2013. Currently, as manager of development operations, she is not only a dedicated and hard-working member of the AACR Foundation team, but she and her husband, Todd, are also "super volunteers," turning out for dozens of AACR-hosted events over the years and running in various AACR races.
Barbara volunteered to serve at the AACR booth for various expos through the first few years of her time working at the AACR. In 2017, she started running with the AACR Runners for Research team when she ran the 8K held on the AACR Philadelphia Marathon weekend. Todd also started running for the AACR Runners for Research around the same time. Todd ran in his first Rock 'n' Roll Half Marathon in 2017, and Barbara volunteered at the expo booth. For the next few years, the Robersons ran in several races, including the Dietz & Watson Philadelphia Half Marathon, Blue Cross Broad Street Run, and others.
The couple started running to stay healthy but were encouraged to run competitively when Todd's niece, Nykeshia, organized a family race to raise funds and awareness for prostate cancer research. Prostate cancer has affected Todd's family. His father, two of his uncles, and a cousin all died from the disease. Another uncle is a prostate cancer survivor.
"Unfortunately, we've both been touched by cancer in numerous ways," Barbara explained. Her father died from an aggressive form of stomach cancer, her mother passed away from myelodysplastic syndrome, and a close cousin died from multiple myeloma.
Over the course of her time at the AACR, Barbara and her husband have raised $1,400 through the AACR Runners for Research program. When asked why she and her husband were inspired to raise these funds, she said, "AACR is at the forefront of remarkable breakthroughs in cancer research. These breakthroughs have allowed cancer patients to not only survive, but thrive.
"The funds raised by the AACR support researchers and help to educate and train young investigators," she added. "I am also proud of the survivor and patient advocacy programs. When I was going through [cancer] with our parents, we didn't have resources like this."
To learn more about the AACR Runners for Research program, please visit Runners4Research.org.
Related Posts