Believe in Progress
There is something that keeps AACR members working late at night. Something that brings attendees to AACR meetings. Something that forges bonds between patient advocates and cancer researchers.
That something is a fundamental belief in progress, a conviction that we are winning the struggle against cancer.
Since the founding of the American Association for Cancer Research® (AACR) in 1907, there have been myriad advances in cancer research and the commitment to cure this disease.
Beyond the facts and statistics are the stories of people successfully treated for cancer, of family members continuing the legacy of a loved one lost to cancer, and of generous individual donors and foundations that financially support progress in cancer research.
You can read some of their stories in this issue of Leading Discoveries: Aaron Roche returning to Philadelphia, where he had his brain cancer treatment, and running a marathon at a blistering pace past the hospital where he was treated; Jacob Ross celebrating his senior year in high school while raising funds for the AACR in honor of his father, who died of colon cancer in 2019; and the Lobular Breast Cancer Alliance and Sontag Foundation providing funds to advance cancer research and building support communities for those facing cancer.
There is no question that AACR ambassador Jordan Mailata's long journey from playing rugby in Australia to starting in the NFL is a Cinderella story based on hard work and persistence. Similarly, hard work, persistence, generosity, and a spark of genius have been behind the story of progress in cancer research and treatments from 1907 to today.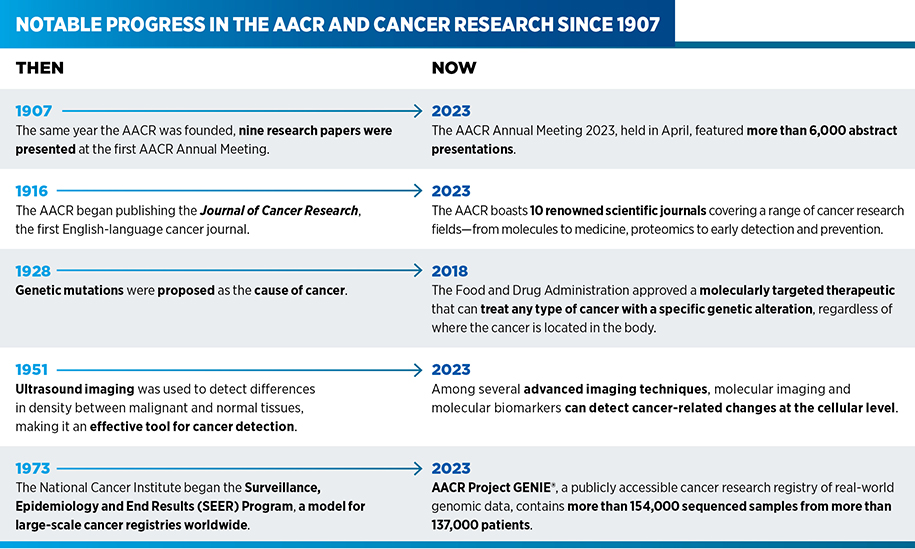 Hard work, persistence, generosity, and a spark of genius have been behind the story of progress in cancer research and treatments from 1907 to today.

Mitch Stoller
AACR Foundation, Chief Philanthropic Officer and
Vice President of Development
Related Posts