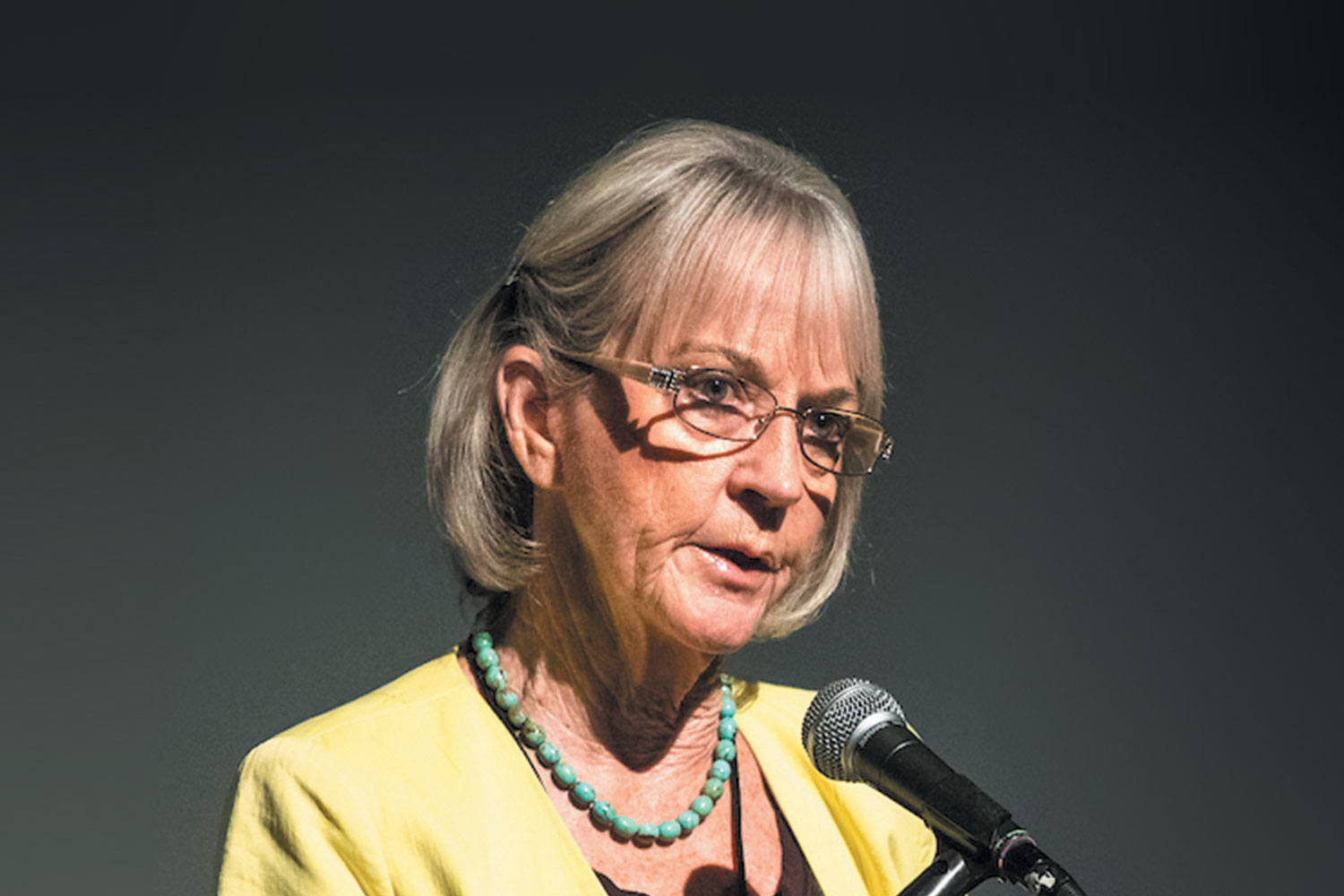 Dr. Anna D. Barker: Seeing the Big Picture
Anna D. Barker, PhD, does not shy away from large projects undertaken to advance cancer science. As principal deputy director and deputy director of strategic scientific initiatives at the National Cancer Institute (NCI), she led the design, initiation, and establishment of The Cancer Genome Atlas (TCGA), a landmark program that has led to the molecular characterization of more than 20,000 biospecimens spanning 33 tumor types, including 10 rare cancers. The project, launched in 2005 by the NCI in collaboration with the National Human Genome Research Institute, has resulted in the identification of specific genomic alterations that drive the initiation and progression of many common and deadly cancers, while simultaneously ushering in the emergence of computational biology and artificial intelligence as essential tools for cancer research. This endeavor has effectively revolutionized how researchers understand and think about cancer and continues to inform the way that cancer patients are treated.
When Dr. Barker left the NCI in 2010, she could easily have hung her hat on the myriad successes there, along with a long list of her achievements in other roles during her career. At the NCI, these include initiating and leading the Clinical Proteomics Technologies for Cancer Initiative, the Alliance for Nanotechnology in Cancer Program, the Physical Sciences-Oncology Centers, and the I-SPY 2 trials developed in collaboration with the Food and Drug Administration (FDA). She also served as founding co-chair of the NCI-FDA Interagency Oncology Task Force. But for her, leaving her stint in government was an ideal time to seek out a new challenge. The following year, she became the director of Transformative Healthcare Networks and co-director of the Complex Adaptive Systems Initiative and professor of Practice in the School of Life Sciences at Arizona State University (ASU) in Phoenix. Eight years later, in 2019, she took on a second position as chief strategy officer at the Ellison Institute for Transformative Medicine at the University of Southern California (USC) in Los Angeles. At both of these prestigious institutions, she leads transdisciplinary teams tasked with re-imagining cancer research and treatment. In 2020, because of her enormous knowledge about the National Cancer Program, Dr. Barker began her tenure as a member of the National Cancer Advisory Board (NCAB), a body that advises and assists the NCI director. Dr. Barker fills the important role of chairing the NCAB's Planning and Budget Subcommittee.
A Lifelong Impact
The word cancer first entered Dr. Barker's vocabulary when she was a child. "I've seen cancer up close and personal since I was 12 years old," she said. Watching her grandparents, parents, and sister face cancer diagnoses fueled her interest in wanting to understand what makes normal cells turn into cancer cells and metastasize to other parts of the body. She studied chemistry, immunology, and microbiology, earning a master's degree and a PhD at Ohio State University in Columbus.
Over the next 18 years, she rose through the ranks of the Battelle Memorial Institute, a global research and development organization based in Columbus—from senior scientist to senior/group vice president and general manager, where she pioneered initiatives in cancer research in collaboration with the NCI's drug development programs. She also cofounded and served as CEO of a biotechnology company that focused on the role of reactive oxygen species in the diagnosis and treatment of cancer and inflammatory diseases.
"I started with chemistry, and that has given me a different view on how I think about cancer," Dr. Barker said. "It made me want to understand the chemistry that creates cancer cells and the physics of how cancer spreads." Ultimately, it brought her to "the science that I love the most—complex adaptive system science, an integrative way of looking at cancer." The field, she explained, requires the participation of physicians, mathematicians, engineers, biologists, chemists, and physicists to "deconvolute" cancer's and create the information that will inform new generations of cancer diagnostics and therapies.
"We have a lot of data," Dr. Barker said, "but that's not necessarily information in the context of what a patient is. We are all an interconnected series of complex systems. By bringing people from different disciplines together, we create knowledge networks that can transform data into information to help us go from the molecular level to the patient." This approach can lead to new ways to diagnose cancer, choose therapies, monitor responses to treatment, or, most importantly, prevent cancer, she said.
Connecting Patients and Researchers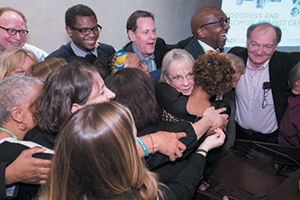 Dr. Barker has not only built networks among scientists from different disciplines. She has also forged connections between patients and researchers as chair of the AACR Scientist↔Survivor Program (SSP), which she founded in 1999 while serving on the AACR Board of Directors. This novel initiative provides a unique opportunity for cancer survivors and patient advocates to delve into the science of cancer and learn about the research process. It also provides a unique opportunity for scientists to interact with patient advocates, an experience that is informative and often life-changing for them. SSP is held every year in conjunction with the AACR Annual Meeting and also with the AACR Science of Cancer Health Disparities Conference. Cancer survivors and patient advocates attend special lectures about cancer research, meet in small groups with scientific and patient advocate mentors, and have opportunities to network with scientists and patient advocates from around the world.
Adam Hayden, a 38-year-old father of three, was diagnosed with glioblastoma, an aggressive type of brain cancer, in June 2016. A patient advocate with a keen interest in science, Hayden first learned about SSP while volunteering with the National Brain Tumor Society, and he was accepted into the 2018 SSP cohort. He clearly recalls watching Dr. Barker welcome the SSP participants on the first day of the AACR Annual Meeting. "She embodied energy, passion, and motivation," Hayden said. "It was clear this was a woman with a mission." Being around such a powerful and dynamic scientist could potentially feel intimidating, he noted. "Here you are with this leader for this movement to connect scientists and advocates. But then you start talking to her, and her humanity and compassion get laid out in front of you."
For the survivors and advocates, SSP is a learning opportunity and a confidence-builder. "SSP pushed my advocacy forward," said Hayden. "I know who to read, who to follow, and how to make connections. Patients aren't invited there as tokens. They are there because the program recognizes that patients have something to offer."
For young doctors or for scientists working in a lab, the program may be their first introduction to patients and advocates. "We've had some really emotional experiences," Dr. Barker said. "For scientists, seeing the people impacted by this disease changes you. It gives you a sense of urgency and a desire to want to do more for the patients."
Over the past two decades, the survivors and advocates who have taken part in this program have pushed cancer research forward by integrating patient voices into research topics and goals, building working partnerships with cancer researchers, working on clinical trial recruitment, and serving on grant review boards that determine how cancer research funding is allocated. "The relationship between the advocates and scientists has become a true partnership," said Dr. Barker. "And it's changed everything in terms of how we do research. Advocates are at the center of really understanding the science and using that to help scientists understand issues that affect patients. You really can't separate science from the individuals that we are advocating for and on behalf of. And if precision medicine is going to be specific to patients, the patient has to be at the center of it all."
Looking Forward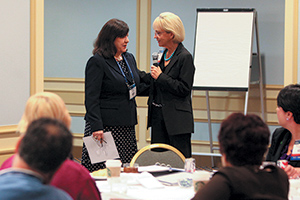 Dr. Barker has received numerous awards throughout her career. Her rock-star status was solidified when Rolling Stone named her to its 2009 list of "The 100 People Changing America." The same year, she became the third person to receive the AACR Margaret Foti Award for Leadership and Extraordinary Achievements in Cancer Research, which was established to recognize exceptional individuals who have transformed the field of cancer research. Dr. Barker also received a 2020 AACR Team Science Award as a founding member of The Cancer Genome Atlas, along with Francis S. Collins, MD, PhD, currently director of the National Institutes of Health.
"Dr. Barker's big-picture vision is amazing, and she is able to think about science in innovative ways that have transformed the cancer field," said Margaret Foti, PhD, MD (hc), chief executive officer of the AACR. "As one example, her efforts to bring together scientists from various disciplines to work on the challenges posed by cancer have played a major role in the emergence of an area of research known as convergence science."
Dr. Foti cited Dr. Barker's "love for patient advocates" as another major contribution. "She is truly a very special individual."
William N. Hait, MD, PhD, global head of External Innovation at Johnson & Johnson, and past president and treasurer of the AACR, said of Dr. Barker, "As NCI deputy director, Ann had this innate ability to see the possibilities in new ideas, while many of us saw only the problems. Her vision was remarkably prescient, and the world owes her so much."
In her current positions, Dr. Barker continues her work to transform cancer science. At ASU, as the director of Transformative Healthcare Networks, she is using a systems approach to create knowledge networks—the foundation for developing new research models for preventing and treating cancer and other diseases. George Poste, DVM, PhD, is the co-director of the ASU Complex Adaptive Systems Network, which houses Dr. Barker's program. The two met three decades ago when they were both studying cancer metastases, and they bonded over their shared interest in complex adaptive systems. Two years after Dr. Poste moved to his current position at ASU, Dr. Barker accepted his offer to work toward their shared vision of cancer research.
"One of the challenges of contemporary research is that so much is siloed by specialty, and that is reinforced by the funding agencies, which tend to focus on very narrow single-investigator problems," said Dr. Poste. "We wanted to recognize the intrinsic complexity of the cancer challenge and the multiplicity of factors that affect the tumor. Ann recognized that this was the approach we needed right from the beginning of her career.
"Her background—coming from chemistry, immunology, and mathematics—as well as her experience in industry has made her a big-picture person," said Dr. Poste. "But she also has the intellectual synthesis to be able to look into relationships [and see] things other people can't see."
At the Ellison Institute at USC, Dr. Barker is helping to shape and establish new ways to conduct transdisciplinary research in a data-driven, real-world environment that takes precision medicine into the 21st century by connecting scientists directly with patients and physicians. For Jerry S.H. Lee, PhD, an associate professor of clinical medicine and chemical engineering at USC and chief scientific and innovation officer at the Ellison Institute, getting to work with Dr. Barker at USC is an opportunity to return to a partnership that began in 2006, when he joined her team in the NCI Office of the Director, first as a program officer and later as Dr. Barker's special assistant and then deputy. He became health sciences director after her departure from the NCI. "From the beginning, Dr. Barker always treated me very seriously and as a peer," Dr. Lee said. "She is incredibly welcoming, and her training and wisdom have shaped my career."
For Dr. Barker, her dual positions provide new opportunities to use her systems approach to solve the riddle of cancer. "Everybody's perspective is different," she said. "I took a different route to cancer. I like to solve problems, and I hope that the perspectives I bring are broad, but also integrative, systems-based, and innovative. We are awash in data, and as a result, at something of an inflection point in cancer research. We need systems models to point us in new directions."