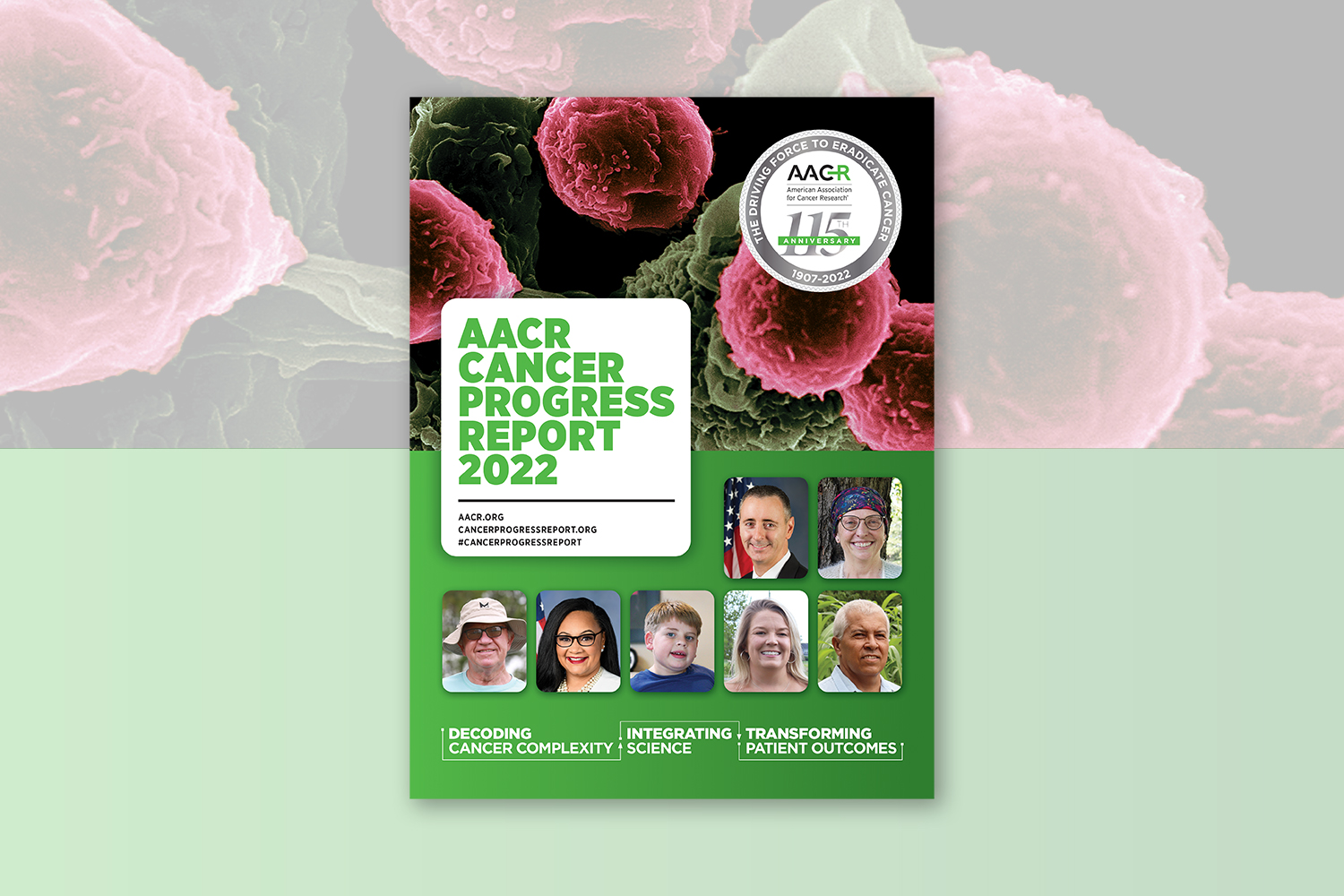 AACR Cancer Progress Report 2022: Patient Stories Chronicle Lifesaving Innovations in Cancer Science
Great strides have been made in understanding and treating cancer, but more work needs to be done.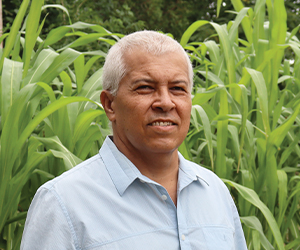 Facing a lymphoma that did not respond to initial treatment, Alex Gonzalez and his oncology team at Penn Medicine's Abramson Cancer Center in Philadelphia decided the best course of treatment would be a newly approved form of immunotherapy called chimeric antigen receptor (CAR) T-cell therapy. To create the therapy, T cells are removed from the patient and modified to specifically recognize and target the patient's cancer cells. These modified cells are then infused into the patient.
Gonzalez's experience with this groundbreaking treatment is one of several patient stories featured in the AACR Cancer Progress Report 2022 that highlight how advances in cancer science are leading to life-saving treatments.
Gonzalez, who lives in Pennsylvania, was diagnosed with large B-cell lymphoma in November 2021. He initially received six rounds of chemotherapy plus rituximab, a type of targeted antibody, but a scan in March 2022 showed his lymphoma had not responded to the treatment.
The kind of CAR T-cell therapy Gonzalez was to receive, axicabtagene ciloleucel (Yescarta), was approved by the U.S. Food and Drug Administration as a second-line therapy for lymphoma on April 1, 2022—just a day after the results of his scan. Gonzalez and his wife, Raquel Castellanos, a cancer researcher who works for the AACR, knew CAR T-cell therapy was most likely the best option for Gonzalez, but they "wanted to understand how many Hispanic patients had been treated with Yescarta and what their outcomes were," recalled Castellanos, who understood various racial and ethnic groups may respond differently to treatment. Yet, despite having the know-how to ask the right questions and analyze available data, Gonzalez and Castellanos discovered neither Yescarta's manufacturer nor Gonzalez's oncology team had the answers. "I couldn't find the information in the published clinical trial data either and could not get any concrete information, which is quite unfortunate. It speaks volumes about what work needs to be done still when it comes to cancer therapy," Castellanos said.
Gonzalez received the CAR T cells in April 2022. He had intense but not unexpected side effects to the treatment and remained in the hospital for three weeks. "Unlike chemotherapy, there are only about 15,000 patients worldwide that have received CAR T-cell therapy, so it was difficult to find other patients that could share their experience," Gonzalez said. He and his care team managed his symptoms and side effects, and several months after treatment, Gonzalez returned to his job as a general contractor. His most recent scan showed his cancer has responded and the extent of cancer in his body has diminished due to the CAR T-cell therapy. And his strength is slowly returning.
"It's very important for us to share our experience because pharmaceutical companies need to consciously recruit and include patients of different racial and ethnic backgrounds in clinical trials and real-world studies," said Castellanos. "We need to also have better access to important clinical data for cancer patients to make the best decisions possible."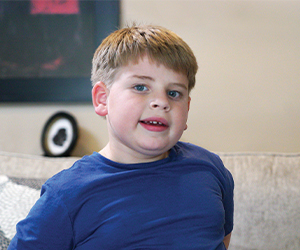 Another patient story highlighted in the AACR Cancer Progress Report 2022 is that of 7-year-old Tyler Richards. Since Tyler was 9 months old, he had been missing developmental milestones. Only after going to several specialists did his parents, Katie and Ronnie Richards, find a neurologist who did the correct tests and identified a large, inoperable brain tumor wrapped around Tyler's cerebellum. Genetic testing revealed the tumor had a mutation in the BRAF gene. Tyler's oncology team at the University of California, San Francisco and his parents initially took a watch-and-wait approach. When the tumor began to grow again, he enrolled in a clinical trial for solid tumor patients whose tumors have a BRAF mutation to test the combination of dabrafenib (Tafinlar) and trametinib (Mekinist), two drugs that target tumors with the mutation. Tyler has responded well to the therapy he takes twice a day at home. "He has had minimal side effects and is thriving," Katie said. "We have to bribe him to take his medicine, but his quality of life is amazing—he gets to be with his brother and sister and goes to school." Tyler's cancer is stable, and he is monitored regularly by his clinical team.
"We are so thankful for these inhibitors Tyler is on and are hopeful that there will be another trial for him, another innovative therapy for kids with cancer that he can take in the future," said Katie.
Three other patient stories are also featured in the latest report, published annually by the AACR. Behind each new medicine approved and each cancer statistic are patients like Alex Gonzalez and Tyler Richards. The report contains much good news—the rate of cancer death is steadily declining in the U.S., and more people than ever before are surviving their cancer. More than 18 million people with a history of cancer were living in the U.S. as of January 2022.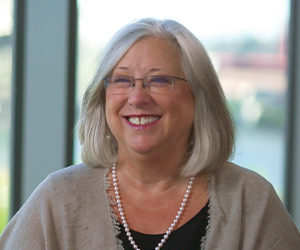 "We have made amazing strides. With more modern approaches, more people are surviving their cancer diagnosis than ever and living long lives," said Lisa M. Coussens, MD (hc), PhD, AACR president and chair of the Steering Committee of this year's report. Dr. Coussens is the deputy director for Basic & Translational Research at the Knight Cancer Institute at Oregon Health & Science University in Portland. "But we also have much work to do. A cancer survivor's life is forever changed. We need more funding to study survivorship, invest more in basic science to fuel the cancer innovation pipeline, and maintain and improve the health of communities."
This year's report raises a major issue that Dr. Coussens wants to make sure is front and center: pregnancy and cancer following the Supreme Court's decision to overturn Roe v. Wade. With possible legal consequences for both physicians and women seeking an abortion, there is now much uncertainty about how a cancer therapy may lead to the termination of a pregnancy and the risks of needing to delay therapy due to the pregnancy. Additionally, more studies are needed to understand the effects of cancer and cancer therapies on pregnant women.
Another critical health issue highlighted in the report concerns individuals with human immunodeficiency virus (HIV), who are living longer and healthier lives thanks to HIV-targeting combination therapies. As this population ages, they are also at higher risk for developing certain cancers. "The T cells of those with HIV may not be fully functional, and as a consequence, their cancer trajectory, burden, and response to therapy may be distinct," said Dr. Coussens. "We need public health experts and researchers to focus on this population to improve cancer prevention, early detection, and treatments."
Echoing Gonzalez, Castellanos, and Richards, Dr. Coussens said, "Patients need to be their own best advocate, and we need cancer clinical trials to represent people of all colors and economic strata to have the data reflect ourselves and the patients we see in the clinic."
For your free copy of the full report, go to CancerProgressReport.org
---
Read More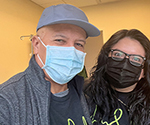 Raquel Castellano shares her account of how she and her husband, Alex Gonzalez, faced his lymphoma diagnosis and subsequent CAR T-cell treatment at AACR.org/navigatingcancer