AACR Donors and Partners
A Gift from Johnson & Johnson for Lung Cancer Research
In 2018, Johnson & Johnson announced a $4.86 million contribution to the AACR, the largest single gift from a pharmaceutical partner in the AACR's history. The contribution will initially fund three AACR-Johnson & Johnson Lung Cancer Innovation Science Grants that will support multi-institutional research teams seeking novel approaches to the prevention, interception, and cure of lung cancer.
"I am confident that the precious new resources from the Johnson & Johnson Lung Cancer Initiative will ignite scientific innovation that will drive down incidence and mortality from lung cancer," said Margaret Foti, PhD, MD (hc), AACR Chief Executive Officer, during a presentation at the AACR Annual Meeting 2018, held in April in Chicago.
Lung cancer is the leading cause of cancer death worldwide. A better understanding of lung cancer prevention, interception, and early detection are particularly needed, since nearly two-thirds of all lung cancers are diagnosed at an advanced stage, when they are more difficult to treat effectively.
AstraZeneca and MedImmune Grants Support Research on DNA Damage Response and Immuno-oncology
AstraZeneca and its global biologics research and development arm, MedImmune, announced in 2018 a $2.9 million contribution to the AACR to support 12 fellowships over the next three years that will stimulate innovative research in the fields of DNA damage response and immuno-oncology.
These fellowships will afford postdoctoral and clinical fellows the opportunity to conduct groundbreaking research in both an academic research lab and at AstraZeneca and MedImmune under the guidance of dedicated industry mentors. They will offer early-career investigators a broader perspective on conducting drug discovery research and clinical trials in order to strengthen the future cancer research workforce.
Aparna Gorthi, PhD, a postdoctoral fellow at the University of Texas Health Science Center at San Antonio, and Amrita Sule, PhD, a postdoctoral associate at Yale University in New Haven, Connecticut, have been selected for the inaugural AACR-AstraZeneca Stimulating Therapeutic Advancements through Research Training (START) Grants. Dr. Gorthi will apply machine learning to predict tumor responses to pre-existing and novel anti-cancer drugs. Dr. Sule aims to identify and validate potential therapeutic targets in key DNA damage response (DDR) pathways for a new group of tumors that produce small molecule metabolites that contribute to tumorigenesis.
Siddharth H. Sheth, DO, MPH, a clinical fellow at the University of North Carolina at Chapel Hill, has been selected as the inaugural recipient of the AACR-AstraZeneca-MedImmune Clinical Immuno-oncology Training Fellowship. Dr. Sheth will gain experience in drug development and will receive valuable training in understanding the fundamentals of immuno-oncology and early-phase clinical trials, as well as the execution of clinical research in immuno-oncology.
AACR-MPM Transformative Research Grants Program Delivers $1.2 Million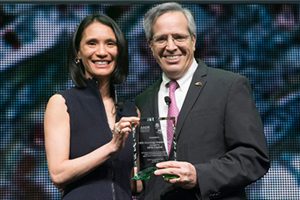 An extraordinary partnership was announced at the AACR Annual Meeting 2018 that will provide resources to support high-impact, innovative cancer research for many years to come. The AACR and MPM Capital have established the AACR-MPM Transformative Research Grants Program, supported by the UBS Oncology Impact Fund (OIF). This innovative new fund, managed by MPM Capital, is a first-in-kind social impact fund in which profits generated by the fund go specifically to support cancer research.
"This fund establishes a new investment model that partners private funds with public philanthropy and has the potential to revolutionize how we finance groundbreaking research and global access to cancer care and health care in general," said Christiana Bardon, MD, managing director at MPM Capital. "Our hope is that cancer therapies generated from the fund will lead to dramatic improvements in the outcomes of patients' lives."
Since 2016, the fund has been investing across a spectrum of companies, from early-stage start-ups through public companies, and has more than $400 million in assets under management. These companies are developing transformative cancer therapeutics that aim to have a significant impact on patient outcomes and well-being.
In addition to the funds dedicated to the joint AACR-MPM Transformative Cancer Research Grants Program, the OIF is dedicating an equal portion to the UBS Optimus Foundation to provide access to cancer care in the developing world—where cancer kills more people than AIDS, malaria, and tuberculosis combined.
The AACR received its first gift of $1.2 million earlier than anticipated, with a matching $1.2 million donated to UBS's Optimus Foundation. The AACR and MPM are now establishing an expert Scientific Advisory Board whose members will be tasked with selecting the grant recipients of the AACR-MPM Transformative Cancer Research Grants Program.
Ovarcome: A Young Foundation Doing Big Things
Runsi Sen lost her mother to ovarian cancer in 2009. In her mother's memory and with her as an inspiration, Sen founded Ovarcome, a nonprofit foundation devoted to raising global awareness of ovarian cancer, funding research in search of cures, and providing financial support to underserved ovarian cancer patients in need.
Since 2017, Ovarcome has partnered with the AACR to provide support in a variety of ways. Ovarcome sponsored a Prevention and Early Detection plenary session at the AACR's Addressing Critical Questions in Ovarian Cancer Research and Treatment Meeting in October 2018, provided funding for four 2017 AACR Scholar-in-Training Award grants, and donated to the 2017 Rally for Medical Research in Washington, D.C.
"We are proud of our ongoing collaboration with the AACR in raising awareness of ovarian cancer," Sen said. "Research will ultimately find a cure for ovarian cancer, and we are pleased to support their wonderful initiatives in engaging young scientists in breakthrough research and education."
Dr. "Barney" Clarkson: A Generous Member-Donor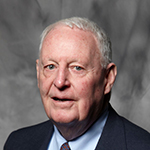 The AACR is grateful to Bayard "Barney" D. Clarkson, MD, (left) for his recent gift of $103,000. Dr. Clarkson has been a member of the AACR for more than 50 years and championed the creation of the AACR Foundation. At various times, he has served as the President and Treasurer of the AACR and was founding Chairman and President of the AACR Foundation. His leadership, scientific expertise, and service over the years have aided the expansion of AACR programs and activities and helped to advance the important work of cancer researchers around the globe.
The Dr. Bayard D. Clarkson Legacy Society gratefully acknowledges and celebrates individuals who have made a legacy commitment to the AACR Foundation through an arranged estate, endowed, or other planned gift. Please consider joining the Dr. Bayard D. Clarkson Legacy Society today by visiting AACR.org/Legacy or by calling our Leadership Philanthropy and Planned Giving Team at 844-385-2064.
The Hamer Family Wants to Help Fund Research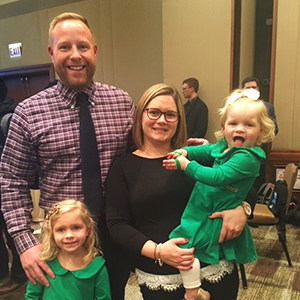 Rachel Hamer wanted to a do something special for her aunt, Cathy Whalen, who is living with gallbladder cancer. In 2017, Hamer gained the support of her family, friends, and neighbors to raise money for the AACR in the form of a Scholar-in-Training Award (SITA).
This was no ordinary gift. The Cathy Whalen SITA was funded with donations from friends and neighbors in lieu of birthday gifts for the Hamers' 2-year-old daughter, Estelle. The Hamers are raising their children to be charitable, so the gift honoring Cathy replaced Estelle's birthday presents.
"We want our children to grow up knowing that they can make a difference in the world and with others' lives," said Hamer. "We are very blessed for our family and support system, and we want them to understand that giving back is just as important as taking care of ourselves."
The recipient of their award was Sunyoung S. Lee, MD, PhD, an oncology fellow at the Roswell Park Comprehensive Cancer Institute in Buffalo, New York. In 2019, Dr. Lee will work as a medical oncologist and independent researcher studying tumors of the gastrointestinal system, including pancreatic cancer, cholangiocarcinoma, and hepatocellular carcinoma. "Much more data and research results are published [for] breast cancer than [cancers like] gallbladder cancer," he said, emphasizing how vital funding is for less common cancers.
"As an early career researcher, I found the Cathy Whalen SITA to be positive momentum and encouragement," Dr. Lee said. "I believe in the power of cancer research to cure patients like Cathy Whalen and appreciate the kind support from the Hamer family and the AACR."
evo3 Olive Farms Supports the AACR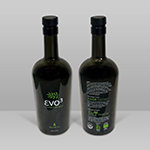 Buying a bottle of evo3 Extra Virgin Organic Olive Oil can help fund lifesaving cancer research. Through a partnership with the AACR, evo3 Olive Farms will donate a portion of the sales of every bottle of olive oil to the AACR. Go to evo3oliveoil.com/taste-love-give-life/aacr to learn more.
Related Posts