Cancer Researchers Need Our Help
We are at an exciting time in cancer research. Successes in treating cancer using immunotherapy, targeted therapies, radiotherapy, and even nanotechnology have generated headlines and enthusiasm for cancer science. Many of these new therapies promise to treat cancer more efficiently and with fewer side effects, offering hope for patients and their families. It's crucial to keep the momentum going.
Over the past 10 years, the NCI's budget has increased by about $1 billion, or 20%, yet the dollar amounts of grants received by researchers have decreased due to a huge increase in the number of grant proposals submitted. While the enormous jump in applications would suggest cancer research is booming, securing grants has become much more competitive. A much smaller percentage of applicants are receiving funding, while a larger number of applicants are asking for it.
Not surprisingly, this trend has sparked concern about the future of cancer research. Because of the funding shortfall, we risk the loss of both new and established investigators who entered the cancer research field precisely because we are in such an explosive phase of discovery. With federal dollars for cancer research not meeting the demand, we need to turn to sources of philanthropic support: individuals, corporate supporters, and foundation partnerships. The AACR uses the funds it raises to support grants for basic, translational, clinical, and population research. Additionally, the AACR provides expert peer review, grants administration, and scientific oversight of funded research.
The AACR also supports the work of the greatest minds in cancer research by convening more than 30 conferences and educational workshops a year. It offers scholar-in-training travel grants and other support for young researchers, funds programs for researchers still in college or even high school, and encourages the best young minds to imagine the impact they can make by choosing a career in cancer research. This work is made possible through the support of individuals like you.
Cancer is a complex global problem. There are more than 200 different types of cancer, and there are no easy answers. It's vital to support the efforts of cancer researchers with continued funding.
Let's rally behind the scientists and investigators who are on the verge of making breakthroughs. Show your support today by donating at AACR.org/Donate.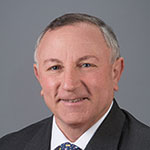 Mitch Stoller
AACR Foundation Chief Philanthropic Officer
and Vice President of Development
Related Posts