AACR Donors and Partners
QuadW Foundation Teams Up With the AACR to Support Sarcoma Research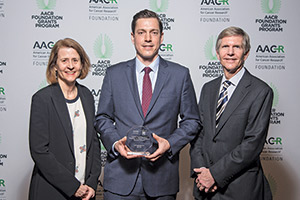 The QuadW Foundation, an AACR partner since 2016, recently agreed to support three sarcoma research fellowships through 2021. The QuadW Foundation-AACR Fellowship for Clinical/Translational Sarcoma Research provides a one-year grant of $55,000 toward salary and benefits for an investigator working on a mentored sarcoma research project.
The QuadW Foundation was founded in memory of Willie Tichenor, who died of osteosarcoma at age 19 in 2006. Tichenor's family and friends established the foundation, called QuadW, for What Would Willie Want, to support causes he was passionate about, including finding better treatments and a cure for sarcoma, funding higher education scholarships, and supporting internships providing mission opportunities for college students.
This year's QuadW Foundation-AACR Fellowship for Clinical/Translational Sarcoma Research was awarded to Benjamin A. Nacev, MD, PhD, a researcher and medical oncologist at Memorial Sloan Kettering Cancer Center in New York City. His project will focus on targeting epigenetically driven sarcomas for treatment. Mac and Lisa Tichenor, Willie's parents, attended the AACR Annual Meeting 2019 in Atlanta to meet Dr. Nacev.
Companies Unite for Cancer Research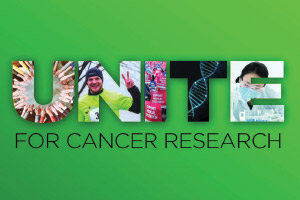 The AACR Foundation is enlisting organizations to Unite for Cancer Research by sharing cancer research information with their employees and the general public. In May, National Cancer Research Month, 10 organizations shared AACR content on their social media channels. The AACR Foundation also encourages companies to form AACR Runners for Research teams to participate in fundraising walks and runs.
Organizations can also partner with the AACR by exploring ways to raise funds in support of lifesaving cancer research. For example, in May, the sandwich chain Jimmy John's donated a portion of sales revenue from a single day.
Jeanah Hong, the owner of a Jimmy John's franchise in Radnor, Pennsylvania, has been personally affected by cancer and was eager to get involved. "I believe in being an integral part of a community where we can all benefit from supporting one another," she said. "This is why I chose to support the AACR when they reached out to me, because this community event was something that would add value for both of our organizations."
To learn more about this initiative, please visit AACR.org/Unite.
Students Walk to Support Classmate With Cancer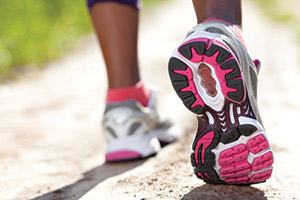 When Alli Razzano, a teacher at DePaul Catholic School in Philadelphia, heard that a student attending the school had cancer, she organized a walkathon in his honor and selected the AACR to receive any money the event raised.
In early June, 410 children from pre-K through eighth grade met for a prayer service in their schoolyard before walking around the school building three times. More than $4,000 was donated to the AACR in honor of the student.
Grace Makkas Crafts for Cures
Grace Makkas, a fifth-grade student from Sherborn, Massachusetts, sold homemade jewelry at an arts and crafts fair held at the Sherborn Library in May and raised $139, which she donated to the AACR. In addition, Makkas asked the AACR to send informational materials she could share as part of a presentation to her class about her fundraising.
Leaving a Lasting Legacy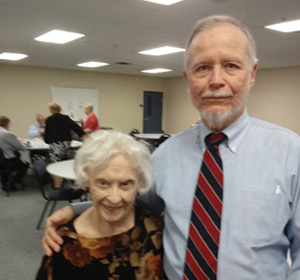 Henry William "Bill" Schkade Jr. understands the need to fund cancer research. Schkade's oldest brother and uncle died of metastatic prostate cancer, and Schkade himself was diagnosed with the disease in 1997. He was treated and his cancer went into in remission, but it recurred in 2018. After receiving 33 external beam radiation treatments, his cancer is now undetectable.
Schkade wanted to support cancer research. He became interested in the AACR after his cousin, Barbara G. Schneider, PhD, an AACR member and a researcher at Vanderbilt University Medical Center in Nashville, Tennessee, told him of the pioneering research done by AACR members. He was impressed that the AACR is the world's first and largest cancer research organization and that 88 cents of every dollar donated supports cancer research. Schkade decided to support the AACR in his will.
By including the AACR Foundation in his legacy gift planning, Schkade will contribute to advances in lifesaving cancer science and help bring the benefits of groundbreaking research to patients. "I hope my legacy gift will help the AACR accomplish the goal exactly as set forth in its expanded mission statement: to prevent and cure all cancers," said Schkade.
Anthony Izquierdo Wins the Penny War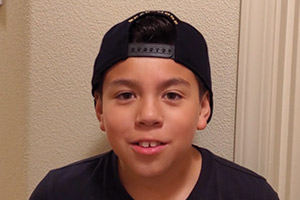 Anthony Izquierdo, a sixth-grader at Imlay Elementary School in Hillsboro, Oregon, was given an assignment to write a persuasive essay about why his peers should donate to a particular charity. He chose the AACR.
"I saw the AACR after going through the cancer research charities, and that is the one that appealed to me the most," Izquierdo said. "I liked how they fund the research and how they do everything."
His uncle, Juan Izquierdo, died in 2014 at the age of 29 after living with leukemia for several years. Soon after his uncle's death, Anthony's grandmother was diagnosed with stomach cancer.
Izquierdo's essay earned him the majority of his classmates' votes, and $436.48 raised through the school's penny war fundraiser was donated to the AACR in Juan Izquierdo's name.
"Anthony's [essay] won hands down—his writing was as real as his life experiences with cancer," said Deborah Luther, Izquierdo's teacher. "While there were many causes to support cancer research, his was the only one that focused on finding a cure."
Related Posts