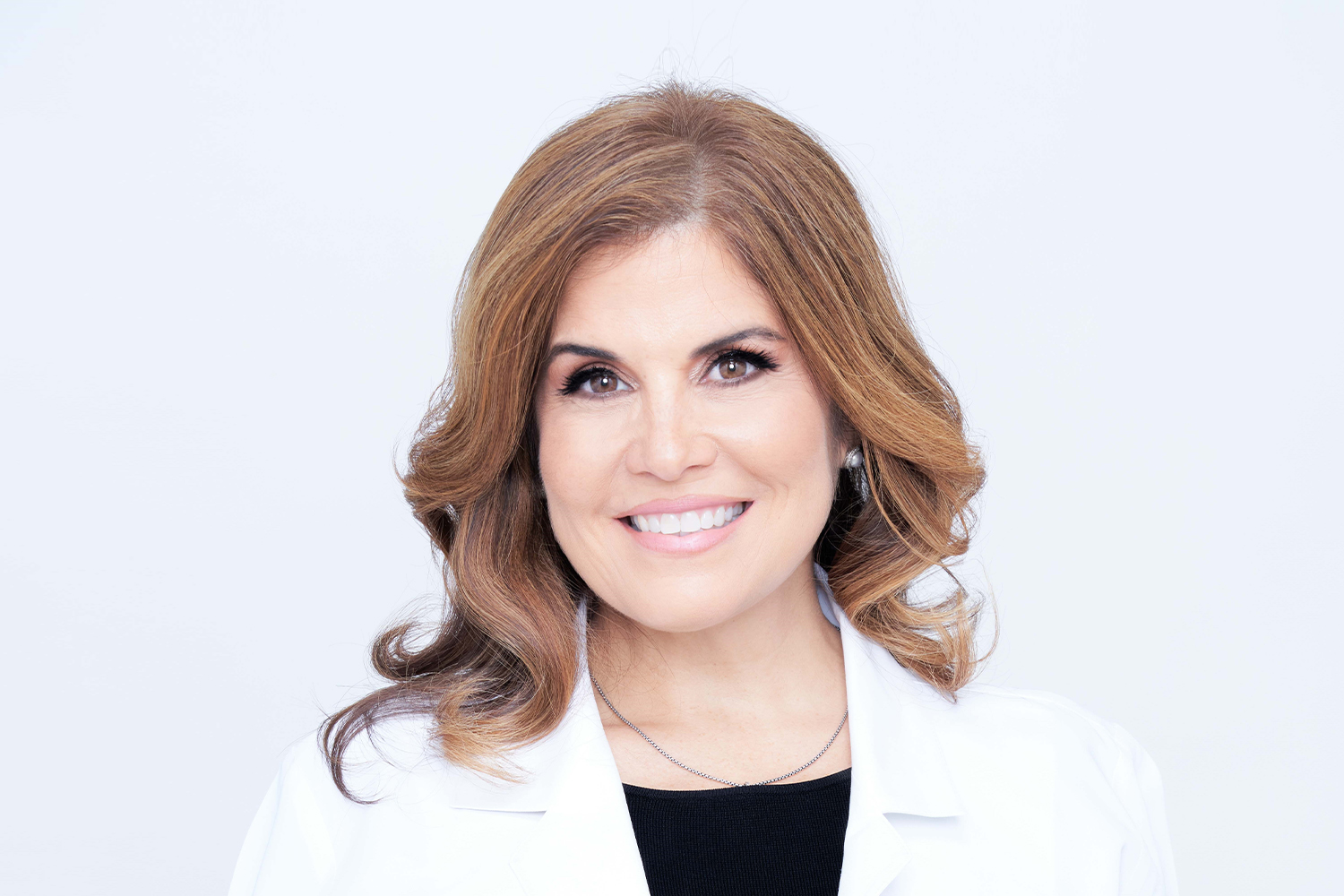 Dr. Marcia R. Cruz-Correa: A Focus on Cancer Health Disparities
This trailblazing researcher studies factors that can lead to racial and ethnic health disparities among Hispanic populations and has spearheaded a program to encourage all eligible residents of Puerto Rico to receive regular colon cancer screenings.
Like many aspiring medical students, Marcia R. Cruz-Correa, MD, PhD, conducted research in a biology laboratory while earning her bachelor's degree at the University of Puerto Rico (UPR) in San Juan. But she also worked afternoons and evenings as a hotel concierge.
"I like doing many things. I have always been interested in people, I have a lot of energy, and I don't require much sleep, so I worked at two different hotels in college," she recalled. "What I realized working in the hotel service industry … is how important it is that people feel understood. Listening to people and communicating well creates an environment of trust. I have carried these [lessons] and skills and used them my whole life."
Today, Dr. Cruz-Correa uses her ability to listen to and really see people in her role as a physician and clinical scientist at the UPR Medical Sciences Campus. She is also the executive director of the UPR Comprehensive Cancer Center, where she leads its Gastrointestinal Oncology Research Program. Dr. Cruz-Correa cares for patients with gastrointestinal cancer and conducts clinical research on gastrointestinal cancers, including populations with a family history of colorectal cancer. She also studies cancer health disparities based on race, ethnicity, and other factors.
The Draw of Gastroenterology
Dr. Cruz-Correa was born in Los Angeles and moved to Puerto Rico when she was 1 year old. Her father, a retired engineer, and her mother, a retired nutritionist, are part of the first generation in their families to graduate from college. They instilled in their oldest daughter the importance of family and education. When Dr. Cruz-Correa was in high school, her mother pursued a master's degree in public health; she supported her mother by helping take care of the household and her two younger sisters.
After graduating from college, Dr. Cruz-Correa entered medical school, also at UPR. She began to do gastroenterology research with a female gastroenterologist—a rarity in the 1990s and one of only two in Puerto Rico at the time. Women in this area of the field are still quite uncommon today, said Dr. Cruz-Correa. "I was drawn to gastroenterology because of the technology and innovative tools that were developed to examine the GI tract. I liked that we could view the organs, see [the] condition, and take care of patients prospectively and do interventions—take out polyps and lesions—without having to be a surgeon," she said.
After a residency in internal medicine, also at UPR, Dr. Cruz-Correa wanted to pursue formal training in clinical research, which was not included in her medical school training and was not available in Puerto Rico. By then, her daughter, who was born during Dr. Cruz-Correa's last year of medical school, was a few years old. Dr. Cruz-Correa applied for and was accepted into a fellowship in gastroenterology and hepatology as well as a doctoral degree program in clinical investigation and genetic epidemiology at Johns Hopkins University in Baltimore. "This combined training really changed my life," she said, because it allowed her to pursue all aspects of clinical care and research related to gastrointestinal cancers. She chose Johns Hopkins because she believed challenging the status quo was encouraged there, and she felt welcome in a school she recalled as a melting pot of diverse people with a strong sense of inclusion.
At Johns Hopkins, Dr. Cruz-Correa worked with Andrew Paul Feinberg, MD, MPH, who was among the researchers who discovered that a chemical marker of DNA called methylation can be altered in cancer. Dr. Feinberg is considered one of the founders of cancer epigenetics, the study of changes to the way our genes work that do not affect the DNA sequence. These changes in gene expression, typically caused by the environment and individual behaviors such as poor diet and lack of exercise, are made within our cells with chemical and protein markers that are added to DNA to turn genes on or off. Dr. Feinberg's lab found that only one copy of the insulin-like growth factor II gene is normally expressed in individuals without cancer, but that an abnormal expression of both copies of the gene is found in about 30% of individuals with colorectal cancer (CRC). Dr. Cruz-Correa painstakingly examined the methylation patterns of this gene among individuals with CRC and a control group of individuals without cancer. She and her colleagues found the higher expression of the insulin-like growth factor II gene in both the blood and tissue is a predictor of CRC risk and can be tested for with a noninvasive DNA-based blood test. Their work was published in 2003 in the journal Science, among the most prestigious scientific journals in the world.
"The study of epigenetics was still very new and uncommon in the late 1990s," recalled Dr. Cruz-Correa.
"I had to explain what I was doing quite a lot to clinicians and even other researchers. But it was a wonderful, cutting-edge project." Even as she pursued her PhD, however, she always made time for her clinical practice, seeing patients once a week. "Seeing patients keeps you grounded. I think it's important as a physician-scientist to have those personal connections with patients." Dr. Cruz-Correa completed her studies at Johns Hopkins in 2003.
Focusing on Gastrointestinal Cancer
In 2006, Dr. Cruz-Correa moved back to Puerto Rico to continue her work at a new cancer center, the UPR Comprehensive Cancer Center in San Juan. The center opened in 2004 and gave her an opportunity to be a physician-scientist and a full-time faculty member at the university. The cancer center was the first of its kind in Puerto Rico, supporting laboratory researchers and providing prevention, early detection, and treatment of cancer. Dr. Cruz-Correa established her own lab focusing on cancer of the gastrointestinal tract. Her first clinical study was on one of her core interests: people who have a hereditary predisposition to cancer. The randomized, controlled trial enrolled individuals with familial adenomatous polyposis, a hereditary condition in which people develop hundreds of colorectal adenomas and eventually develop CRC. Ingestion of the spice curcumin, a type of bioflavonoid that has anti-inflammatory and antioxidant properties, had been shown in a small study of patients with familial adenomatous polyposis to cause polyp regression. Dr. Cruz-Correa and her colleagues wanted to confirm the finding in a large study, but their 44-patient trial, in which one group ingested curcumin twice per day and the other group received a placebo for four months, did not find that curcumin made a difference in polyp formation after one year.
In parallel, her laboratory also concentrated on identifying potential heritable genetic variants that could confer a risk for developing early-onset CRC. In her clinic, she frequently saw CRC patients 60 or younger. She and her team probed the genomic ancestry of patients to understand which of the genes they inherited came from African, Caribbean, and other Hispanic origins, as well as other ancestry. She focused on patients with Lynch syndrome—an inherited cancer syndrome that results in a strong predisposition to cancer, including CRC, that is caused by heritable mutations in mismatch repair genes. Studying Caribbean Hispanics from Puerto Rico and the Dominican Republic, Dr. Cruz-Correa and her team identified a novel heritable mutation in a Caribbean Hispanic family. This was the first study to dig into the mutations and clinical characteristics of Caribbean patients with Lynch syndrome. In another study of Puerto Rican Latinos, she and her team found that having African ancestry increased the chance of having colorectal cancer and a worse response to standard chemotherapy. "The question from that study is whether it is the ancestry that can cause an individual to have a worse CRC outcome. We still don't know the answer, unfortunately," she said. "Genetics is just one factor in cancer risk. It's complicated because a genetic background can be not the cause [of cancer risk], but rather a surrogate for someone's environment, community, and socioeconomic status."
Putting a Spotlight on Cancer Disparities
Between 2008 and 2012, CRC was the second most diagnosed cancer in Puerto Rico. "When I moved back to Puerto Rico in 2006, there was one glaring disparity that we saw, and that was a lack of access to CRC screening. Why were some people undergoing screening and others were not?" she said. Dr. Cruz-Correa became the founder and president of the Puerto Rico Colorectal Cancer Coalition, a nonprofit organization that worked closely with the Puerto Rico Department of Health in analyzing screening data to understand which groups and individuals had particularly low CRC screening adherence. The overall adherence to CRC screening in Puerto Rico was about 40%, but Dr. Cruz-Correa and her colleagues found that certain groups had screening adherence as low as 20%, including those covered by Medicaid.
"We were putting all of this energy to understand the genetics that conferred CRC risk, and here was simple screening and access to screening that individuals over 50 were not getting," said Dr. Cruz-Correa. She worked with Puerto Rico's Department of Health to develop an education and screening campaign with the goal of increasing access and adherence by having primary care clinicians perform colonoscopies. From less than 40% CRC screening in 2006, the program helped boost screening to 65% by 2017. Meanwhile, although the recommended age to begin CRC screening was 50 at the time, 10% of those diagnosed with the disease in Puerto Rico were younger than that age. Dr. Cruz-Correa again worked with the territorial Department of Health to make Puerto Rico the first U.S. territory to begin CRC screening at age 40, using the fecal immunochemical test screening test instead of a colonoscopy.
Dr. Cruz-Correa also works more broadly for increased diversity in all cancer studies. "The longer you work with this disease, you see the advancements made in screening uptake and in cancer outcomes," she said. "But while we are advancing, there are still many disparities, and access is only one of them. There is diversity beyond race that has to do with socioeconomic determinants of health. If we want to understand the triggers of a disease, we need to be inclusive. Diversity should reflect the inclusivity of the patients."
There is diversity beyond race that has to do with socioeconomic determinants of health. If we want to understand the triggers of a disease, we need to be inclusive. Diversity should reflect the inclusivity of the patients.
–Marcia R. Cruz-Correa, MD, PhD
Dr. Cruz-Correa is optimistic about future progress against cancer disparities. "We are talking about inclusivity, recognizing that it is necessary, and that is a good thing. If we want to have the medicines to treat everyone—regardless of race, color, genomic background—we need inclusion of many different types of people in clinical trials," she added. One example of progress, according to Dr. Cruz-Correa, is the recent push by the Food and Drug Administration's Oncology Center of Excellence for industry-sponsored clinical trials to include more diverse groups of people.
Enthusiasm for AACR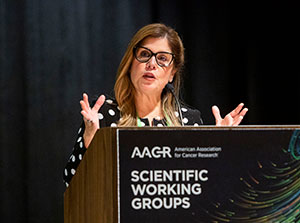 Dr. Cruz-Correa was the program committee chair for the AACR Annual Meeting 2022, becoming the first Latina program chair for the prestigious gathering. Under Dr. Cruz-Correa's leadership, the meeting emphasized cancer health disparities, from prevention to diagnosis, treatment, survivorship, tumor evolution, and social determinants. "We worked very hard to put together a program that had diversity at its core, from the gene to the cell to the environments that people inhabit. This theme really permeated the entire meeting. It was clear that we wanted to see the differences among people.
"Cancer disparities is a topic that we have been discussing for a long time, for more than 20 years," she said. AACR is a pioneer in cancer disparities, putting together the first conference focused on the science of cancer health disparities 15 years ago.
"From the first time that I presented a small abstract at the AACR meeting in 1998, it felt like home," she said. "For me, AACR has always had the capacity for listening to a diverse set of voices that represent science. Before team science was trendy, that was present within AACR. I have never felt more at home in any other organization.
"When I go to an AACR meeting, how do I put this? It is like I am in Disney World!" she added. "You get to interact with so many brilliant people from all different walks of life and different perspectives that look at issues from a diverse set of perspectives. That is the way to advance science—to have these people in the same room, to challenge the status quo, and respectfully disagree. That is in the fiber of AACR."
Dr. Cruz-Correa's enthusiasm for AACR extends to her many roles in the organization. She was a member of the AACR Board of Directors from 2019 to 2022 and also served as a member and chair of the AACR Minorities in Cancer Research Council and the AACR Women in Cancer Research Council. In addition, she is an immediate past board member of the National Cancer Institute National Cancer Advisory Board and the American Gastroenterological Association.
She continues to be excited about making the future better for all communities and people. "I dream of the day that we don't have to talk about access and disparities, but rather focus on prevention and health," she said. "To get there, we need to work together as scientists and clinicians and to recognize that there are injustices and inequities."
Where are we on that path? "We have a lot to do, but we are talking about cancer disparities," Dr. Cruz-Correa said. "We are looking at the data, recognizing the data, analyzing it, and working to make a difference."
---
A Star Mentor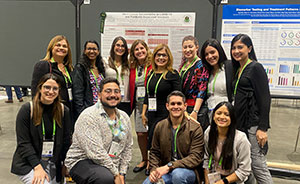 Besides her clinical practice and research, Marcia Cruz-Correa, MD, PhD, is also an inspiration to early-career clinicians. "She is a force, and I really adore her!" said Michelle Kang Kim, MD, PhD, who recently became the first female chair of the Cleveland Clinic's Department of Gastroenterology, Hepatology, and Nutrition. Dr. Kim is among fewer than 10% of gastroenterology division chiefs nationwide who are women. She first met Dr. Cruz-Correa at an academic skills workshop about 15 years ago when Dr. Kim was a new faculty member at the Icahn School of Medicine at Mount Sinai in New York. The chance meeting was "among the most formative and impactful of my career," recalled Dr. Kim. It was the first time someone outside her own institution was willing to dole out important career advice—from strategic, long-term goal planning to managing time day to day. "That she could speak so effectively on how to organize your time and how to approach research was so meaningful to me," Dr. Kim said. "Marcia's impact on my career demonstrates the power of mentorship and how lifelong these relationships can be."