The AACR Remains at the Forefront of Cancer Research Innovation
As the world's first and largest cancer research organization, the American Association for Cancer Research (AACR) and its members have stood at the forefront of every major advance in cancer biology, prevention, early detection, interception, treatment, and survivorship research. That continues to be true despite enduring one of the most trying periods in our lifetimes: the COVID-19 pandemic.
Now more than ever, it is imperative that the AACR's innovative work continues. Patients with cancer around the world are counting on us. The grim reality is that more than 1.9 million people are expected to be diagnosed with cancer in the United States this year, and worldwide, an estimated 19 million people were diagnosed with cancer last year.
Because of our size, intellectual power, scope, and influence, the AACR and its more than 48,000 members embrace the responsibility to push forward with partners around the world and propel an agenda that is scientifically bold, broad, and collaborative. While other nonprofit organizations have contracted in size and mission due to the pandemic, the AACR has held fast and is primed to grow and expand our mission.
Toward that end, the AACR is launching its 10th journal, an open access publication called Cancer Research Communications, which will be dedicated to publishing meritorious cancer research related to every aspect of the field. Elaine Mardis, PhD, and Lillian Siu, MD, will serve as the editors-in-chief of the journal. These two outstanding scientists will work with an editorial board consisting of world-renowned experts in cancer research. The journal's mission will be to stimulate innovation by promoting the open and rapid publication of results and new knowledge among the multifaceted disciplines that comprise the cancer research community. The journal's editors will seek to include studies from disciplines such as engineering, physics, and computational biology to stimulate new ideas for preventing and treating cancer. Cancer Research Communications will be published exclusively online beginning later in 2021, with the goal of making the research available to the broadest possible audience.
The AACR is also spotlighting scientific excellence in the field of blood cancer science. In 2020, the AACR launched its ninth journal, Blood Cancer Discovery, to bolster an expanding commitment to this important scientific area by making available original and rigorous hematologic research. Kenneth C. Anderson, MD, and Riccardo Dalla-Favera, MD, are the editors-in-chief of the journal, which has the goal of promoting basic and translational research that will impact the diagnosis, prognosis, and treatment of hematologic malignancies. The AACR Hematologic Malignancies Task Force, established in 2018, has sought opportunities to address the needs of the growing number of blood cancer researchers among our membership. The AACR has planned three virtual conferences in the hematologic malignancies field: the first on myeloma on April 26-27, the second on clonal hematopoiesis on Aug. 18-19, and the third on precision medicine strategies to improve therapy of diffuse large B-cell lymphoma on Sept. 30-Oct. 1.
This spring, the AACR conducted a highly successful virtual Annual Meeting over two weeks, April 10-15 and May 17-21. The theme was "Discovery Science Driving Clinical Breakthroughs," and the goal was to champion and accelerate progress against cancer. The virtual setting allowed participants to network and connect in new ways, with enhanced on-demand viewing opportunities and live video question-and-answer panel discussions that spurred a high level of engagement and inspired more in-depth thought and debate about new research findings. The large number of clinical trial abstracts that were presented, including several that described practice-changing phase III clinical trials, stands as a strong testament to the AACR's robust clinical focus.
Continuing the work undertaken by the AACR to address racial inequalities in society and in cancer research, the AACR Task Force on Eliminating Racial Inequities in Cancer Research convened its first meeting on June 10. The task force is chaired by John M. Carethers, MD, and Melissa B. Davis, PhD. Also in 2021, the AACR and its partners awarded grants to foster the development of a cancer research workforce as diverse as the patients it serves. Two new grants programs—The Breast Cancer Research Foundation-AACR Career Development Awards to Promote Diversity and Inclusion, and the Lustgarten Foundation-AACR Career Development Awards for Pancreatic Cancer Research, in Honor of Rep. John Robert Lewis—support breast cancer and pancreatic cancer investigators from diverse backgrounds that are underrepresented in cancer research. In addition, the Lustgarten Foundation-AACR Career Development Awards for Pancreatic Cancer Research, in Honor of Ruth Bader Ginsburg, supports female scientists engaged in pancreatic cancer research.
In February of this year, the AACR initiated a letter to President Joseph R. Biden, key members of his administration, and leading public health officials at state health departments to underscore the importance of prioritizing patients with active cancer and survivors of cancer when administering COVID-19 vaccines. The letter, signed by more than 140 organizations, cancer centers, and other institutions, represented laboratory, translational, and clinical researchers; other health care professionals; millions of patients with cancer and survivors of cancer; and patient advocates from across the United States.
The AACR has expanded its commitment to patients with cancer, survivors, and advocates as key partners in cancer research initiatives. The AACR Survivor and Patient Advocacy program has hosted three quarterly virtual forums—on COVID-19 and cancer, precision oncology, and immuno-oncology. Future sessions are planned on big data and machine learning, and on how evolution shapes cancer and its progression. The forums, hosted by Anna D. Barker, PhD, inform and empower patients with cancer, patient advocates, and their families and loved ones.
The COVID-19 pandemic has not altered the AACR's single-minded commitment to support the cancer research community and its important work. We continue to catalyze greater collaboration among all stakeholders, nationally and internationally. From scientists, physicians, and other health care providers in academia and industry, to regulators, funding agencies, policymakers, cancer survivors, and patient advocates, we are made stronger by working together.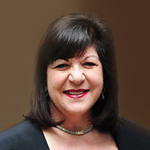 Margaret Foti, PhD, MD (hc)
AACR Chief Executive Officer