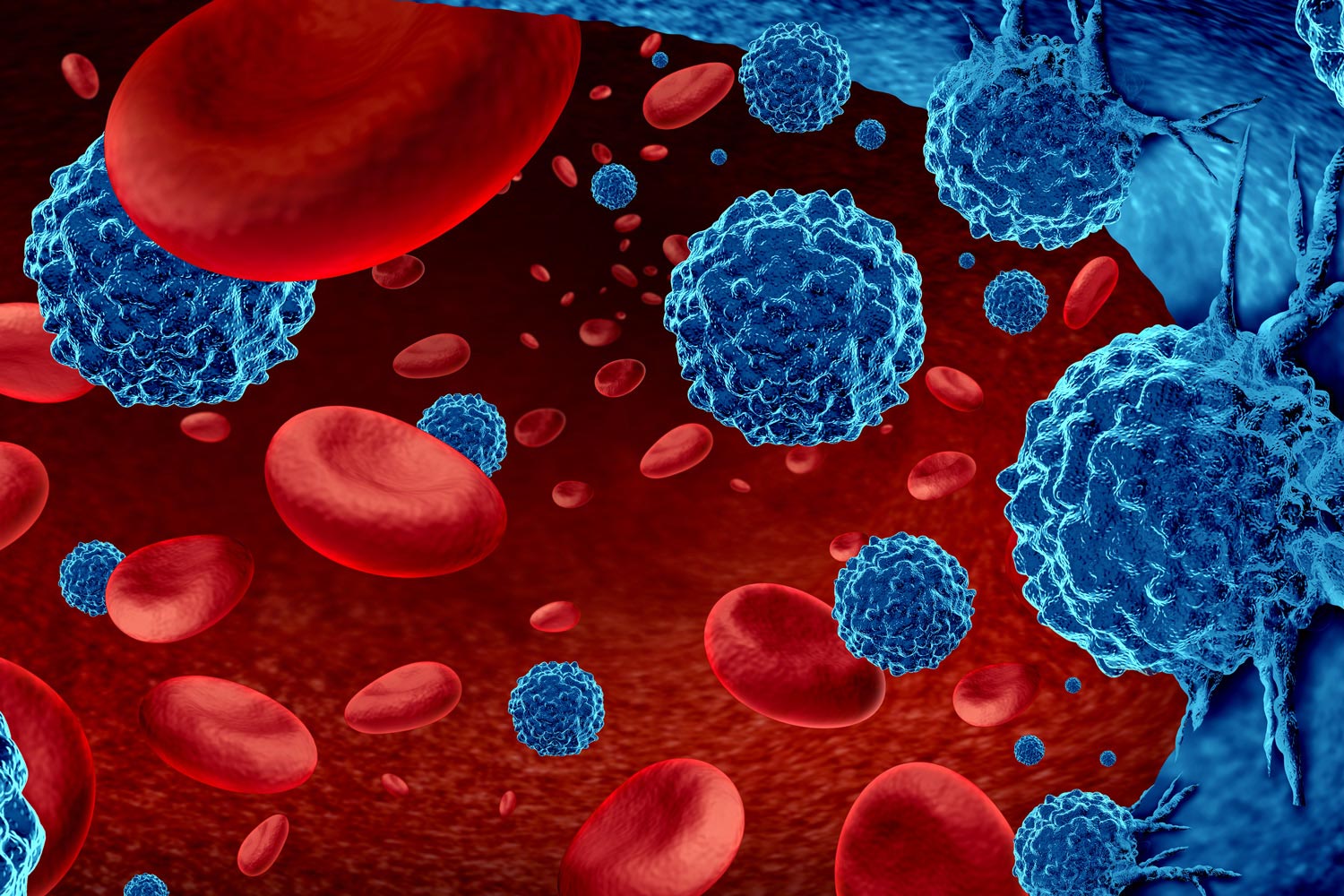 Turning the Lens on Hematologic Malignancies
The amount of research on blood cancers has doubled in the past decade, and discoveries in this area have paved the way for revolutionary therapies to treat other cancer types and chronic diseases. In 2018, the American Association for Cancer Research (AACR) created the Hematologic Malignancies Task Force to address a substantial increase in members engaged in hematologic malignancies research and treatment. This diverse and international group of blood cancer researchers and experts are creating programs and initiatives to shine a spotlight on the field.
"While many advances in solid tumor biology have been made in the last few decades, modern oncology in the United States started with the study of blood cancers," said Jonathan D. Licht, MD, who chairs the Hematologic Malignancies Task Force. "For example, the initial development of multiagent combination therapies five decades ago began with combinations of cytotoxic agents for childhood leukemias.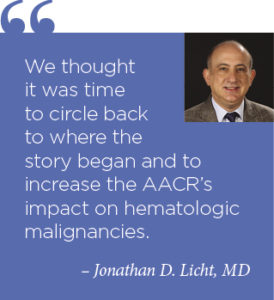 "We thought it was time to circle back to where the story began and to increase the AACR's impact on hematologic malignancies," said Dr. Licht, who is the director of the University of Florida Health Cancer Center in Gainesville. His lab studies mutations of epigenetic regulators in the pathogenesis of leukemia, lymphoma, and myeloma.
As the world's first and largest professional organization dedicated to advancing cancer research, the AACR is uniquely positioned to bring together the best laboratory and translational blood cancer researchers to better inform drug development, treatment decisions, and understanding of the basic biology underlying these cancer types. Prior to the start of the COVID-19 pandemic, in 2019, Task Force members came together to take stock of the hematologic oncology field, including etiology, epidemiology, molecular mechanisms of disease, and current and future therapy directions. Following this assessment, Task Force members established core initiatives, adding more hematologic malignancy-focused sessions to the AACR Annual Meeting, starting with the AACR Annual Meeting 2020 and continuing with the AACR Annual Meeting 2021.
"Earlier in my training, I would attend AACR for the great educational sessions, to catch up on areas of cancer research that I was not completely familiar with. Seeing my solid-tumor colleagues present novel data provided me with new ideas and still informs my blood cancer research," said Dr. Licht. Organizers of prior AACR Annual Meetings had made it a priority to engage blood cancer-focused researchers by highlighting the benefits of sharing cancer research across disciplines, he said, and the 2021 Annual Meeting continued and expanded this cross-disciplinary collaboration.
The Task Force also planned three two-day meetings focused on specific hematologic malignancies. The first meeting, held virtually April 26-27, 2021, was titled "Myeloma: Discovery to Therapy" and examined the genomics and epigenetics of myeloma, disease progression, and treatment options. A second meeting on "Clonal Hematopoiesis" is scheduled for Aug. 18-19, and a third on "Precision Medicine Strategies to Improve Therapy of Diffuse Large B-Cell Lymphoma" is set for Sept. 30-Oct. 1.
Another Task Force priority was to establish the AACR Award for Outstanding Achievement in Blood Cancer Research. The proposal was approved by the AACR Board of Directors, and this major award will be granted for the first time at the AACR Annual Meeting 2022. It will recognize an individual for meritorious achievements and contributions to any aspect of blood cancer research.
A Journal for Hematologic Malignancies
The AACR journal Blood Cancer Discovery, established in 2020, is a key initiative in meeting the Task Force's goal of disseminating high-quality, high-significance, original hematologic research. Covering the full range of basic, translational, and clinical research, Blood Cancer Discovery is a comprehensive academic journal for the field.
"Blood Cancer Discovery is part of a broader goal of the AACR to spearhead research on hematologic malignancies and to communicate their importance. There is currently no other high-profile journal with the unique mission to [promote blood cancer basic and translational research] and an exclusive blood cancer-research scope," said Kenneth C. Anderson, MD. He and Riccardo Dalla-Favera, MD, are editors-in-chief of the journal. Dr. Anderson is also the program director of the Jerome Lipper Multiple Myeloma Center and LeBow Institute for Myeloma Therapeutics at Dana-Farber Cancer Institute in Boston. Dr. Dalla-Favera is director of the Institute for Cancer Genetics at Columbia University in New York City.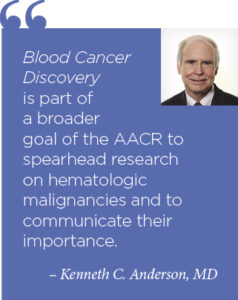 Fittingly, Blood Cancer Discovery's first paper, published online in January 2020, was an analysis of the genomic evolution of the most common childhood cancer—acute lymphocytic leukemia (ALL)—titled "Mutational Landscape and Patterns of Clonal Evolution in Relapsed Pediatric Acute Lymphoblastic Leukemia." Researchers from St. Jude Children's Research Hospital Comprehensive Cancer Center in Memphis analyzed leukemia cells from 92 patients with different forms of ALL, taking multiple samples from patients through the course of their disease and treatment to track genomic and transcriptional changes. Performing analyses over time is crucial if researchers are to capture the changing biology of cancer and gain insights into disease pathogenesis that can lead to new therapies.
The inaugural issue of Blood Cancer Discovery was published in July 2020, and content published in the bimonthly journal is available online for free through the end of 2021. Many of its research articles are accompanied by commentaries written by experts that provide context for new research within the current body of knowledge and suggest implications for future research and clinical translation.
Dr. Dalla-Favera says the journal papers that most excite him are "basic-science-based discoveries that impact hematologic malignancies diagnosis, prognosis, [and] treatment, as well as population-based interventions, which are consistent with the mission of [the journal]."
Features that are in the works are a news section that will include a "Research Watch" column offering overviews of the latest publications in other journals, and interviews with prominent researchers. During the AACR Annual Meeting 2021, the journal published five articles concurrently with their presentation at the conference.
Another journal offering is a Virtual Journal Club in which readers can watch researchers present their work appearing in Blood Cancer Discovery. Participants can also engage with the researchers in live question-and-answer sessions. These video presentations are then permanently linked to the articles. "This feature serves to disseminate new information and to provide a source for new collaborative research [among peers]," said Dr. Anderson.
A "Science in Society" column places the importance of hematological malignancy advances in the context of public health, clinical care, and healthy lifestyle policies and guidance. A recent article homed in on the underrepresentation of African Americans in multiple myeloma clinical trials, identifying this disparity and calling for action, and laying out concrete steps toward equity developed at a joint FDA-AACR workshop last year.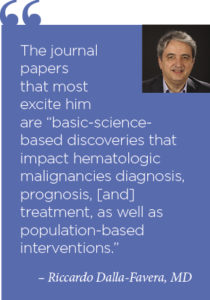 According to Tanya Bondar, PhD, Blood Cancer Discovery's deputy editor, the journal offers fast manuscript handling times and extensive editorial support at all stages of submission. Every article is promoted via marketing, social media, and the AACR platform. The editors of Blood Cancer Discovery work closely with their colleagues at Cancer Discovery, an established AACR journal ranking among the world's top 10 oncology journals, to provide options for authors submitting their manuscripts to find the optimal path to publication and to maximize outreach to the most relevant audience. The journal editors also work together for back-to-back publications on similar topics.
The message of the Hematologic Malignancies Task Force and the Blood Cancer Discovery editors is that blood cancer research is a critical component of the overall cancer research enterprise. They are calling on blood cancer researchers who aren't already AACR members to join the association and engage with a variety of other cancer researchers at AACR meetings.
According to Dr. Licht, the Task Force will have completed its mission when AACR hematology-focused meetings are a staple for the blood cancer research and clinical communities, and when Blood Cancer Discovery is widely regarded as a prestigious journal in the field.
"Our goal is to let our hematologic malignancy and all cancer research colleagues know that the AACR is a great place to present your science, to learn from other cancer researchers, to meet your colleagues—virtually for now and soon to be in-person—where the best oncology translational work is presented," said Dr. Licht.